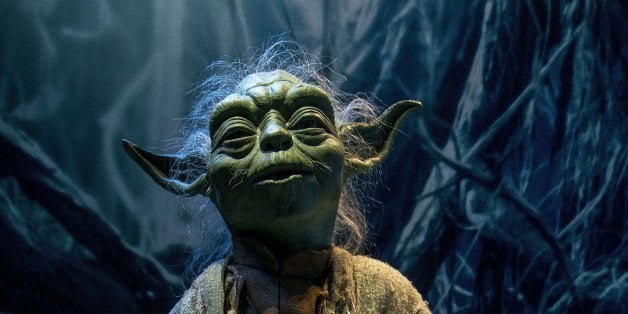 On Friday, December 19, 2014, we invite you to celebrate the fifth annual Wear Star Wars Share Star Wars Day, an affirmation of geek pride and a stance against gender-based discrimination.
Here's how you can celebrate:
1. Wear something Star Wars or science fiction-related on December 19.
2. Donate a Star Wars or science fiction toy to a child in need (but please put a post-it note on the new, unwrapped toy specifying that it can go to a girl or a boy; otherwise, these traditional "boy toys" will be given only to boys). You can bring the toy to a hospital, a shelter or drop it off with any charitable organization collecting toys.
What better way to show your excitement for Episode VII than by spreading some Star Wars cheer and affirming the message that Star Wars is for everyone, regardless of gender, age race or religion?
This is the 5th anniversary of this amazing event, which originated in November of 2010, when the international community of Star Wars fans rallied to defend my first-grade daughter Katie, who was being taunted by the boys at school because she was a girl who loved Star Wars. The support was instant and effusive. Some of the most vocal supporters came from the 501st Legion.
Aided by the speed and ease of social media, the Geeks and Star Wars fans sent Katie's story zipping around the globe. Your voices have been passionate and compassionate, and we have heard from thousands of you. Your words collectively tell the story of a group of people who know what it is like to be taunted and teased, and you also have learned your own resilience and strength.
And then, in September of 2012, nearly two years later, we came full circle, and our family had a chance to stand up for the 501st Legion. The Star Wars fans as a group were hurt and outraged when they became the target of a taunting online slideshow featured on news websites. The slideshow featured pictures of people in costume attending Star Wars Celebration VI. The captions were cruel, and many of the people in the photos were members of the 501st Legion. Katie and I were able to offer our support and encouragement to the very people who had been so kind to us. The Star Wars community is like that -- we have each other's backs!
Our Antibullying Coalition now travels to Comic-Cons to do workshops and panels about standing up to bullying. We are proud to be part of this community, and we thank you for supporting our work against bullying! On Friday, December 19, 2014, please show your Star Wars pride.
Related