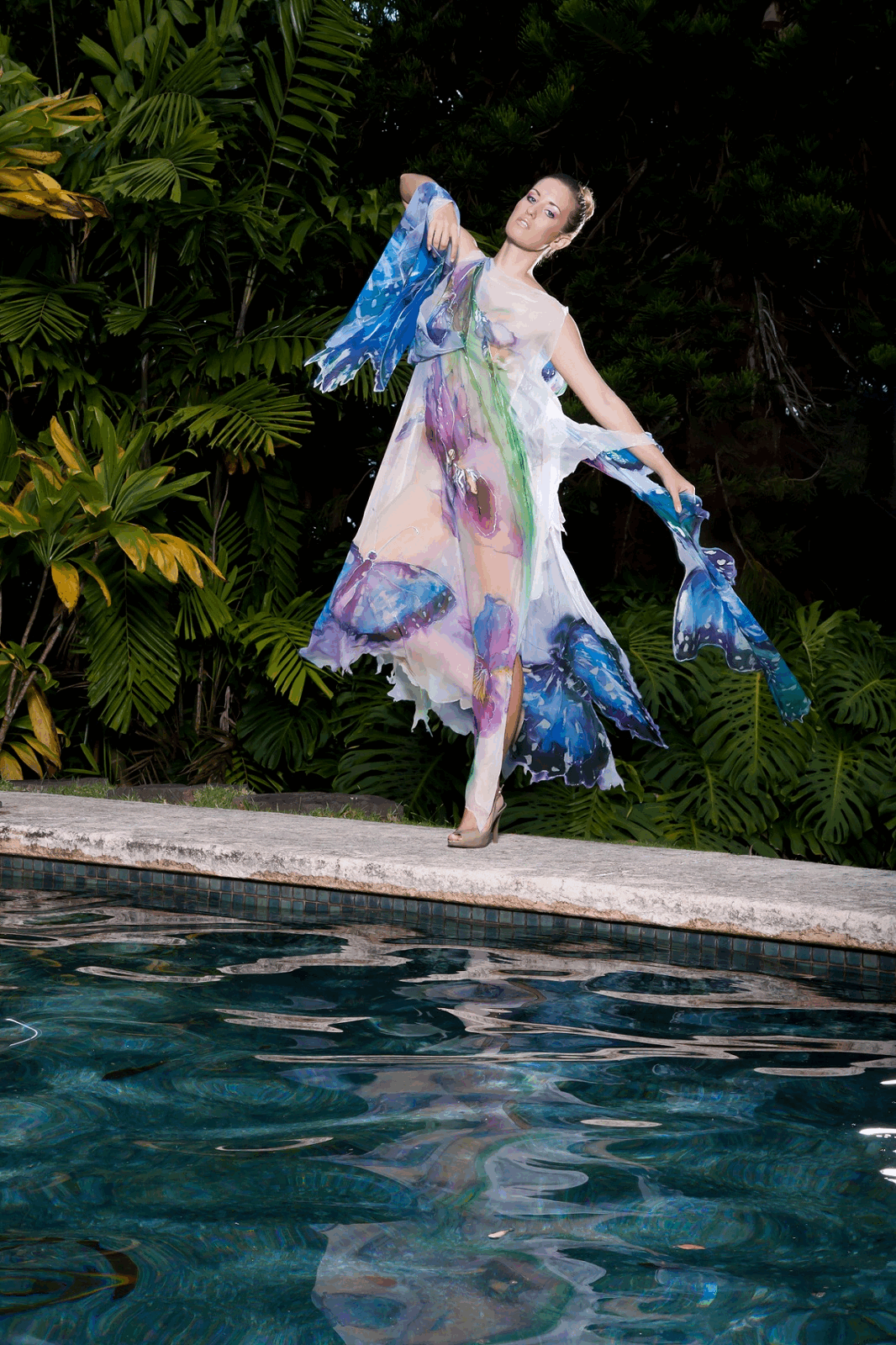 The days of quality produced fashion may seem like a thing of the past due to the presence of the mass production in our society today. However, Violet Luck, a sister designer-duo is bursting onto the fashion scene and they are ready to shake things up.
Everything began with a handbag, silk scarf and a pair of boots graciously given as a birthday gift. From that moment on the rest became history. The two sisters combined experience, as a fashion stylist and artist, made their collaboration a no brainer.
Violet Luck is a combination of the family name "Luckaite" and "Violet" which came as a vision to the sisters. Violet is the color of purpose and is associated with the Crown Chakra that symbolizes a universal connection, more importantly the color symbolizes divinity, purity and royalty. Alternatively, the violet flower is a symbol of beauty and is considered a "good luck" gift to a woman." Intertwining the two important meanings the sisters created "Violet Luck."
Violet Luck is handcrafted worldwide, from Hawaii to Lithuania each piece is inspired by the unique diverse culture. "Some pieces were created while we were in Italy and again they mirror the Italian culture. So it is truly a global brand and every image comes from inspiration and visions and therefore it is not just a piece of clothing, but rather fine art that comes from within and is created with love". Jurate shares a passion for creating organic artisan pieces and describes the basis of the foundation of Violet Luck as "... a web of love, purity and light touching our senses through art and communications, elevating and shifting the spirit of Humanity and creating a feast for your eyes and inspiration for your soul."
The two sisters share a vision to inspire, awaken and encourage women of all ages to embrace her own unique beauty through luxurious hand painted silk couture. All silk pieces are created with vivid colors and flowing styles that embody female empowerment. Design inspirations are rooted in visions, dreams and in nature's elements. Each piece of silk is hand painted in a process that can take up to three weeks to complete. The silk become alive when the brush strokes the surface and the finished results capture the true essence of beauty and femininity.
When the silk drapes across a woman's body she becomes a portrait, a piece of fine art. The design philosophy of Violet Luck is to create "wearable art." The silk designs can be worn as dresses, skirts, wraps, tops or accessorized. Each piece can be custom made for elegant women who understand fine art across the globe. Violet Luck is made for the woman who wants to stand out and demonstrate her inner beauty.
Violet Luck was established less than two years ago, however Jurate and Violet have a long list of accomplishments and future aspirations. In 2012 Violet Luck was featured at The Fashion Show for the Luxury Review event in New York City, a hub for savvy art and fashion enthusiasts worldwide. Violet Luck will be hosting a pop-up shop and will be showcasing 2013 looks at Miami Fashion Week. As if that wasn't enough the sisters will be showing off their pieces on the runway at Cannes Film Festival, famed to draw crowds of "A-List" Celebrities.
I asked Jurate where she pictured the company in five years and she said, "In 5 years we are planning to have Violet Luck Wearable Art Gallery internationally. We want to bring together the most talented artists and designers that create one-of-a-kind wearable-art and add their exquisite pieces to our collections."
The sisters of Violet Luck are setting out to share their light and love with the world through their messages to all women, encouraging them to embrace their inner light and to allow it to shine through and transform them in the outside with the beautiful, universal language of fine art.

By Clarissa Burt with Lauren Topor
Popular in the Community