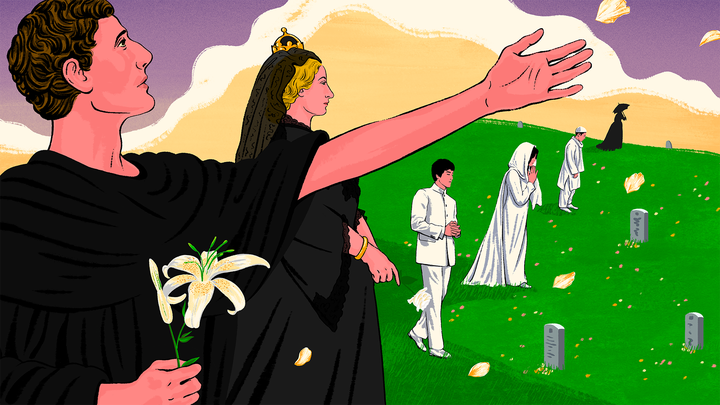 One of my father's wisest off-the-cuff remarks about visiting people who are in mourning goes something like this: "Don't bring the grief upon yourself by wearing black when going to pay a shiva call."
The note got me thinking: Why are black clothes customary while grieving? Having lived in two different countries across Western society (Italy and the United States), where the practice is pretty widespread, I was never really presented with the possibility of wearing garments that were anything but black to a funeral.
Turns out, as usual, my father isn't wrong. According to Rabbi Shlomo Steinmetz, director of development at the Global Jewish Assistance and Relief Network in Brooklyn, New York, although Jews are certainly permitted to wear black to funerals, they are not required to.
"It's a dark color that shows we're not in a 'good situation,' but it is just a custom and not a must," Steinmetz explained. "You can really wear any color that you want and it's a reflection of your feelings."
Although other clothing-related laws do apply to Jews in mourning (no leather shoes for a week, for example) and one should definitely opt for "simple" colors when getting dressed, the custom of wearing black is just that: a cultural custom.
Alas, Jewish people aren't the only ones drawn to darker hues when getting dressed for grieving-related ceremonies. The practice is, in fact, pretty widespread across a variety of cultures — albeit actually frowned upon in some circles.
But where did the tradition first originate, and who actually subscribes to it?
"It's one of those things that isn't so clear but there are definitely connections to the Roman empire," explained Poppy Mardall, the founder of the London-based funeral home Poppy's.
As noted by Mardall, it is generally believed that ancient Romans would wear dark-colored togas when mourning the loss of a loved one. What's more, in the United States, many practices were passed down by English predecessors — including, possibly, ones related to grieving garments.
"It's a challenge of modern times that we can go about the planet broken without anyone knowing that we are. If we don't have some symbol that shows others that we are vulnerable, how can we expect the community to care for us?"
After the death of her husband Prince Albert in 1861, Queen Victoria of England is said to have worn dark, somber ensembles as a sign of respect to her late partner until the day of her own passing 40 years later.
Look outside the Western world, though, and you'll notice stark differences.
"Traditionally, people in Hong Kong wear white to funerals," said blogger La Carmina, whose family is Chinese. She mentioned an iconic scene in the 1972 movie "Fists of Fury," where Bruce Lee is seen donning a white mandarin-collared suit while howling at his dead martial art master's funeral. "The color white is historically associated with death in many Asian cultures and it also signified humility," she explained. "Black and dark, somber colors are [also] appropriate, but people in Hong Kong will never wear red to a funeral because this is a festive color associated with happiness."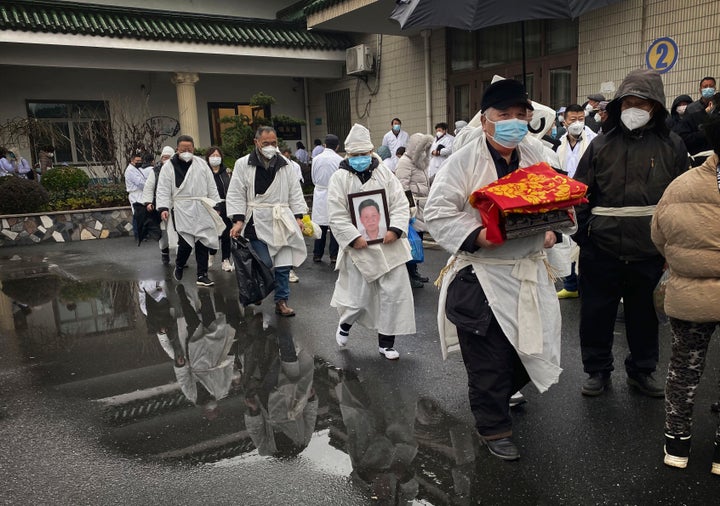 In Hindu circles, white outfits are the go-to choice as well. Some specific sects of the religion actually consider black to be an inappropriate option when getting dressed for somber occasions.
"Many South Asian communities, particularly those that practice Hinduism, wear white at funerals," confirmed Dr. Anjali Ferguson, a psychologist who currently resides in central Virginia and practices both Hinduism and Christianity. "White is considered a sacred color that symbolizes purity and spiritual enlightenment."
Although she herself doesn't feel particularly attached to the tradition, she does contend that "what is important is that these rituals celebrate the life that we are gathering for and honoring that family's desires."
When asked whether donning black to a funeral is actually frowned upon within her cultural and religious tendencies, Ferguson explained that it really depends on where folks reside "in the diaspora."
"I have attended several South Asian celebrations of life/funerals in the United States in which people have worn black without issue," she shared. "However, I know that many communities within South Asia would find that very offensive. What is important is that we check in with the families to determine how they wish to honor their loved ones."
Muslims also tend to wear white, a color associated with humility.
"For funerals, it is customary to wear plain white clothing," explained PR professional Rumana Lokhandwala, who lives in Mumbai and follows the Islamic tradition. "Typically, this involves a garment that is loose-fitting and reaches to the feet. This is intended to symbolize humility and modesty. Additionally, the white color serves as a reminder of the purity of the soul and the hope that Allah will accept it. It is also thought to be a reminder of the hereafter and to remind us that death is a part of life. Wearing white is meant to signify that we are in submission to Allah and at peace with our ultimate fate."
Lokhandwala explained that opting for a black outfit within Islam is also "generally discouraged" as it is seen as "ill-fated and offensive" — unsurprising, considering that, according to the source herself, the color is associated with bad luck.
In the West, the process of mourning is closely associated with sadness — and what better color to represent the feeling than black? On the flip side, although sorrow is certainly part of grieving around other parts of the world as well, the concept of modesty and a certain display of gratitude for the life that we, the living, still get to live are at top of mind.
"I think a lot of people in the West wear black out of the absolute terror of being disrespectful, which is the last thing you want to do at a funeral," Mardall said. "For example, if I'm going to a service for someone I don't know so well and can't ask the family what they'd like me to wear, I wear black so as to not look rude."
In her line of work, Mardall, who mostly works with Western clients, also noticed that age plays a role in the conversation. According to her, older generations expect guests to dress formally, a code of conduct that usually calls for darker garments.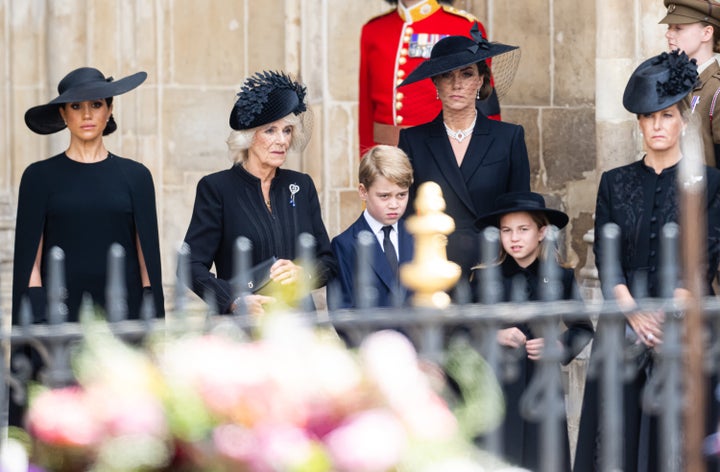 "They are unlikely to ask themselves the question: Should we lead a funeral as we usually do or change it up?" Mardall explained. "But if there is no clarity, an 18-year-old is just as likely as an 80-year-old to wear black because we are so worried about getting it wrong."
Another interesting trend that the expert, who is actually partial to the idea of adding a touch of color to a mourner's outfit, observed: "Generally, the more people have prepared and thought about a funeral, the less likely they are to wear black."
Perhaps that specific observation regarding the amount of time spent thinking about mourning actually gets to the heart of the matter, which revolves around the question: What's the appropriate way to feel while grieving — and what's the best way to showcase those emotions to the outside world?
"A lot of people think [clothes are] the way you show how you feel," Steinmetz said.
"It's a challenge of modern times that we can go about the planet broken without anyone knowing that we are," said Mardall, also recalling that, in the United Kingdom during Victorian times, citizens in mourning would wear specific grieving clothes that would signal to the world that they were having a hard time and needed help. "If we don't have some symbol that shows others that we are vulnerable, how can we expect the community to care for us?"
Clearly, while mourning at least, the average person craves human connection. Whether designated attire — both in color and form — would incentivize those around us to be more compassionate and giving is up to debate, of course. The very least we can do, however, is to consider that, perhaps, the intent behind an outfit is more meaningful than the look itself — a concept that goes beyond grieving situations and may actually be applied to humanity at large.
Before You Go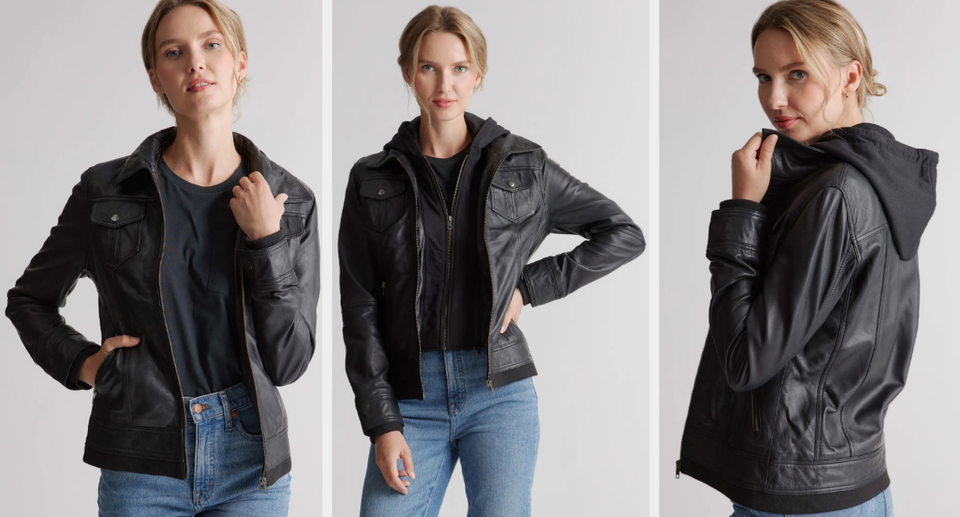 Just 29 Stylish Black Leather Jackets Well Worth The Investment