Contrary to what Us Weekly would like us to believe, stars are not, in fact, just like us.
Sure, they might "pump their own gas!" "hail a cab!" or "go grocery shopping!" But they're doing it under a constant lens (which as far as I can tell, I am not), and they're doing it in clothing I can't afford and would likely never wear.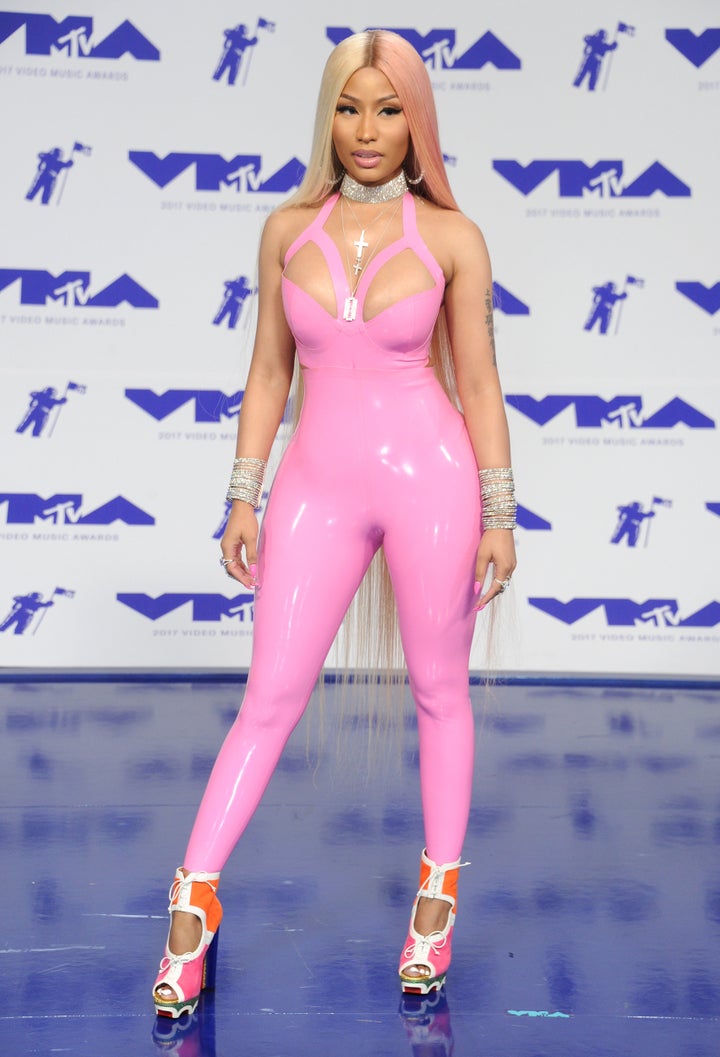 "How?" I whispered to my television from the comfort of my couch in a pair of sweatpants and a very soft and practical Old Spice T-shirt.
If Minaj could do her job in a latex outfit, could I? Were stars more like us than I thought?
The short answer: Not really. And not at all. But that certainly didn't stop me from wanting to find out. So I did what any logical person probably would not do: I ordered two latex dresses and wore them around town and at my office.
The first thing I noticed about the dresses was the texture. I had imagined the material would be thick like rubber. It was more thin like plastic. I was screwed, I thought. But when I put it on, it zipped right up, hugged me in all the right places and I didn't even have to wear a bra with it (!). It was, dare I say, kind of awesome ― aside from the fact that I felt like I had just come out of the ocean in a one-piece bathing suit.
On its own, the dress deemed itself a bit too revealing for my own life. So I threw on a suede jacket and headed for the streets.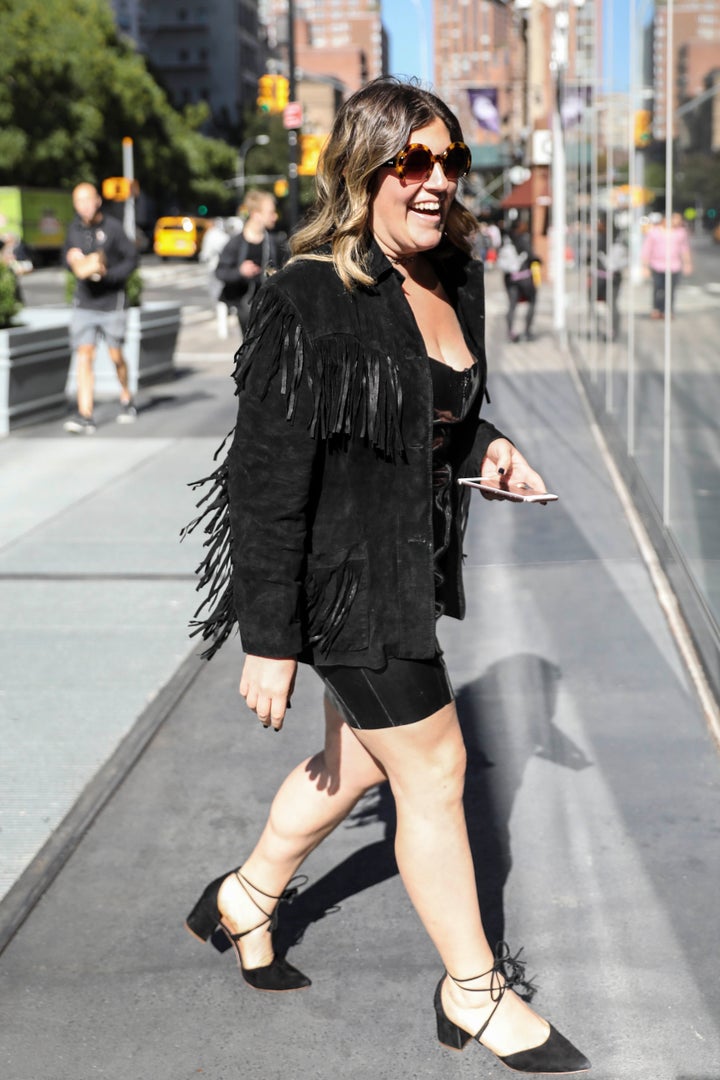 The stares started almost immediately (even before people spotted the person following me around with a camera). That made it even more jarring when it was becoming increasingly difficult to walk. It was a cool October day, but all I could think about was the looming possibility of chafing.
If regular old walking wasn't challenging enough, there was also a matter of the commute ― an integral part of my job. Celebrities have to slither their way in and out of cars with elegance in their skintight garb, but how would the look fare on my commute?
Spoiler alert: Not so well. Here's a shot of my (extremely slow) ascent from the subway stairs: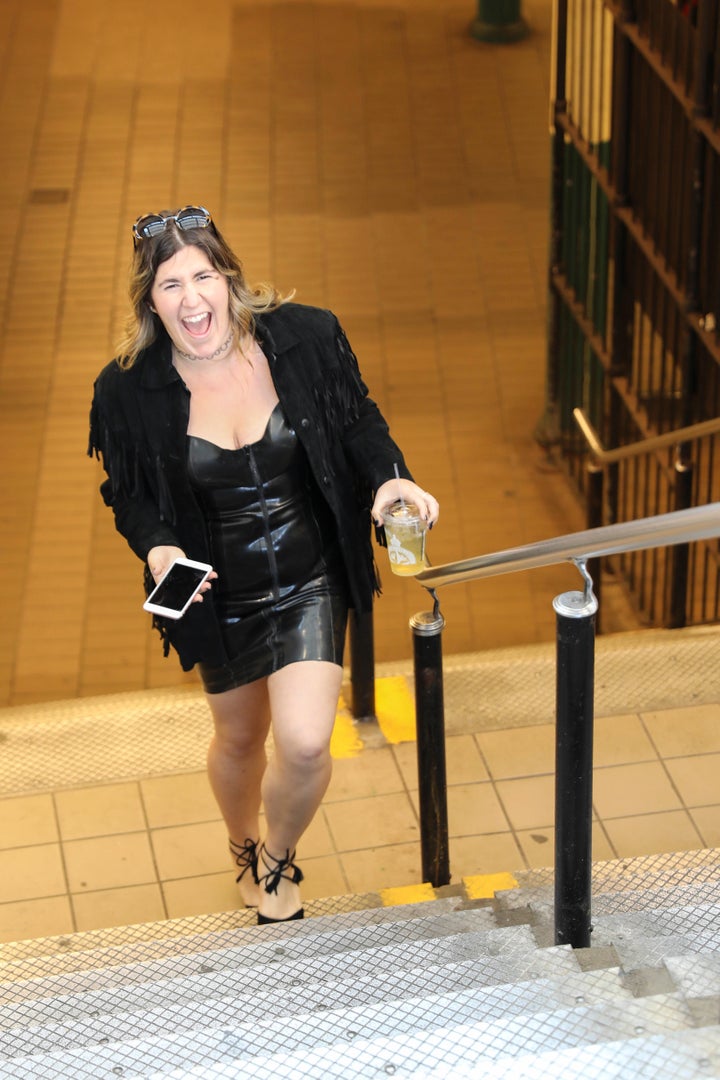 And another from a (failed) attempt at getting on a Citi Bike: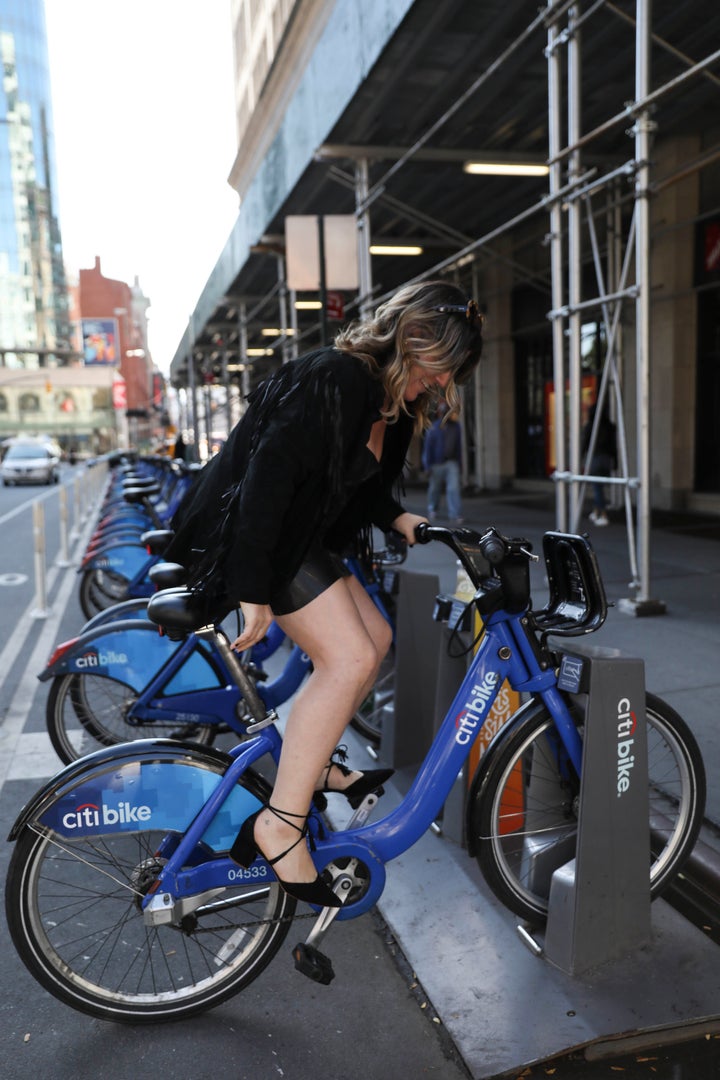 Yeah. Not happening. I had a newfound respect for people who wear these outfits for long periods of time. My legs felt like they were attached to each other by magnets.
Difficulty walking aside, there were some things about the dress that I didn't expect. For example, it didn't make squeaking noises while I walked (a welcome surprise as I attempted not to draw attention to myself). The only time it made any noise at all was when I had to hike it up to use the bathroom. It took me about four full minutes to wriggle my way out of it and it sounded like I was making balloon animals in the stall.
There were stares, both from women and men, but they felt a bit more "are you on a walk of shame?" than "you should be ashamed of yourself."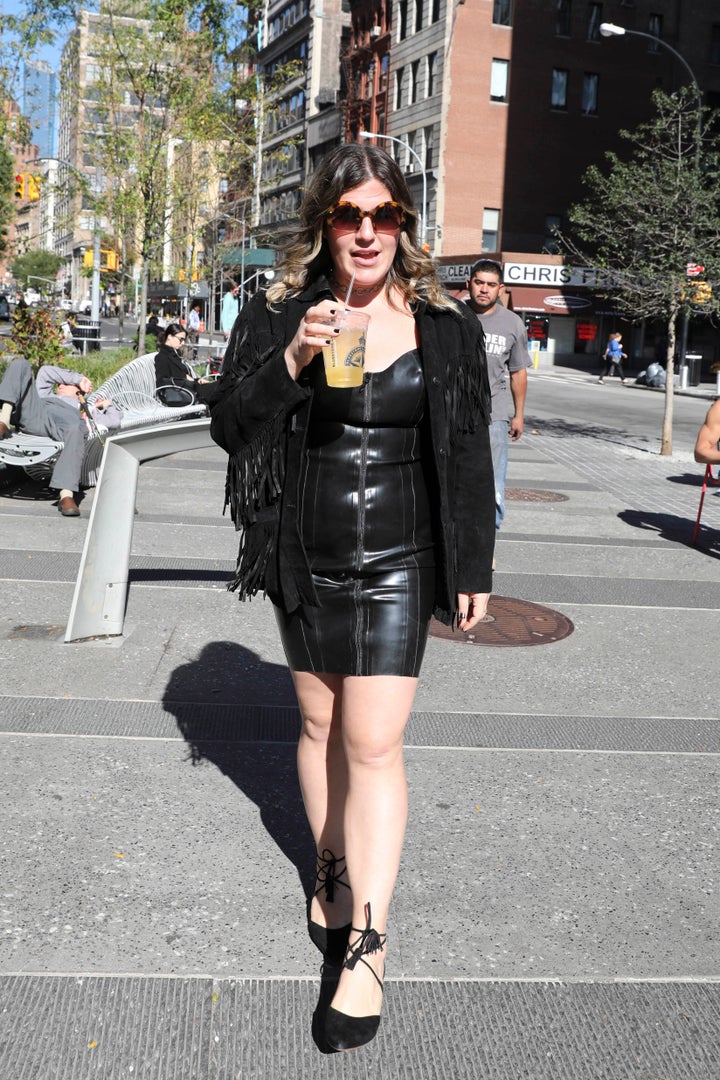 It's impossible to discuss wearing latex to work without acknowledging and paying homage to its relationship to BDSM. So I reached out to Snow Mercy and Mistress Trinity, two dominatrixes based in Los Angeles and New York respectively, to talk about their experience with latex.
Mercy explained to me that latex in BDSM has its roots in the 1950s, when "photos in fetish magazines started to depict" it.
"Latex enthusiasts enjoy the look and feel of this material," she said. "Some refer to it as a 'second skin.' It shows off curves but also acts as a barrier. So it can be effective for tease and denial scenes. A sub can 'worship' a Dominant's body but never actually touch skin. The reverse is also true, if a sub is in latex, the Dominant can touch the sub without ever making skin contact."
She also called it a "sensuous" material that is "stunning to wear" and "feels taboo and exotic." After just one time wearing it, I can say I full-heartedly agree.
"Many people use BDSM to escape reality," she said. "Using latex helps heighten that feeling of departure from the default world."
For my "in the office" look, I ditched the jacket, but still couldn't dare to go completely bare underneath. So I paired it with a white button-front shirt and booties. I didn't really look corporate, per se, but I did get a lot of compliments.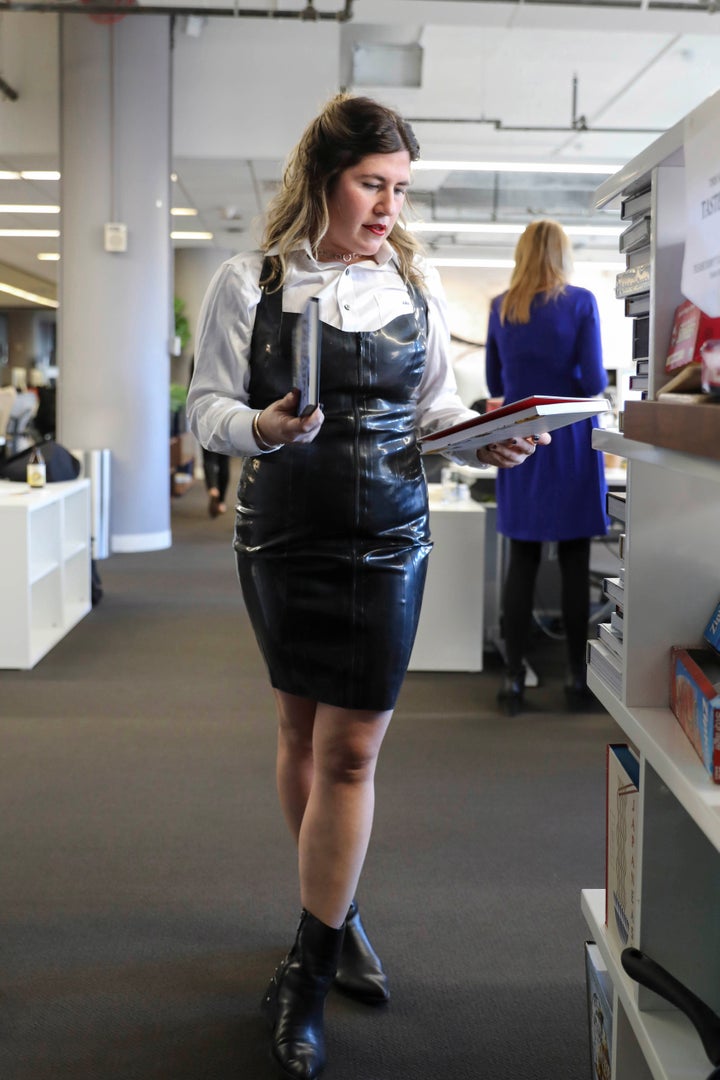 Wearing the latex in my own real life got me wondering how people Mercy and Trinity feel about the increasingly popular trend of celebrities wearing it. While both said they don't find it disrespectful, Trinity said there is some discussion over people wearing it outside of the community.
"There is debate within the kink community about non-kinksters appropriating fetish fashion," she said. "I'm not so much a control top on the issue. I enjoy latex fashion for all the reasons people choose to wear it, and I see potential for BDSM in the mainstream."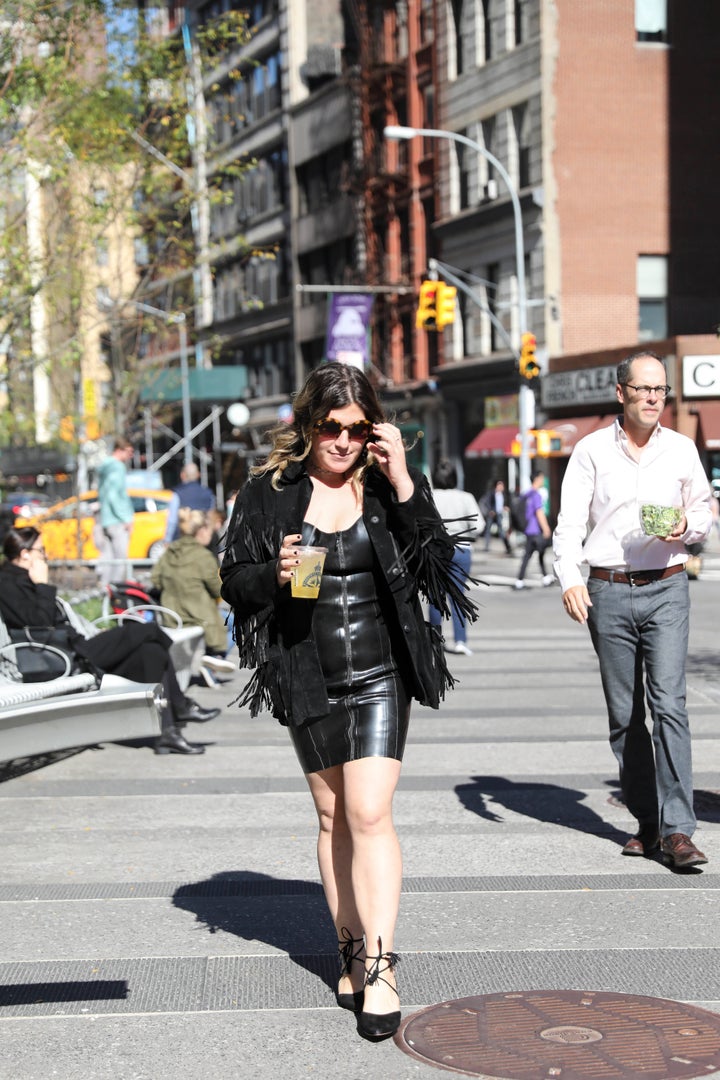 Snow and Trinity both told me that wearing latex is empowering, and I definitely felt that way in it. Snow said that a person in latex "really wants to stand out," while Trinity said if your objective is to "feel sexy, expose the body, to be hold, to be an exhibitionist, to be your radical self, then it's empowering. If not embodied by the wearer, it's just a very uncomfortable garment."
I'd say I fall somewhere in the middle of those two feelings. Having said that, chances are I'll probably leave the latex for the red carpet. For now.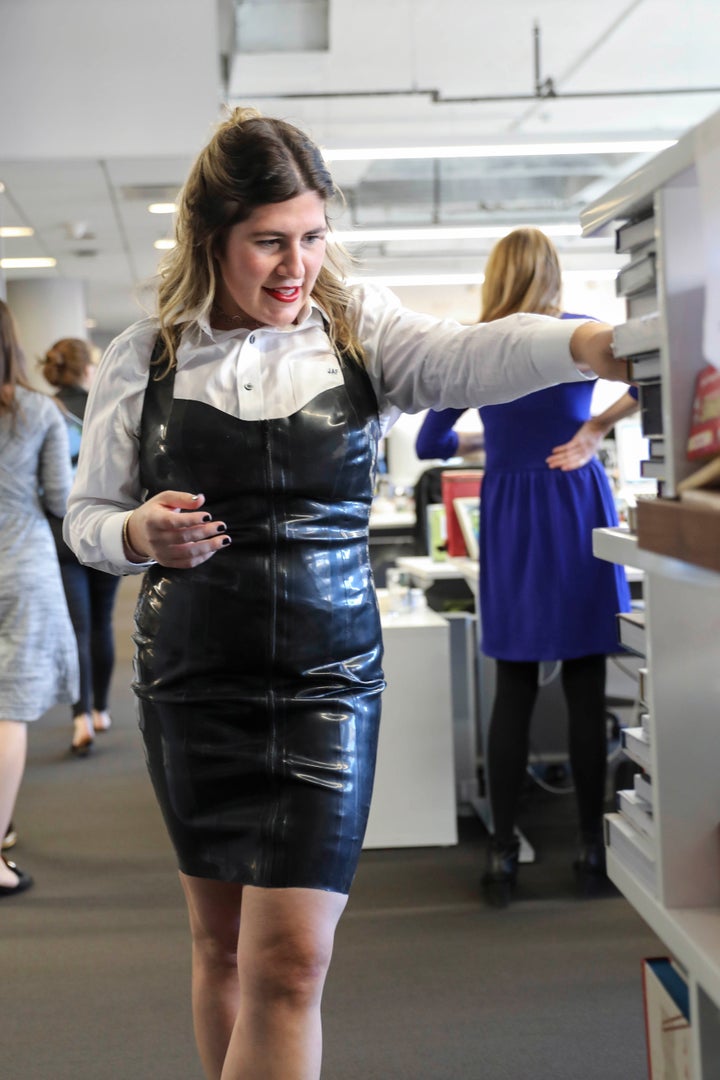 Support HuffPost
A No-B.S. Guide To Life
Popular in the Community