Princesses: They're just like us?
Catherine Middleton, Princess of Wales, was spotted re-wearing a red-and-white houndstooth coat to last month's Six Nations rugby match between Wales and England. She was last seen wearing the coat in 2018, while pregnant with Prince Louis.
This isn't the first time the princess has recycled one of her maternity looks. She re-wore an elegant teal Catherine Walker & Co coat twice after having also debuted it during her pregnancy with Prince Louis.
We don't all have closets full of designer outerwear, or tailors to adjust pieces to our postpartum bodies. But many of us have a favorite maternity garment that we attempt to incorporate into our regular wardrobe long past our baby's arrival.
Mine was a navy blue hoodie from Old Navy, which, like all of my other pregnancy clothes, I received as a hand-me-down. It had ruching in the midsection to accommodate my belly at every size, and a front zipper closure that made it perfect for layering over a nursing tank. I wore it well into my daughter's toddler years, and felt a little wistful about letting it go — it had made such a dependable companion.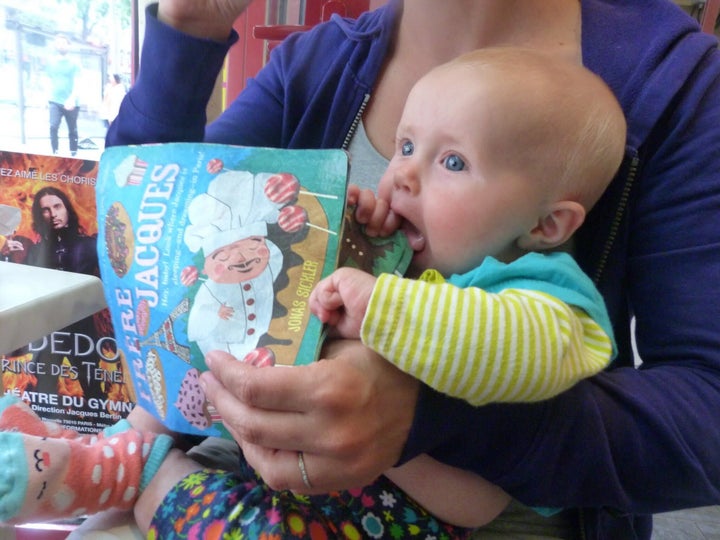 My own mother still tells the story of the red maternity dress she bought for a formal evening function while pregnant with me. She wore it for the one occasion and then passed it along to her sister. For years, presumably until it fell apart, the dress was passed from one woman to another in my aunt's small town.
We asked parents in our Facebook community to share a favorite item from their pregnancy wardrobes, one they continued to wear long after welcoming their babies. Here's what they said:
"There was an Old Navy linen wide-leg cargo pant that I lived in for six months of pregnancy and like a year postpartum. They were threadbare by the time I retired them." — Allison Kennedy
"I was pregnant in the '70s. Being height-challenged, I was swamped by the regular pregnancy tops, so I went into a South Asian Indian store and bought two 'hippie' tops. One was embroidered with mirrors. I adored that blouse and wore it till it fell apart. I've been looking for one like it ever since." — Lois Rubin Gross
"My favorite that I've worn for years since not being pregnant anymore is a pair of wide-leg capri pajama pants with a wide, soft waistband." — Sabrina Soros Kareha
"My Old Navy maternity t-shirts. Still wearing them 19 months postpartum. They just fit better than my old shirts." — Melissa Bosak
"Black maternity cropped leggings. Ten of the same pair worn repeatedly." ― Vanessa Smith
"Maxi dresses. Any kind of knit dress that could double as a night gown." ― Sarah Jane Fitzgerald
"Still have my maternity stretch pants with the high-rise tummy panel — never will give them up." — Marsha Szymanski
"I was pregnant with twins so my mom made a bunch of muumuus for me. What I want to know is why it's frowned upon if women want to wear maternity clothing instead of plus-size clothes long after having children. Maternity clothes are better-fitting, with stretchy belly panels and tops that are flowy. Heck, I've been tempted to wear them to holiday meals!" — Deborah Thrapp Mucklow
"The Nines by Hatch at Target had some amazing smocked-waist jogger pants that I bought in all colors. They sat under the belly and were my go-to pants upon returning to work! I'm four months postpartum and still in the awkward phase of things-fit-but-not-really." — Meghann Rosenwald
"Mine was a pair of boot cut yoga pants from Motherhood Maternity." — Michelle Van Dyke
"My husband's t-shirts, lol. And since I stretched my favorite ones out with my big pregnant belly, they make the best pajama t-shirts now!" — Jennifer Hershey
"Leggings and tank tops. Still wearing the tanks after 13 years and 2 pregnancies. Wore the leggings till they got holes." — Trisha Thomas Clarke
"Maxi dresses were fantastic. I could layer them with leggings and a t-shirt or cardigan for warmth, and they hid my postpartum belly." — Christina Ivy Ambers
"I kept wearing my nursing tanks for years after because I loved the shelf bra in them." — Rachel Larson
"I have a Motherhood Maternity dress I wore to a wedding, and the material is just the right clinginess. It looks cute with or without a belly!" — Elizabeth Walton
"My child is 12 and I still wear the maternity undershirts. They're nice and long and either tuck in well or hang a little below a sweater!" — Shayna Klopott
"Kindred Bravely high-waisted maternity and postpartum leggings. They supported my big belly while I was pregnant and kind of helped hold everything in place afterwards." — Caulleen Gillette
"Nursing camis are still very comfortable. I'm also 3 and a half years postpartum." — Erica Cooksey
"Black capri leggings ... still have and wear them 14 years later." — Kristen Cattabriga
"A wool coat from Old Navy. I believe it's 15 years old now, maybe 18 years." ― Angela Farmer
"Yoga pants, they were low-waisted then so no need for maternity ones. I still wear them." — Angelique Zieger
"A gauzy, oversized shirt with leggings. It made me feel so comfy and motherly." — Holly Wilson
"I had a purple satin maternity nightgown that I adored — got it 39 years ago this month!" — Debbie Rademache
"Black capri leggings ... still have and wear them 14 years later." — Kristen Cattabriga
"Flowy rompers. My youngest is almost 5 and I still wear a couple of ones from my pregnancy." — Asta Stojanovski
"Blanqi leggings and tank! They saved me. So comfortable and so supportive without feeling stuffed in. Absolutely love and definitely wore them after the baby came." — Ashley Bertrand Amtmann
"My husband's t-shirts, and LL Bean slippers." — Meghan Turner
"I'm 50 and still buy maternity dresses from Target! They are made for larger busts and high-waisted, so great if you are super short-waisted or have a post-mommy tummy even 13 years later." — Maureen Thompson
"I have a non-favorite item! Near the end of my first pregnancy, I was so swollen from pre-eclampsia that the only thing that fit was this hideous purple dress with gold dots on it from Target maternity. I wore it so much that people still talk about it 12 years later! It ended up in the trash for sure." — Jennifer Lindeman
Responses have been edited for style and clarity.
Before You Go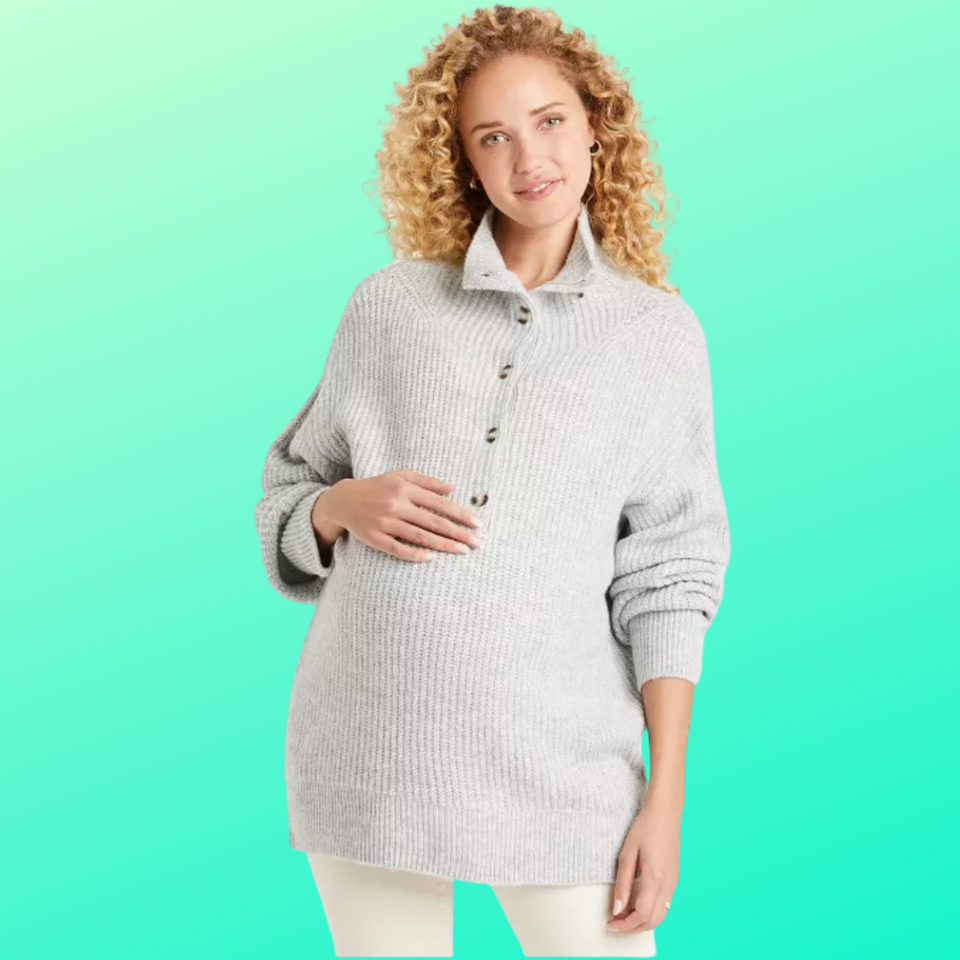 Everything You Need To Stay Warm During A Winter Pregnancy