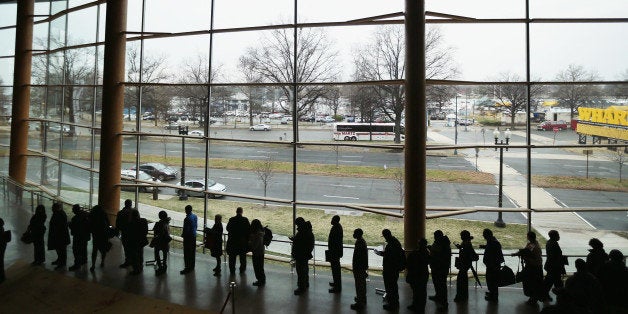 Labor Day is seen as a day of rest for many hardworking Americans. But for a growing set of U.S. workers, there is no break from trying to earn enough to support their families. Despite a dip in unemployment during the past few years, low pay continues to plague many employees while their corporate bosses rake in record profits.
Some naysayers have tried to brush off the income inequality discussion as a trumped-up effort to agitate Americans. However, while they might have wanted to ignore such calls from the Teamsters and other worker advocates, they cannot turn their back on the debate when their friends with ties to the financial world sound the alarm.
Standard and Poor's -- creators of the S&P 500 index -- and the International Monetary Fund are just two of the more unexpected sources that recently admitted that the deep divide between the haves and have-nots in the U.S. is growing and that all Americans are paying the price because of it. Even more alarming is the fact that it will continue to hamper the U.S. economy going forward.
An analysis by S&P, for example, noted income inequality is endangering the nation's economic health by making it more prone to boom-and-bust cycles and has slowed the recovery from the Great Recession. In response, S&P cut its growth estimates for the economy over the next decade.
Meanwhile, an IMF report detailed how America's economic growth is being hamstrung by the current $7.25 federal minimum wage. It forecasted that the U.S. economy will grow by only 2 percent annually over the next several years and that low wages and bad tax policies are a major part of the reason why.
Improving the outlook for U.S workers isn't about creating millions of minimum-wage jobs. It is about creating sustainable, skilled employment that allows Americans to earn a fair wage with benefits that allows them to pay for housing and food on the table and sustain a middle-class lifestyle.
Today's free market may be a boon for the corporate class, but it's a bear for many an honest worker just trying to keep a roof over his or her head. Even company executives who have tried to do the right thing by sharing some of their largess with employees have paid the price. It seems that no amount of profits is enough for big business.
Corporations are increasingly looking to friendly lawmakers on the Hill who are only too happy to reduce the "burden" on billionaires while rank-and-file workers suffer. Despite being a nation that gave birth to the epic failed energy conglomerate Enron Corp. and mega-banks that drove the U.S. into a recession and threaten to do so again, for too many in Congress, there is no limit to obstacles they will hurdle for their corporate cronies.
Unfortunately, the same cannot be said for the average worker. That's why we have tobacco field workers living in squalor and getting sick and injured while working for the minimum wage in North Carolina. That's why we have fast-food workers who are victimized by successful companies allegedly stealing their wages. And it is also why we have thousands of low-wage workers taking to the streets over and over again to say enough.
Hardworking Americans find themselves at a crossroads. With the November elections looming, they need to carefully consider their options to help turn the U.S. economy in a positive direction. It starts with backing candidates who place the people above the powerful.
Related
Popular in the Community