After a year of unprecedented destruction attributed to weather extremes, federal officials and environmental advocates are focusing increased attention on the potential health impacts of global warming, which most scientists expect to spur not just more frequent instances of extreme heat, but also increases in rainfall, drought, snow, floods and violent storms.
"Climate change poses a serious threat to public health," Dr. George Luber, the associate director for climate change at the U.S. Centers for Disease Control and Prevention, said Thursday. Luber was speaking to reporters as part of the launch of an online, extreme-weather mapping tool developed by the Natural Resources Defense Council.
"We have to really understand the local context of these extreme events and how they impact our communities by looking at them in what we call a spatially specific way, or in a way that really gets down to the geography of risk," Luber said, "by addressing those particular aspects of our communities, our cities and our populations that make people more susceptible to the negative health consequences of climate change."
Rising temperatures are expected to have an impact on all aspects of the public health infrastructure -- from air and water quality to food safety, Luber noted. A warmer atmosphere, for example, retains more water, increasing the likelihood of historically heavy rains, which can subsequently overwhelm treatment facilities and spread disease. Rising temperatures can also exacerbate smog, causing increased instances of respiratory illness, or alter the ecology of insect-borne diseases like Lyme, West Nile virus and others.
Earlier this year, the CDC launched a Climate-Ready States and Cities Initiative, which aims, among other things, to connect state and city health and emergency preparedness officials with local and national climate scientists, to better understand the potential impacts of climate change in their regions.
The new NRDC analysis, meanwhile, provides a snapshot of weather records and extremes for the first 10 months of 2011 using data going back 30 years and compiled by the National Oceanic and Atmospheric's National Climatic Data Center. The mapping tool reveals that all 50 states have experienced record-breaking weather events in 2011 -- from record rain and snowfall, to extreme drought, high temperatures and floods. Among other extremes, from Jan. 1 to Oct. 31, the organization tallied at least 1,302 record-breaking temperatures, 1090 new highs for rainfall, and 549 new snowfall records.
While none of these events or records can be directly tied to climate change, scientists note that events like these are certain to increase as average temperatures on the planet continue to rise.
The National Oceanic and Atmospheric Administration has already tracked more than a dozen weather-related catastrophes in the United States in 2011 that have caused at least $1 billion in damage -- a record number in a single year. These events have already cost more than $52 billion, and the final tally is expected to be higher when damages from hurricanes and a freak early snowstorm in the Northeast are fully assessed.
In a recent report, the Associated Press noted that the United States averaged only one such billion-dollar weather catastrophe annually in the 1980s. A decade later, that average was approaching four per year, and in the last 10 years, the average has approached five such events per year. Taking into account just the last two years, the number of billion-dollar weather catastrophes has averaged 7.5 annually.
Meanwhile, an analysis last month by a team of researchers from the Natural Resources Defense Council, the University of California, Berkeley, and the University of California, San Francisco, found that a sample of just six extreme-weather or epidemiological events over the last decade resulted in 1,689 early deaths, 8,992 hospitalizations, 21,113 emergency department visits and 734,398 outpatient visits -- with an estimated cost totaling more than $14 billion.
In November, the Intergovernmental Panel on Climate Change issued a preliminary report suggesting that "unprecedented extreme weather" was to be expected with increases in global average temperatures. The upward trend in weather-related calamities in the United States has also been noted by the international reinsurance giant, Munich Re, which released a half-year report in July showing a steady uptick since 1980 in natural disasters tied to storms, floods, extreme temperatures, droughts and forest fires: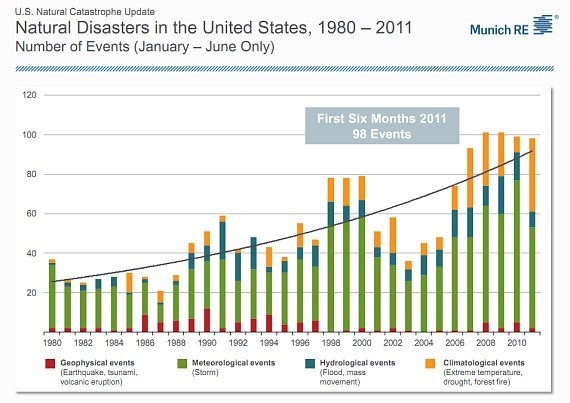 "Emergency planning and preparedness really needs to begin to incorporate the risks from climate change," Dr. Kim Knowlton said in a question-and-answer session during the launch. Knowlton is a senior scientist with the Health and Environment Program at the Natural Resources Defense Council who helped develop the NRDC mapping tool.
"We can improve that kind of planning and that kind of emergency preparedness by taking the effects of climate change into account," Knowlton said. "That's beginning to happen in some areas, but it really needs to become standard operating procedure, because we know climate change is here, and the effects are here."
A Yale University survey released on Thursday showed that the connection between climate change and extreme weather is becoming more clearly understood by the American populace. The survey found that 67 percent of respondents thought global warming made the summer's high temperatures worse, for example. Sixty-five percent believed the phenomenon was exacerbating droughts in Texas and Oklahoma, while 60 percent connected global warming to both the Mississippi River floods and the record snowfalls in 2010 and 2011.
"However," the Yale researchers noted, "46 percent of Americans also said that global warming made the summer East Coast earthquake worse, indicating a flawed understanding of climate change."
About half of respondents believed human beings were contributing to global warming -- up 3 points from the last survey in May.
Calling all HuffPost superfans!
Sign up for membership to become a founding member and help shape HuffPost's next chapter