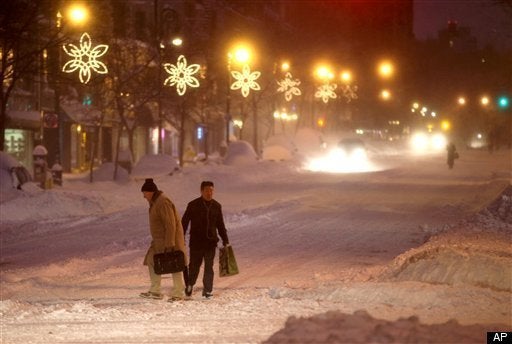 MANHATTAN -- Mayor Michael Bloomberg declared a weather emergency late Tuesday afternoon as a Nor'easter bore down on the Big Apple.
Sanitation workers were already on 12-hour shifts, 365 salt spreaders and 1,700 plows were at the ready and more than 200 private contractors and other manual laborers were lined up to tackle the storm, which could dump more than a foot of snow on the city.
The Office of Emergency Management urged residents to avoid all unnecessary driving during the storm and announced that any vehicles found blocking streets or impeding plows will be towed at the owner's expense.
Alternate side parking, parking meters and garbage collection have also been suspended, effective immediately.
The nor'easter is expected to bring eight to 14 inches of snow into New York beginning Tuesday night and continuing through Wednesday afternoon, according to meteorologists. The snow will be accompanied by cold and gusty north winds and highs in the low 30s that will feel more like the mid-teens, forecasters said.
"Tomorrow morning's commute is not going to be easy," Bloomberg said during a noontime press conference about the storm. "It's going to be a difficult, difficult rush hour."
A decision about whether to close city public schools will come by 5 a.m. Wednesday.
Meanwhile, MTA Chairman Jay Walder said the transit agency implemented Plan 4, its most serious weather emergency plan. Under that plan, snow throwing and de-icing trains will be at the ready to clear subway tracks and unused subway trains will be stored underground to ensure they don't get stuck in the snow.
Walder also said that transit service might be suspended or curtailed Tuesday night to prevent subways and buses from getting stuck.
The approaching storm prompted the National Weather Service to issue a winter storm warning in effect from Tuesday at 7 p.m. through Wednesday at 6 p.m.
"The storm will move too fast to equal the amounts produced by the Christmas Weekend Blizzard," AccuWeather reported. "However, the storm will still challenge road crews to keep up for a time. People on the road at the height of the storm will run the risk of getting stuck."
The snow will be heavy at times and accompanied by wind gusts of 20 to 25 miles per hour, likely snarling the morning commute as well as travel on roads and at local airports, according to meteorologists.
Some major airlines, including Delta, Continental, United and JetBlue, were waiving fees for changing tickets for travelers heading into or out of LaGuardia, JFK or Newark on Tuesday and Wednesday, as all three airports would likely see delays and cancellations due to the storm.
Con Edison has crews at the ready if the storm knocks out power, the utility said in a statement.
Ahead of the snowfall, Bloomberg asked New Yorkers Tuesday to stay off of roads, use 311 for all non-emergency calls and to keep an eye on fellow residents, especially the elderly.
The snow will give the city another chance to redeem itself after a disastrous response during the December blizzard. Snowplows were blocked by hundreds of cars and buses that were stuck in the snow and thousands of calls overwhelmed emergency services during the storm, which dumped 20 inches on the city.
"We didn't do the job that New Yorkers rightly expect of us in the last storm and we intend to make sure that that does not happen again," Bloomberg said.
Sanitation Commissioner John Doherty said most people will likely wake up Wednesday morning to many unplowed streets, but vowed to do a better job.
"We dropped the ball once and we're going to be at the top of our game tonight," he said.
In response to criticism, the city over-prepared for a snowstorm last Friday that brought just two inches and was largely gone from streets and sidewalks by midday.
Bloomberg also announced Tuesday that the city has ordered GPS systems for all of its sanitation trucks.
REAL LIFE. REAL NEWS. REAL VOICES.
Help us tell more of the stories that matter from voices that too often remain unheard.