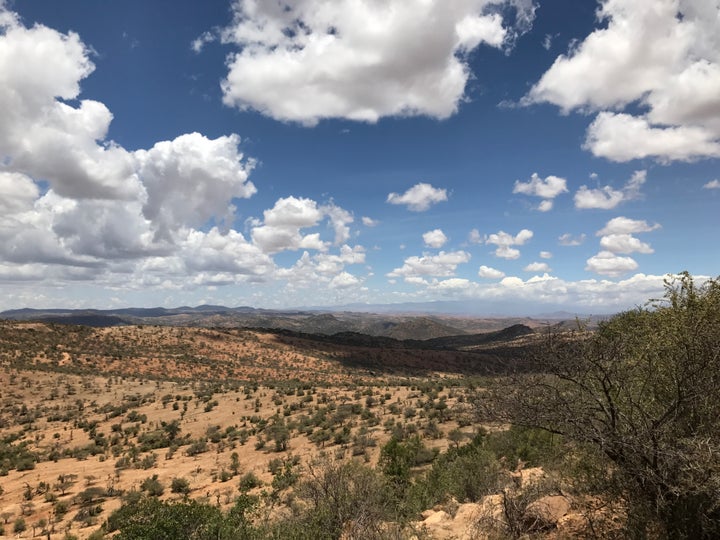 "I don't think you better come. You'd better go back to America!"
I was half an hour away from my long awaited destination in Northern Kenya, after several hours driving in the heat and dust from Nairobi, my car packed to the gills with all I thought I would need for two months of living in the bush.
The vast and mythical expanse of Laikipia had summoned my continual return since I first encountered the area some fifteen years ago. After many travels throughout Eastern and Southern Africa, I had decided to put my stake down in this achingly beautiful corner of the world for a couple of months this past winter, just after the US presidential inauguration.
As it turned out, I was leaving one surreal national crisis for another. The day before I arrived in Laikipia, northern herdsmen burned down a cherished lodge on Suyian, one of Laikipia's great landholdings.
Laikipia is one of the most extraordinary sanctuaries for wildlife conservation on the planet. Carved into vast tracts of private land over the past century, many of these holdings have more recently been converted into community-based conservancies, designed to protect wildlife and benefit local residents with jobs, schools and clinics.
The result is a network of hundreds of thousands of acres of unsullied bushland, stewarded by Kenyan and expatriate mavericks and visionaries and, increasingly, international environmental organizations. Among them is Kuki Gallmann (renowned for her best selling books about Africa) who presides over the largest private conservancy in Laikipa; the scandalous Wildenstein family who created what is unarguably the most extraordinary private home in Laikipia (Ol Jogi); and many other colorful residents. The Nature Conservancy has invested heavily in the region in recent years. In 2004, the Northern Rangelands Trust was established to support a model of community-run conservation and is currently comprised of 33 member conservancies covering over 27,000 miles of rugged Kenyan terrain.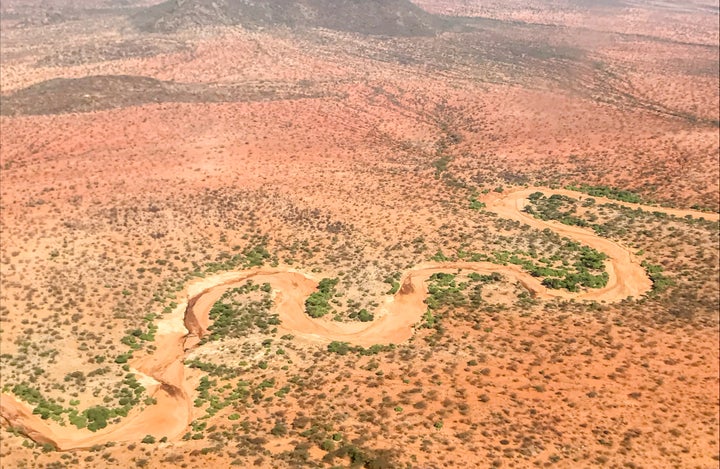 The problem this year was the drought. Kenya has two rainy periods per year—the short rains in November/December and the long rains in April/May. A failure of the short rains exacerbates dryness during the hot months of Jan-March, and a variable drought can result. 2017 has been one such year.
When drought occurs, the overgrazed pastoralist areas in the far north become barren very quickly, and the herdsmen of these hot arid areas head south with their cattle and goats, seeking (literally) greener pastures. Livestock is the measure of the man in Kenya, and it is very hard to shake traditional culture loose from growing their herds—even when doing so threatens the survival of all.
This year for the first time, there was an added wrinkle: the herdsmen were armed with AK47s.
"This was the space, the beauty, the wilderness I had been yearning for."
"I'm not turning back!" I responded to my panicked hostess. "The car is full, I've come all this way and I'm almost there," I said, somewhat desperately, quickly scanning my mind for a Plan B and not coming up with one.
"Well, it's not safe at the moment. There are thousands of cattle at Suyian, and they've invaded Mugie as well. I wanted you to know. I mean you are grown up and can make your own decision I suppose, but I wanted to warn you."
I had rented Het Day's house sight unseen. It lies perched on a hill – a 20-minute walk from the main farmhouse where Het and her husband Nick had raised their family of three children. I had been lured by the name of the place: Kamogi Ranch and its proximity to conservancies and properties I had visited.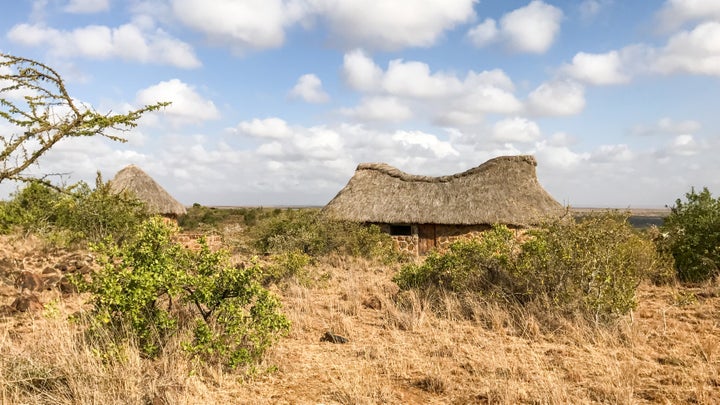 I parked my borrowed Land Rover outside what I believed to be my house with a final flourish of dust. The ubiquitous dust in Laikipia is gold, red or brown, depending where you are driving. You only have to drive a few minutes for the dust to settle like a mask over any exposed skin. It became part of my Kenyan uniform while I was there—and always a shock at how much of it there was on the occasions when I would try to clean it off with white cotton wool.
The vast Laikipia plains stretched out below my new dwelling, providing an immediate feeling of release and a view towards infinity. Any sense of pending trouble receded beyond the horizon. This was the space, the beauty, the wilderness I had been yearning for. Right away, I felt at home.
My hosts Het and Nick pulled up soon as well, then introduced me to their staff and showed me around the rondavels that made up my home: three bedroom cottages with thatched roofs, each with their own bathroom and a central main area with a living room, fireplace, dining room and veranda. Het had kindly laid in some stores for my arrival, and we set to making tea. I was in heaven at the prospect of the weeks ahead—time that would be my own before friends and family began to visit.
Around sunset I walked up to the airstrip about 20 minutes from the house, watching lavender clouds part as the moon rose. I could smell friendly chimney smoke in the distance. As the hyenas began to whine, peace settled into my soul.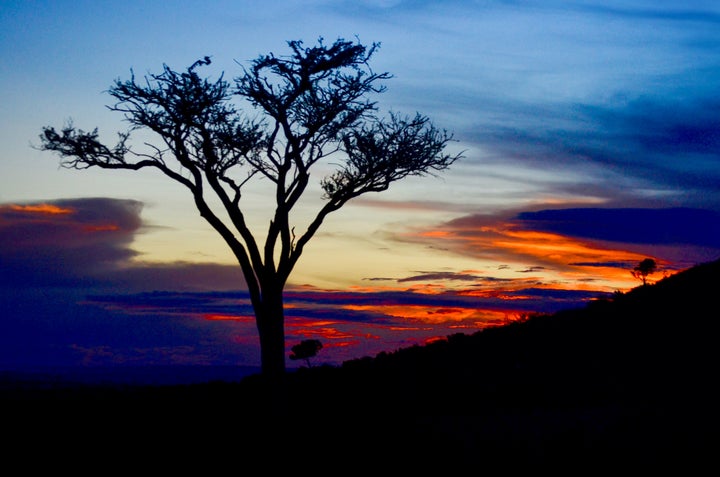 "10,000 herders with 135,000 head of cattle had invaded ranches and conservancies since the end of year."
In spite of the circumstances, I quickly settled into a contented routine, waking for early morning tea and to do some work. Every morning, my housekeeper Grace tidied up the mess the bats had made inside the house the night before (they loved to roost in the thatch roof) while I sat outside on the veranda at breakfast. Like clockwork, before 9:00 AM, Jim, a neighbor from the adjoining Loisaba Conservancy flew over Kamogi in his small yellow helicopter, perhaps surveying the area for intruders, but also just because he liked starting his day in the air. I wondered what he was seeing, and Het gave me updates: "The cattle are all over Suyian. Mugie is destroyed. There is no grass left and they are moving into Sosian." I scrutinized our own valley below for signs of "grazers" as they were called, but the hillsides were peacefully dotted with a few elephant and bushbuck. The calm was unnerving, given the reports of mayhem on surrounding properties.
"The problem is this departing Samburu MP," Nick said. "He's inciting these guys to invade the land, and they will just destroy it." Matthew Lampurkel was by all accounts a bad guy with a dubious upbringing, which some said had left him bitter and evil and out for white landowners. He was not likely to be reelected. He was quoted as saying: "There is no private land in Laikipia North. Nobody will go short of grass while I am MP."
While most of Laikipia's conservancies extended grazing rights to their pastoralist neighbors, the invading grazers were "thugs" from the north, not the usual herders that had long-term relationships with landowners. "They use children to herd the cattle," said Het. "They ought to be in school!"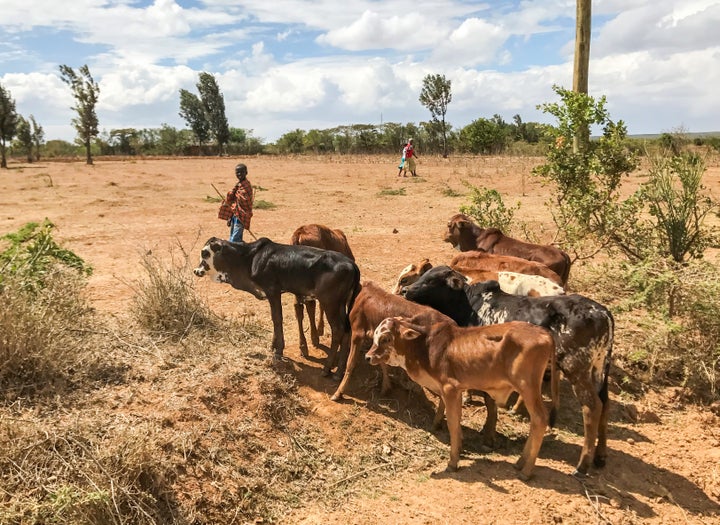 Local Samburu told me that the herders from the north were "rude heathens" who did not care about anything or anybody and were ripe for Lampurkel's urging to "reclaim their ancestral lands." The local paper reported that an estimated 10,000 herders with 135,000 head of cattle had invaded ranches and conservancies since the end of year. They were killing wildlife, which tended to run away when livestock were near, to boot.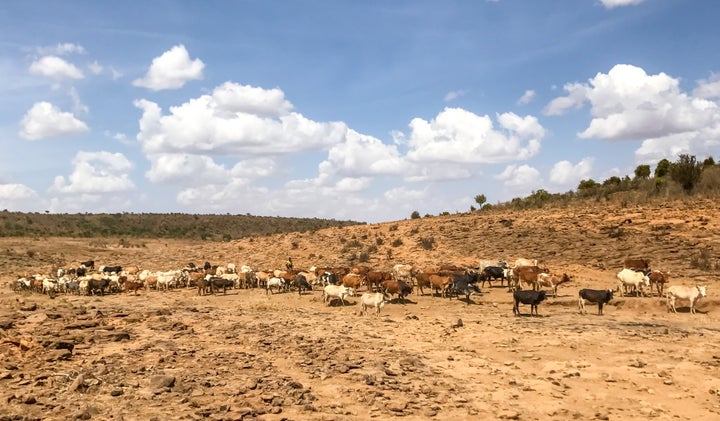 "…this is what a world without water would look like."
Consternation ruled the day at Kamogi. Once arrived, my own visitors were quickly introduced to our menu of topics: the drought, the dust and the hope for rain. Wizened by recent events, the more cynical landowners had begun to pray for a long drought that would kill off the encroaching cattle. The downside was, with so much of the grass gone, a prolonged drought would kill wildlife as well.
Around me, the bush grew drier, turning from brown to an ashen grey. The few small wildflowers I had noticed upon my arrival dried to nothing. On my daily walks to the airfield, even the zebra looked haggard. The elephants braced themselves under scant trees, the ridges of their spines prominent through their tough dusty hides. The drought had brought with it an apocalyptic vision of the end of the world—this is what a world without water would look like.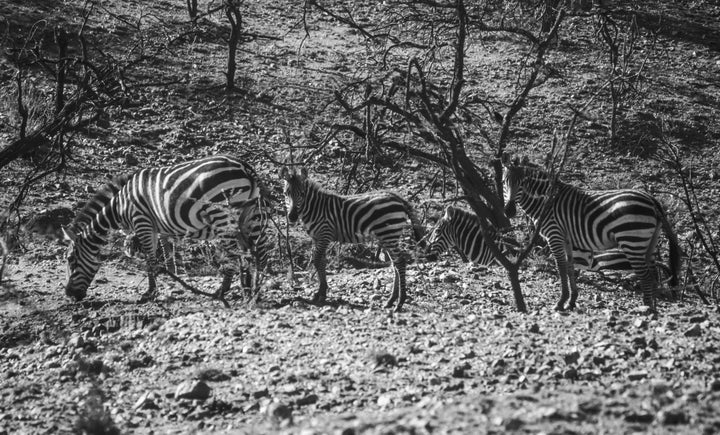 The rivers in the area were dry. To get water for goats and cattle, locals dug into the ground and protected their family wells with wreaths of thorns. The incidence of baby elephants falling into wells was on the rise, and I spent a day visiting the new Laikipia elephant orphanage, where several small elephant had been separated from their mums because of tipping into and getting trapped in wells.
I began to feel cautious at the sight of any Samburu on neighboring land. It was reported that they were hiding AK47s under their clothes or stashing them nearby. When we drove, some would wave us over, asking for water, which I happily donated. Children guarding the "shoats" (sheep and goats) ran away or hid at the sight of my car. They were afraid of being caught. Sometimes, their attempts at hiding were comical, as they would lie flat in the grass where they were, the bright blankets and sarongs they wore shining in the sun, giving them away completely.
"…under a sheet of stars, we felt the fineness of friendship and food in the bush. Regardless of the evolving crisis surrounding us, we felt connected and safe."
"Be careful," my family, staff and friends at home warned me, as they heard about conditions in Laikipia. "Stay safe! Come home!"
But I wasn't going to leave. I had inadvertently found myself in a moment of living history, where all that made up Africa (and perhaps the world's) conflicts were being played out at my doorstep. I wasn't going to turn away or head back to Boston. Every night when I went to bed I was alert for any disturbances that might interrupt the steady crooning of the hyena.
Yusuf my driver, slept in his cottage a hundred yards from the kitchen. In a quick amount of time, Yusuf had become my most trusted companion—anticipating all that needed attention on any given day and agreeing with me about precautions we needed to take (enough gas in the car to get us away in case the herders ambushed us and began to burn our home).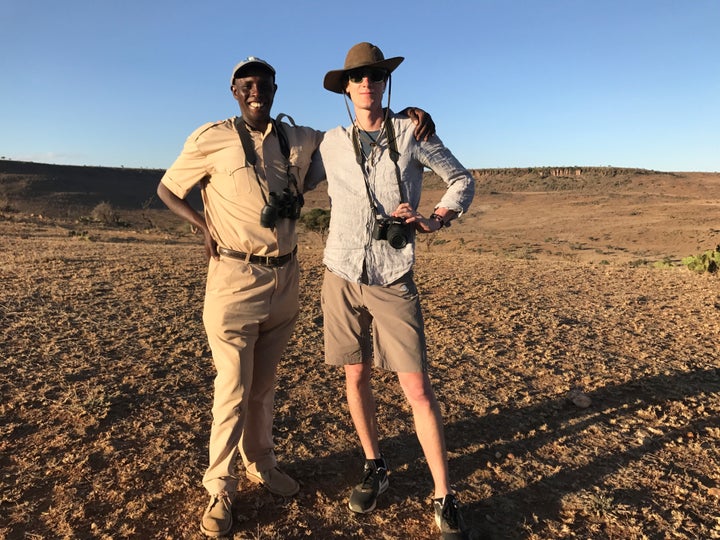 Meanwhile, we continued our enchanted wildlife viewing. Every evening we found a herd of elephants to observe and left our car to follow them on foot as they regaled themselves with branches and bushes, and the babies of the herd sidled between their mothers' legs. We lingered until darkness descended, calling us home.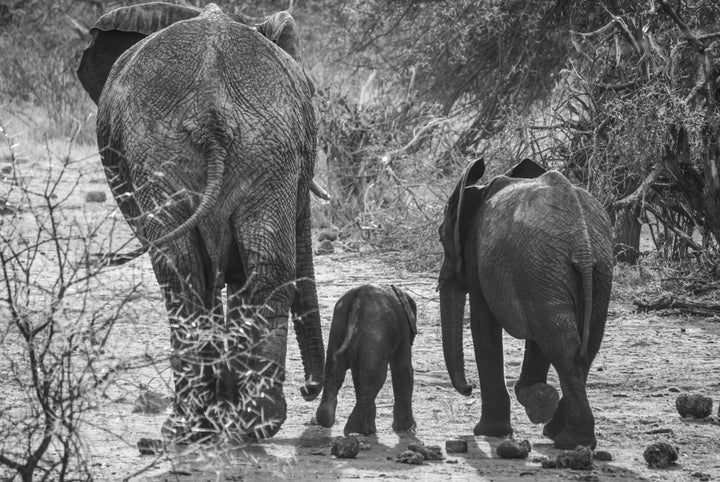 One morning, down at the area where the "local" Samburu watered their shoats, I made a friend-- a Samburu lady with a baby who invited me to dinner. We stopped in on our way back from a local Samburu market. The family lived in a manyatta on community land, with their goats. My friend had five children, including a small baby, and her household also included children from her husband's second wife. (Samburu are polygamous.) While my nephew Max went to kill a goat for dinner with other "morans" (Samburu warriors), I stayed inside the dark interior of the manyatta with the ladies. A fire was burning, and it was smoky and warm inside. We squeezed next to each other on a small, narrow bench. My new friends laughed at me because I could not understand their language and tied bracelets around my wrists. Compared to them, I was vastly under-adorned.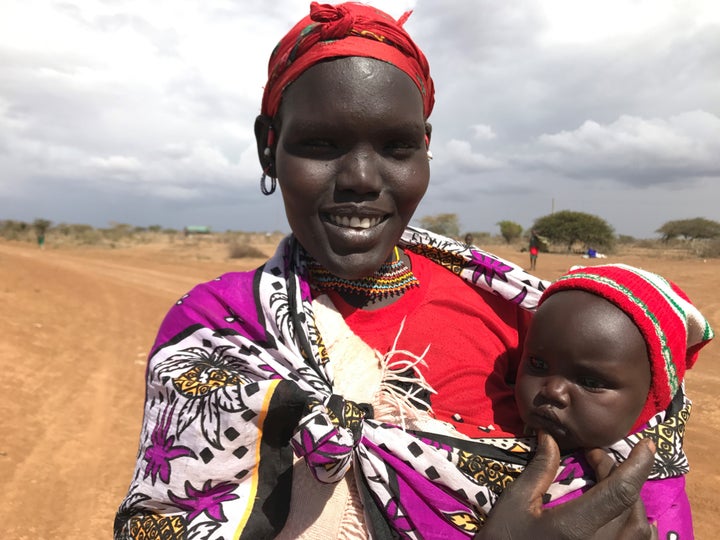 After a long wait, some select morsels of goat arrived, wrapped in the skin of the animal. The deed had been done. I exited the manyatta to find out how Max, my nephew, had fared. Full of goat blood and meat and the newfound company of his Moran counterparts, he shone with satisfaction. Quite the contrast from just a few days ago, when he was at his school desk in Boston.
My Samburu friend took the meat and cooked it quickly over the fire, adding salt, garlic and tomato to make a tasty meal for we ladies, who had waited for our spoils. (The men ate the choice bits grilled outside. Samburu men and women don't eat together unless they are married). Spooned over some rice, my dinner was delicious, and when we finally drove home in our Land Rover, under a sheet of stars, we felt the fineness of friendship and food in the bush. Regardless of the evolving crisis surrounding us, we felt connected and safe.
"Kenya's leadership was invested in these massive herds. They functioned as a kind of "hoof bank"—laundering untraceable money for Kenya's elites in government and finance."
"They are burning Sosian!" A month had gone by. It was early March. The invasion that had begun in July, with the shooting and crippling of the owner of Lombara Farm, was accelerating. It wasn't just whites being targeted. Farmers and villagers with all sizes of plots were being ravaged. Sometimes the grazers moved on and sometimes they didn't. Kifuku Farm had been under relentless attack, looted and broken into repeatedly with cattle stolen and shots fired. All around us land was being desiccated. The Kenyan government had remained conspicuously unresponsive to the chaos. With an upcoming election in August, it was widely agreed that they didn't want to lose any votes by turning on these northern herdsmen.
In addition, it seemed that Kenya's leadership was invested in these massive herds. They functioned as a kind of "hoof bank"—laundering untraceable money for Kenya's elites in government and finance. This was not a simple matter of drought. Even without a drought, the northern rangelands had been destroyed by overgrazing. There were simply too many cattle, resulting in a conflict of cultures: pastoralists who believed in unmitigated access to land on the one hand and a legal system of land tenure inherited from British colonial rule that gave land rights and property to private owners, on the other. While the former antedated the latter by thousands of years, population growth and land management conditions were now very different from former times.
While it was tempting to argue that local tribes should have their land returned to them, the fact is that this was likely to mean certain death to the region's flora and fauna. The hard work of so many to lovingly restore the region's wilderness and wildlife would be extinguished.
In 1999, the neighboring Sosian Ranch had been in ruins, a victim of drought and overgrazing, when it was bought and rehabilitated by a group of investors, including its flagship owner, Tristan Voorspuy, a British Cavalry veteran. Under Tristan's guidance, Sosian became the center for a highly regarded and successful riding safari operation: Offbeat Safaris. The land itself replenished, and before the recent invasion, was home to many species. Sosian ran a charming lodge, replete with stables and a swimming pool and hosted many loyal guests.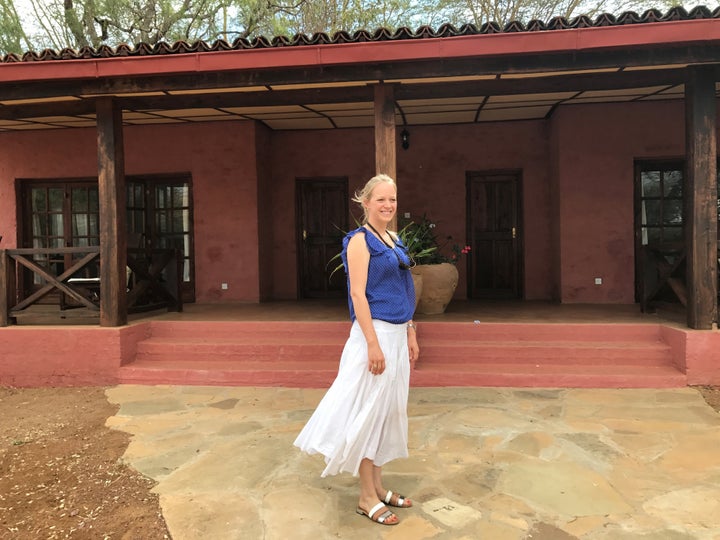 Known for his intrepid character, at the news of the arson attacks, and in spite of fervent warnings, Tristan returned from Tanzania to Sosian and insisted on riding his horse out to inspect the damage to several outlying buildings on the property. He and his horse were immediately shot and killed by tribal squatters.
Tristan had been a pillar in the landholder community. His death announced with finality a new chapter in illegal grazing history, one which harkened back to the days that farmers were turned on, hunted and killed during the Mau Mau era of Kenya in the 1950s. Nick Day was old enough to have lived through that nightmarish time, as were many other British Kenyans. The ghosts of those horrors were moored in their history, and the threat of their return never completely went away.
Heavy drink shored up grief that week, until the Days left for a week of funeral services, and I went to take a break in the Mara. It wasn't clear whether we should return. My paradise found was increasingly under siege.
"Kuki's daily life was dedicated to a vision of humanity living in harmony with wildlife."
I had discovered Laikipia in 2002, when my daughter Alexa went to volunteer on Kuki Gallmann's conservancy for the summer. We escorted young Alexa to Kenya and had a magical week, hosted by Kuki and the brilliant young guide (and now friend) Toby Fenwick-Wilson, who made every day feel like Christmas. Kuki was a treasure of an Africa-lived life. She had crossed paths with every notable in Kenya, and because of her best-selling work "I Dreamed of Africa," had introduced modern Kenya into the imaginations of millions around the world. In 2002, her farm, Ol Ari Nyiro, was teeming with game: elephant and rhino, leopard and lion, buffalo and impala graced her 100,000-acre property on the edge of the Rift Valley—where the views still go unmatched.
Kuki's daily life was dedicated to a vision of humanity living in harmony with wildlife. To this end, she spoke extensively worldwide and curated large-scale events on Ol Ari Nyiro, designed to bring peace and grow consciousness about the importance of nature and wilderness to locals and visitors alike. Her "Highland Games for Peace" brought together all the tribes in the region-Pokot, Samburu, Maasai and Turkana-- to compete athletically, as a way to disperse tribal conflict.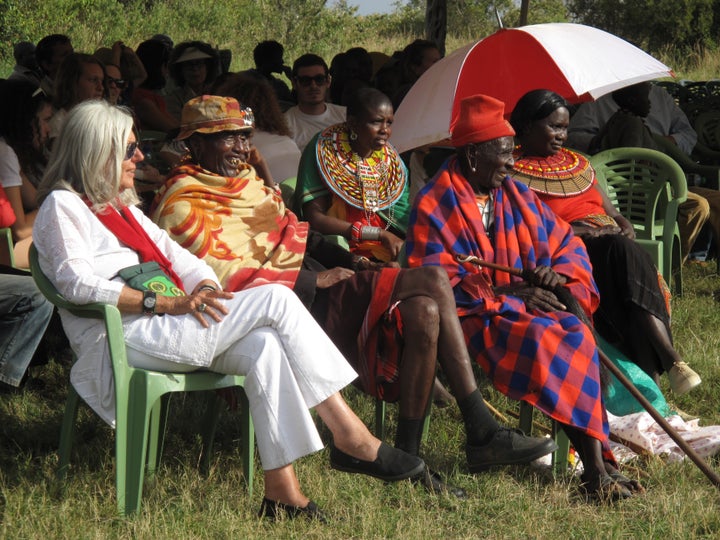 Returning to visit her in March, I was struck by the absence of wildlife on the property. Years of devastating poaching had left more skulls and skeletons to be spotted on our game drive than live animals. It brought home the statistics: 60% of African wildlife has been killed off in the last century. We could almost sense the ghosts of elephants on the surrounding hillsides.
As we sat around the fire at Makena Hills at night, I was humbled anew by the impossible beauty of Ol Ari Nyiro and wished that everyone could see our place in space from the same perspective. Unfortunately, my home country was now also evidencing a loss of vision and leadership as well as a lack of education and the small-minded politics that had impeded Africa for so long. Everywhere, we seemed to be in the same boat—needing to fully embrace a pluralistic world, share resources, and commit to living harmoniously and sustainably.
"I had come to treasure everything about Laikipia—its isolation, its beauty, its valiant wildlife."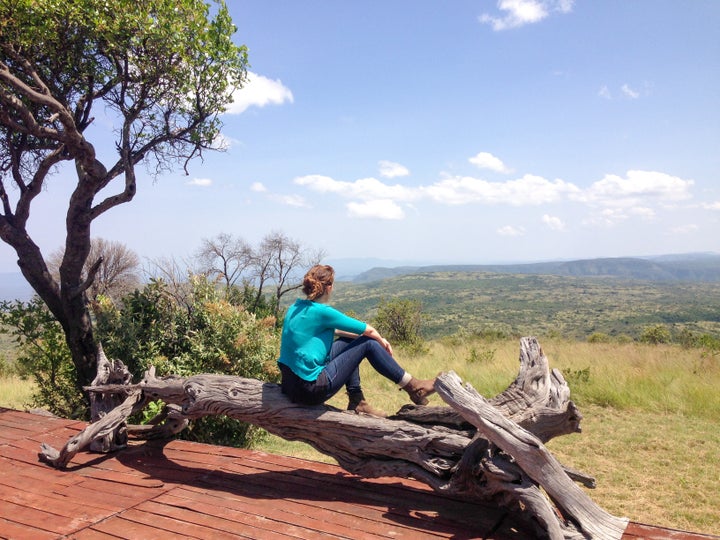 Back at Kamogi, Het had packed up all her valuables, including all the books of the household, and stored them in the stone dining room, lest the farmhouse be ambushed and burned. Het and Nick were leaving to stay with friends elsewhere, trusting their farm to their stalwart staff. I would have to leave too. My older son was due to arrive over the weekend, so I would just have to pack up and stay elsewhere with him.
It was odd to be back in the dust of Laikipia after my return from the lush Mara, which had already gotten rain. But I had come to treasure everything about Laikipia—its isolation, its beauty, its valiant wildlife—and I was not relishing my eventual return home to the US. My center had shifted.
I said my goodbyes to Josephine and Grace, my housekeepers. Yusuf would stay with me for a while yet as I continued my travels with my son Zale. As we locked up my house, I said a prayer for Kamogi and for all the conservancies bravely trying, in the face of things, to protect the legacy of wilderness and animals that share our planet. I did not know if I should pray for the rain to come.
April 23, 2017 post-script:
As of today, Kuki Gallmann has been shot and wounded by Pokot tribespeople illegally invading her land and has been evacuated to a hospital in Nairobi. Kenya police and ranch staffers have also been shot, and some have died. The grazer invasion continues and seems to be intensifying. The Kenyan government has not been able to effectively respond. It has not rained.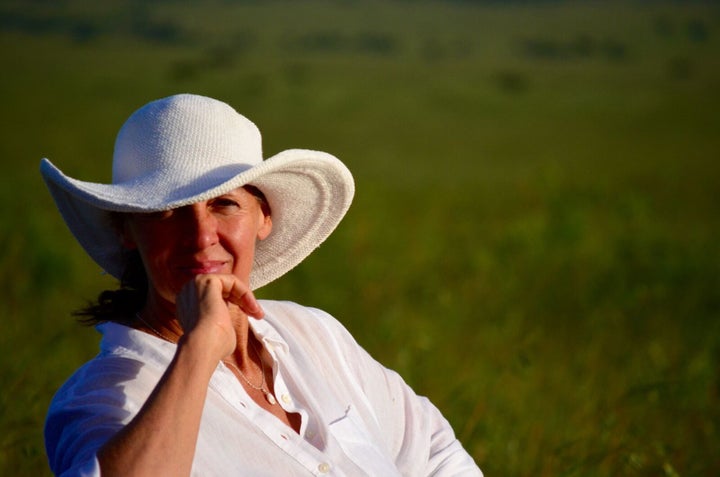 Dominique Callimanopulos is the Founder and President of Elevate Destinations and Elevate Safaris, travel companies that support sustainable travel, conservation and community. She plans to return to Laikipia later this year.
Related
Popular in the Community