When the New York Police Department and one of New York City's oversight agencies, the office of the Inspector General, had dueling press conferences this week, the media jumped all over a seeming mini-conflict within Mayor Bill de Blasio's administration.
The reality, however, is that history repeats itself with little to no change in how the department will operate out on the the streets. NYPD viceroy Bill Bratton, who has mastered the art of weather reform storms, announced that the department will now more seriously collect data around police use of force.
Last year Bratton testified that the NYPD's use of force patterns were outstanding. He made the case that in New York we had a restrained and essentially gentle police department. A city council analyst named Artyom Matusov took a look at Bratton's numbers and saw clear discrepancies. The NYPD's own officers were documenting use-of-force on their own paperwork at a much higher rate than Bratton's own overall numbers would suggest:
Matusov offered his own math in the email, writing that the NYPD generally makes about 400,000 arrests in a given year, and that, for the year 2011, "Bratton claimed that only in about 3% of those, force was applied by the police. 3% of all arrests would mean that the police used force in 12,000 arrests."

In his email, Matusov goes on to say there were 40,000 stop-and-frisk arrests in 2011, and "[o]f those, the arresting officers themselves reported that they used force in 19,360 arrests," which exceeds Bratton's estimate, even among that smaller sample.
Matusov was obviously onto something. That didn't stop city council speaker Melissa Mark-Viverito from having him fired. Matusov ended up filing a lawsuit which was later settled out of court. Matusov told me this week that he feels vindicated:
One year ago, in the wake of the Eric Garner incident, Commissioner Bratton came before the New York City Council and lauded the NYPD as a model of restraint. To demonstrate this, he presented use-of-force statistics that I challenged as being impossibly low. At the time, the department's response was that I had grossly misinterpreted their data. This week, we learned from Commissioner Bratton himself that the department's use-of-force reporting is in fact "very deficient", as strong admission as any that the NYPD has not been forthright about the frequency with which its officers resort to force.
Still, no one seems to want to acknowledge Matusov's role in exposing this obvious blindspot. Nor did anyone want to question Bratton why it was that he was essentially giving lawmakers bullshit data. Instead, attention was given to a report by the office of the Inspector General that suggested that (gasp) cops don't keep good records of when they beat up on people. Support of the office of the IG, though, is built in via the non-profit organizations and politicians that had a hand in it's creation. So you'll have some groups from Communities United for Police Reform, the coalition behind city council bill that called for the IG's office, crowing about the IG's report. You'll also see politicians like councilmembers Jumaane Williams and Brad Lander, who both recently voted for an addition of 1,297 more cops, pleased with both the IG and Bratton while alluding to "next steps."
Next steps. Next steps. How many steps have been taken in decades of political posturing around police brutality? We're like, what, 20 years after the Mollen Commission. The toothless Civilian Complaint Review Board, once promised as a game-changing reform, has been limping around for two decades, too.
But everyone loves new data, which is all that Bratton and IG Philip Eure are really bickering over. Data sets upon data sets. Bratton says he'll give more data while Eure wants credit for making him give it. And yet what is the real world effect of all that data crunching? Certainly the New York Civil Liberties Union, an influential part of the CPR coalition, will try to make use of those numbers for more litigation, more legislation. Perhaps there will be yet another useless and toothless oversight agency created in a few years. For people in communities of color brutalized by cops? Practically nothing. And data can be used to stifle calls for reform. Take the numbers around Stop and Frisk, allegedly down something like 80%. Could it be? Or can it be that police officers simply aren't documenting them--or perhaps were even over-documenting them (quotas) before?
All of this while Bratton gets to say he's drastically reforming the department (as does de Blasio) by changing some guidelines. Guidelines like the 2o year old no-chokeholds ban that Daniel Pantaleo didn't seem to remember when he choked Eric Garner to death. Bratton has been a master 'reformer', steering controversial police departments in Oakland and Los Angeles through federal consent decrees as both a consultant and police chief. In LA it was particularly arrogant Bratton who, after leaving the LAPD, went to work in the private sector with Michael Cherkasky, the man who had just been the independent monitor over the his LAPD as it was under a federal consent decree.
Bratton toys with government oversight, both at the local and federal level. There's no doubt in my mind that's part of why he was brought back to New York two years ago as it was also facing federal monitoring and local legislation--like the creation of the office of the IG. Again, NYPD oversight was already a joke with the Civilian Complaint Review Board too close to Bratton and the NYPD. The CCRB's head, Richard Emery, is Bratton's friend and former attorney going back to their time on the west coast. Emery's son, godson of NYPD counter-terrorism czar John Miller, also works at the NYPD, reporting directly to Bratton.
This week's use-of-force 'reform' conversation also overshadows pretty laughable recommendations earlier in the week by borough presidents (and former cop) Eric Adams and Gale Brewer. Their recommendations to improve police-community relations include giving cops more paid vacations and laws to encourage cops to live in the neighborhoods they patrol. Like the myth that the more diverse a police department the less brutal it is, the residency 'reform' has been thrown around before. But I'm reminded of the (black) cop who killed Shantel Davis, Phil "Bad Boy" Atkins, who lived in the community while also being known for terrorizing it, according to Davis' aunt.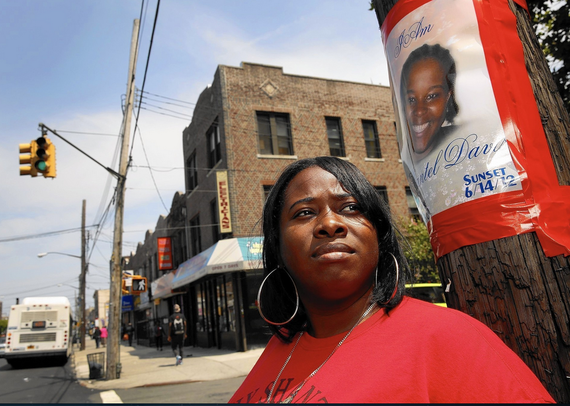 Shantel Davis was shot by a cop and left to bleed out in the street in 2012
We're now over three years after Shantel Davis, almost 15 months after Eric Garner and we're approaching the one year mark of Akai Gurley's death at the hands of New York City cops, how is it that we're still allowing these oversight agencies, liberal lawyers and small-time politicians to keep us talking about collecting data and "next steps"?
How about this for a next step: part of the use-of-force data policy changes will be cops documenting when the public uses force against them. In an interview with NPR radio Bratton noted "what we have put into place will also document uses of force against our officers -- a growing problem, I believe, in the United States, particularly over the last several years."
Activist and attorney M.J. Williams points out that "officers - who routinely lie on arrest reports - will be relied on for reports on their own use of force AND on use of force against them... because Bratton 'believes' (i.e. spouts a falsehood) that officers are increasingly being attacked."
"It is no surprise that Bratton revealed that he will use this so-called 'reform' against the people his officers engage with -- in other words, precisely those the new use- of-force tracking and disciplinary protocols are intended to protect.", she says. She also sees parallels to body cam reforms, which also implicate the public "but worse because the [use-of-force] reports are authored by the officers so they have complete control over the reports' content and we know they lie routinely."
With reforms like these who'll be surprised by the next high-profile incident of police abuse? Not me.
Calling all HuffPost superfans!
Sign up for membership to become a founding member and help shape HuffPost's next chapter