With the "monster storm" and impossible winter climates upon many of us, it's time to spread the word on how best to weather it all. And I found the answer in Denmark.
That word is hygge. With an eternally confusing pronunciation like 'hoo-ga', of course. They say it's as tough to define the Danish concept of hygge as it is to pronounce. Comfort. Fun. Cozy. Enjoy. Relaxing with good friends or loved ones. Usually with candlelight. Definitely with good food and drink. Often associated with Danish Christmas and family celebrations. It's a noun. It's a verb. It's an adjective.
The definition that resonates with me the most is this:
Hygge [hoo-ga']: a deep sense of place; well-being; a feeling of friendship, warmth, contentment and peace with your immediate surroundings. It's a uniquely Danish term that plays an important role in mentality and priority there. No wonder Danes are the happiest nation in the world.
In Denmark for me, hygge includes cafés and cobblestones. Lattes and ambient lighting. Breezy baristas who patiently smile while I'm fumbling through my foreign coins. And whomever is creating the playlists at these places. Geniuses! They all aced the European Cafe College elective How to Create a Cool Vibe. Always the perfect mood music. All. The. Time.
While I practically left kicking and screaming from Copenhagen, embracing and creating hygge in my daily life back home is one of the best tributes I can pay to Denmark. Winter storm or not, being present with those around you and feeling value in your surroundings are undeniably worthy practices. Certainly the best souvenir I brought home from a Danish adventure that was beyond words.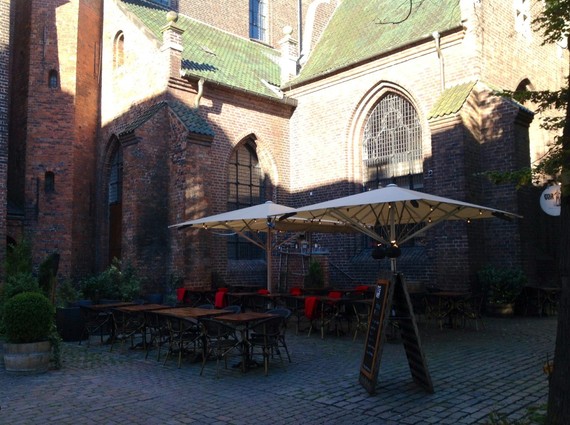 Maven restaurant, Copenhagen, Denmark
I passed this place, Maven, every time I went to the train station but didn't go in until the end of my trip. Such a cool vibe in the shadows of an old church (now an art exhibition).
For more of beautiful Denmark, a 10 minute getaway, or to jump on the next adventure, join the RobinGoesTo journey at RobinGoesTo.com.