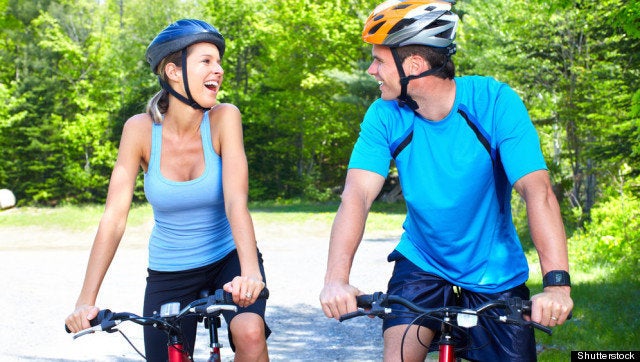 Minneapolis, Denver, Washington, D.C., Boston, New York, San Francisco, Baltimore... the list of cities that have launched or plan to launch bike sharing programs is constantly growing. What was once a mostly European idea has now become a hotbed for sustainable innovation across the U.S.
Public biking makes sense when you consider the current outlook -- gas: $3.70/gal and rising; construction of one parking space: $10,000; purchasing a new fleet bus: $500,000; fueling & operating a bus: $100/hr. In this environment, getting people out of automobiles is priceless (to borrow from MasterCard).
Scott Kubly, former Director of Progressive Transportation Services Administration in Washington, D.C., recently explained that this is why D.C. was an early player in the bike sharing game: "It's is a cost-effective way to get people out of cars; it's healthy, eco-friendly, saves space, creates an attractive community and it is a much better use of dense populations."
Bike sharing seems to be positioned as the solution for smart growth and urban development. But one major problem exists with these large-scale systems: the price tag.
D.C.'s Capital Bikeshare has required upwards of $13 million to build & install so far, and takes close to $1 million to operate annually. Each station in the system costs $50,000 to put on the ground, and you need at least 30 to make it worthwhile. Remember when SmartBike DC launched in 2008 with only 10 stations and it was barely used?
These types of programs are highly technical solutions that are not particularly 'budget-friendly.' In fact, New York's new system is gaining critics due to its high price tag, which in the end forces users to fork up at minimum of $10 for what used to (and should) be a simple way to get around.
So if you are not a major metropolitan city with deep pockets -- for example, a college campus, a small or rural town, a corporate campus, etc. -- how do you get in on the bike share action?
That's a challenge my D.C.-based start-up, weBike, has taken up over the past five years. I cofounded weBike with three fellow University of Maryland graduates back in 2007. What began as a class project has now become a company we are passionate about using to change the way people move. Our experience in a campus environment, where budget or approval for bike stations was nonexistent, led us to develop a low cost alternative.
We decided to remove the stations from our design, which significant lowered costs, and then developed a technology that allows users to rent and return bikes through a cellphone. In addition to our mobile technology, the model we created requires only a fleet of bikes, U-bolt locks and existing bike racks to complete the package. The total price tag for weBike's set-up & operations is well under 10% of just the operating costs of Capital Bikeshare.
The missing piece of our 'station-less' bike share puzzle is an electronic bike lock, a way to increase security and reliability while maintaining affordability. Kurt Wallace of Bikes Make Life Better, a corporate bike share consultant for companies like Mozilla and Facebook, confers, " (A lock like this) would let us talk to an entirely new market, and might create a breakthrough on the bike share front in that it brings the price point for a complete solution down into the 'doable now' range."
To accelerate the quest to produce a prototype of the lock, weBike is hosting a crowdfunding campaign @ Launcht.org throughout the month of August (check out the video below for details). Funds raised on the campaign will fuel product development and testing. Once a viable electronic bike lock is created, we can welcome the advent of cost effective bike shares into any community -- because everyone should have the opportunity to join the movement to make shift happen.
Related
Popular in the Community