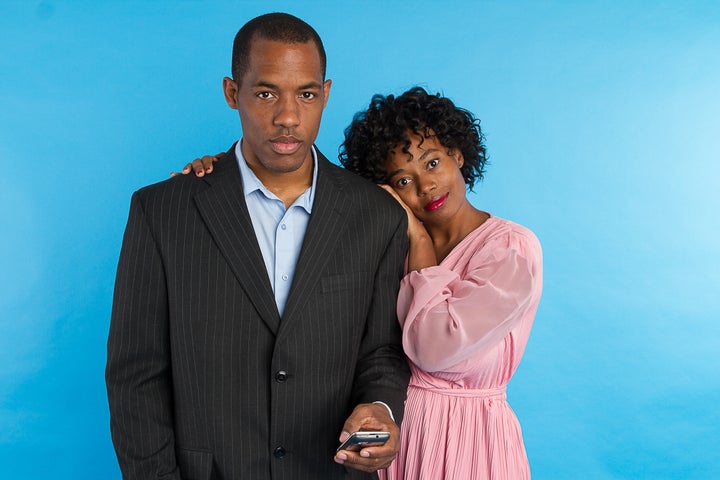 A charming two-story Los Angeles home is teeming with high-pitched shrieks and brazen finger pointing as a playful conversation between a couple straddles a very unstable and thin line between a lover's debate and a lover's battle royale.
Far from an unfamiliar predicament for their characters, lovingly referred to as Chick and Dude, of Black & Sexy TV's hit web series "The Couple," stars Numa Perrier and Desmond Faison undoubtedly prove that their on-screen shenanigans are just as real off-screen.
"If you watch the show, Numa's crazy. And most of the time she's doing something wrong," Faison says. "As much as I love her, it's simple--whatever she does is usually fodder for 'this don't make no sense.'"
"I don't really agree with that," Perrier says. "I don't think that I'm wrong. I think that I'm just a different kind of woman, you know?"
"She's just a different kind of right," Faison quips with such perfect comedic timing, Perrier has to laugh and nod her head in agreement.
The first agreement of the day successfully defuses the current land mine in the room and peace is established once again. As Perrier and Faison continue this passionate back and forth love-and-war-dance throughout the evening, the quintessential black iconic TV couples immediately come to mind--George and Weezy, Cliff and Clair and even Dwayne and Whitley. They each oddly resemble a concept that's quite rare in Hollywood--a normal, real relationship.
The obvious genuineness of their interaction is what draws these comparisons. As with the aforementioned couples, Perrier and Faison share an undeniable connection that transfers off-screen, cementing their fictional romance into a bona fide truth to viewers worldwide. What's further impressive is that they're able to achieve all of this through an intelligent, honest and positive portrayal of a functional black relationship in the new millennium.
Fans made their support of The Couple's modernized, old-fashioned love deafeningly clear in October when they funded the web series' Kickstarter campaign, contributing $32,665 to the project and exceeding the original $25,000 goal. The money raised will go toward turning the series into a film.
"There's a lot of folks out there that's making content that's more popular in pop culture than what we're doing and many tell us 'you gotta respect them because they're making money.' I'm like, no we don't," Faison says. "Our show is proof positive that we as black people don't have to settle for the lowest hanging fruit because it's the only fruit we can have."
"We have proven in the past that we can make quality content and that we're an intelligent enough demographic to gravitate toward quality content as opposed to grabbing the lowest hanging fruit that the man, Hollywood or even we as people give to each other," Faison adds. "That's why we try to make sure we stay above the fray so we don't have to add in all of those other devices of being who Hollywood wants us to be. If I want to talk about Alanis Morissette in an episode, I'm going to sing 'Ironic.'"
Without missing a single beat, Perrier and Faison break out into an interestingly harmonious rendition of Morissette's 'Ironic' before breaking out into laughter.
The success of Ava DuVernay, the first African American woman to win Best Director at the Sundance Film Festival for her film "Middle of Nowhere," Issa Rae's "The Mis-Adventures of Awkward Black Girl" as well as with the rising popularity of Dennis Dortch's Black & Sexy TV web series, there's no denying the growing support of black filmmakers not named Tyler Perry. Perrier, however, says she does not see this shift as a rebellion against the "Madea" star.
"I don't think that these progressive content creators are looking at certain content and saying 'this is so bad, I'm going to make something better,'" Perrier says. "I don't really look at it as a revolt because then, that takes away from the creativity of what's really going on. I think it's really a separate movement."
"There's a lot of existential factors that are contributing to it also in that for the first time in history, the playing field is evening in the entertainment industry," Faison adds. "For the first time, we're able to go directly to people who look like us, believe like us and feel like us and give them an honest perspective into who we are as opposed to someone else's caricature of who we are."
Going forward, the stars of "The Couple" say that fans can expect even more of their honest perspective sometime in spring 2013.
"Whether its black couples, whether its black doctors or what have you, I think the paramount issue is to have healthy, functioning, educated and happy black folks on TV who are contributing positively to their environment," Faison says.
REAL LIFE. REAL NEWS. REAL VOICES.
Help us tell more of the stories that matter from voices that too often remain unheard.