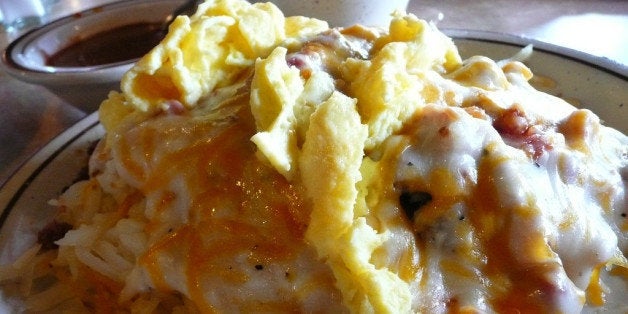 Across America, we go out in search of breakfast. From the Garbage Plates of Rochester, NY, to the breakfast tacos of Texas, to whatever it is that they eat for breakfast in California -- brave restaurateurs convince us time and time again that bigger is often better, especially when a hangover is involved. In Albuquerque, New Mexico -- a place best known for its unique green chiles and a TV show about meth -- one brave restaurant stood up and said, "NEEDS MORE HASH BROWNS."
That brave restaurant was Weck's, a local breakfast and lunch institution that opened its first location in Albuquerque in 1991. Like most New Mexican restaurants, there's a long list of local specialties available, in addition to regular greasy spoon staples. But we're not here to talk about any of those things, we're here to talk about this restaurant's singular contribution to the dissolution of hangovers across the state, Weck's Papas.
Weck's understands the inherent superiority of hash browns over home fries as a breakfast potato. Instead of just leaving it at that, they crafted an entire meal around a geographically significant amount of them with other breakfast foods on top.
From the menu description: "A mountain of our fresh hash browns with your choice of red and/or green chile, cheddar and jack cheeses, and served with a tortilla. Plates come with two eggs any style, bowls come with one egg." Versions include the original combo of bacon, ham and sausage, carne adovada -- a traditional New Mexican pork dish, slow cooked in red chile, or "sloppy" -- made with house-made bacon and sausage gravy.
This is a Bowl O' Papas -- which means that they manage to contain a small hill of hash browns into a bowl. (For those who are wondering, this is my regular order because I am a weakling, with chicken, green chile, and an over easy egg.)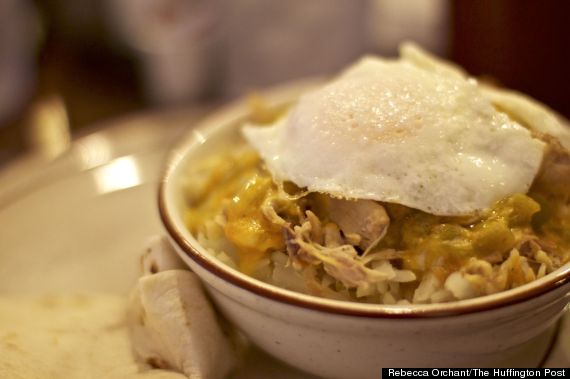 This is a full plate of Papas. That tortilla is there for scale. It is a full-sized tortilla, capable of holding a large burrito. That plate will make you at least four of them.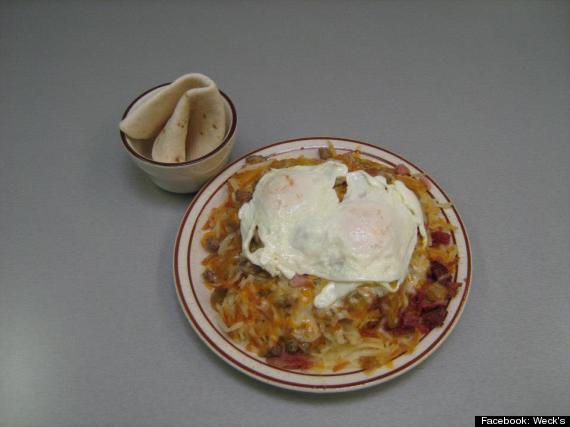 We wanted to show you a picture of a Papas Grande (double order), but there is actually not a camera on earth capable of capturing the scope. Instead, we'll show you a shirt you should absolutely own if you finish a whole plate.
Weck's now has 10 locations across the state, which means that if you are ever in New Mexico, you need to find one of them. If you happen to be hungover, your internal GPS should kick in, and lead you straight to the mountain of hash browns you never knew you needed.