By Patricia Vining & Jenna Vining
WeddingBrand.me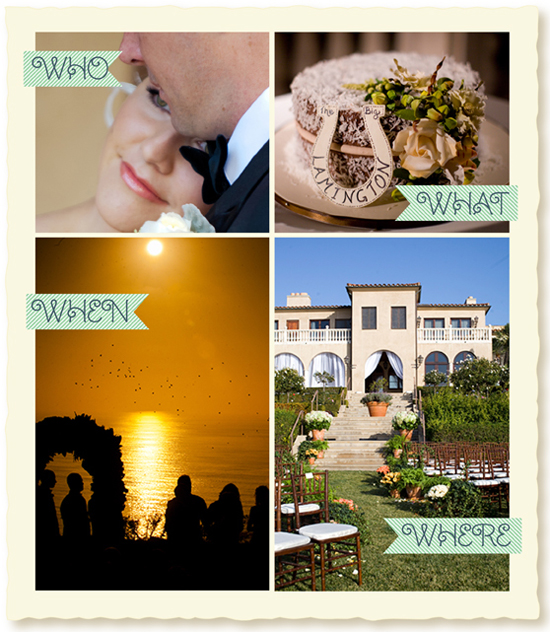 The beginning is the most important part of the work.
You're engaged -- now what? Wedding 411 is all about determining the big picture -- Who, What, When, Where? You will want to have some answers to these basic questions, even if they are only estimates, before meeting with wedding professionals. We have put together a list of the Top 5 Questions you will need to answer. So pour yourself a cocktail and get to work on your Wedding 411.
WHO? Write your love story as it is a wonderful way to show vendors who you are and what you are all about. It can also inspire your vision and style, be used in your program, as well as inform other wedding details. Since we live in a world where time is of the essence and people require immediate gratification, you will want to keep it brief, say the length of one or two tweets (140 - 280 characters).
WHAT? What is important to you -- the music, the food, the people? This is also the time to brainstorm your wish list and priorities for your Big Day. Don't censor yourself; just record all of your ideas, even the crazy ones! You can apply "Reality Checks" later as you finalize the details.
WHEN? Timing Is Everything. It is best to begin with your wedding date or at least, the season or time of year you prefer, as everything else will revolve around it from venue availability to seasonal flowers. Choose a day of the week you would prefer as well as the time of day you would like to be married.
WHERE? Will you travel to a fabulous destination or get married locally? Make a list of your style basics like formal or informal, indoor or outdoor, religious or secular. If you already have ideas on theme, color, venue type or reception, include those as well. Are you a vintage romantic who dreams of a blush wedding in a Gatsby garden or are you a country chic who loves earthtones and envisions a wedding in a rustic barn? If your style were a movie, what would it be?
HOW MANY? Estimate your guest count and other items that will have a large impact on your budget such as the number of attendants you think you will have. Set your budget. (See our budget tool) Assigning a dollar amount to each major category will prevent you from making those impulse purchases. Including a 10 percent contingency fund will help you in case you do cave.
YOU MIGHT ALSO LIKE
We have put all of this together into a fun questionnaire for you. You can download a copy at WeddingBrand, fill it out, and email copies to your vendors.