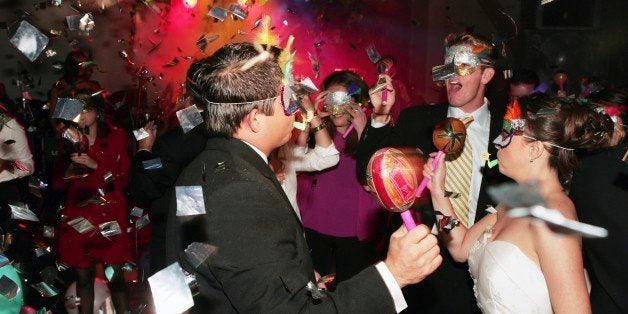 By Elizabeth Mitchell for Brides
Obviously lush flowers and a gorgeous venue are some of the elements of a beautiful wedding, but picture-perfect décor doesn't ensure an epic party. Score a 10 out of 10 for overall experience by following these simple yet effective tips that will have your guests talking about your wedding for years to come.
1. Ask for song requests.
To ensure everyone is having a great time and dancing the night away, have your guests request a song via the invitation response, recommends Key Largo wedding planner Lynn D'Ascanio of Dasignerevents.com. "Give this list of songs to your DJ, along with the name of the person who requested each song. That way, if the dance floor starts to thin out, the DJ can play songs off of the request list." This pretty much guarantees that the person who requested the song will get up and dance and encourage others to do so as well.
2. Don't let your friends and family talk forever.
"Many fun events have been driven into the ground by deathly long speeches," points out Lynn Jawitz, owner of Florisan Wedding and Event Design in NYC. To keep the party popping, ask your speech givers to keep their toasts short and sweet.
3. Remember to thank your guests.
Speaking of speeches, it's important to let your guests knows how much you personally appreciate them coming. "It's hard to believe how often this simple step is overlooked," notes Jawitz. "Bite the bullet, make a speech (keep it short, of course) and just genuinely thank your guests for dropping their lives that day to share it with you."
4. And keep them in the know.
According to D'Ascanio, the best weddings are the ones that are organized and follow a timeline. "When the events of the day unfold in a timely manner, and the bridal party and guests alike are not left standing around wondering what's next or where they should go or what they should be doing, the entire day seems flawless."
5. Add in an element of surprise.
Who doesn't love a special surprise at a wedding? "You could hire a group of singers or dancers disguised as wait staff to break out into song or dance during dinner," suggests D'Ascanio. Or you and the groom could perform a practiced dance routine yourselves for the first dance, offers Greg Jenkins, founder of Bravo Productions. "A 'wow' factor can be memorable and will ensure your guests have a blast."
6. Opt for a short ceremony.
If possible, try to keep your ceremony simple and short in length. "A long, drawn-out ceremony takes away that guest energy level at the onset, and sometimes it cannot be recovered for the reception," warns Jenkins.
7. Give birthday shout outs.
Does your BFF have a birthday on the same day as your big day? Or is it his parents' anniversary too? "Have your MC acknowledge any birthdays and/or anniversaries with a dedicated song during the reception," advises Daniela Grafman, wedding & special events coordinator at Vision Entertainment Group LLC. People love attention. Plus, it's just a sweet gesture.
8. Hire a great band or DJ.
After all, they can, in fact, make or break a party. Florida wedding planner Aviva Samuels of Kiss The Planner, recommends looking for a high energy performer, while being careful not to choose an annoying personality to be your MC. "Great vocals, great dance moves and great spunk will have everyone up on their feet until it's time to go home. Seamless song transitions and the ability to read the crowd when they want to hear more of the same sound or a desire to switch to a different sound is where a DJ's talent also comes into play."
9. Provide transportation.
If you're hosting a destination wedding or your wedding is in a remote location, be sure to provide transportation for guests from their hotel to your wedding and back, says Lauren Randolph, founder of My Hotel Wedding. "This way people don't have to worry about driving home drunk, which guarantees that they can party harder."
10. Allow your guests plenty of free time.
This is particularly important if you have a destination wedding or a bunch of guests in from out of town, says professional wedding planner Sandy Malone of Weddings in Vieques. "Back to back activities after a long trip will run them into the ground. Let them have some time and space to explore and they'll be refreshed and excited at all of your events." We concur.