The rules of wedding etiquette are constantly changing, making it difficult for modern brides, grooms and guests to find up-to-date and correct information. That's why we've launched #MannersMondays, a weekly series in which we ask our followers on Twitter and Facebook to submit their most burning etiquette-related questions. Then, with the help of our team of etiquette experts, we get you the right answers to your biggest Big Day dilemmas. Check out this week's question below!
Anna Post -- great-great-granddaughter of etiquette guru Emily Post and author of Emily Post's Wedding Etiquette -- is here to help us answer this week's question. Find out what she had to say below:
It's fine to send wedding announcements to anyone you'd like, no matter the size of the wedding. The only people who wouldn't get an announcement are those who received an invitation, regardless of whether or not they attended the wedding, as the announcement would be redundant.

As it happens, I just received a wedding announcement in the mail last night. It was announcing the wedding of a friend that I'm not as close to as I used to be several years ago, as evidenced by the fact that I didn't know she was now married. Clearly it wouldn't have made sense for me to be on her wedding guest list, but I was thrilled to hear of her marriage.

There's no reason to worry about imposing on anyone by sending a wedding announcement, as there is no obligation whatsoever to send a gift when you receive one (that goes for any announcement for that matter, such as a birth or graduation announcement). Still, some people may send gifts simply because they are happy for you. Be sure to thank them with a handwritten note as soon as possible if you receive one.

Announcements are sent soon after the wedding to anyone who wasn't on the final wedding guest list, as well as to any extended family, friends, neighbors or business colleagues who you think might be interested to know your news. Ideally, they are mailed the day after the wedding, but if that's not possible, then try to send them within the following few weeks.

Design-wise, you can go in any direction you like. The wording of your announcement usually reflects the formality of your wedding. Here's an example of the most formal wording (note the British spelling of "honour"):

Mr. and Mrs. Colin Samuel Thompson, Jr.
have the honour of announcing
the marriage of their daughter
Sarah Katherine
to
Mr. James Dewey McPherson
Saturday, the eighteenth of June
two thousand thirteen
The First Congregational Church
Charlotte, Vermont

The wording can also shift to reflect that you are announcing your own wedding:

Sarah Katherine Thompson
and
James Dewey McPherson
are pleased to announce their marriage
[etc.]

And if formal isn't your thing, there's nothing wrong with something like the following to get the word out:

Sarah and Jim tied the knot!
June 18, 2013
Charlotte, Vermont
You can submit your wedding etiquette questions via Facebook or tweet them to us @HuffPostWedding with the hashtag #MannersMondays.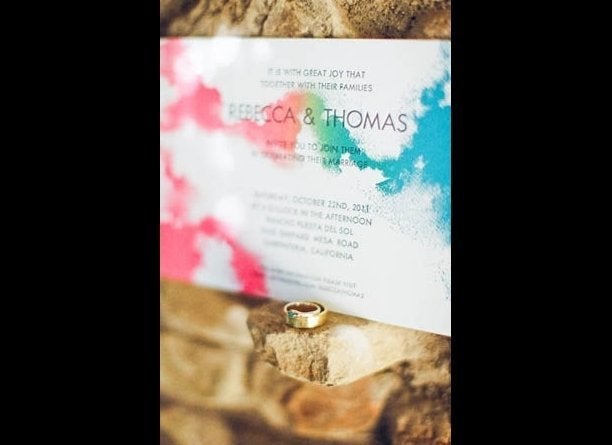 Patterned Invitations That Pop