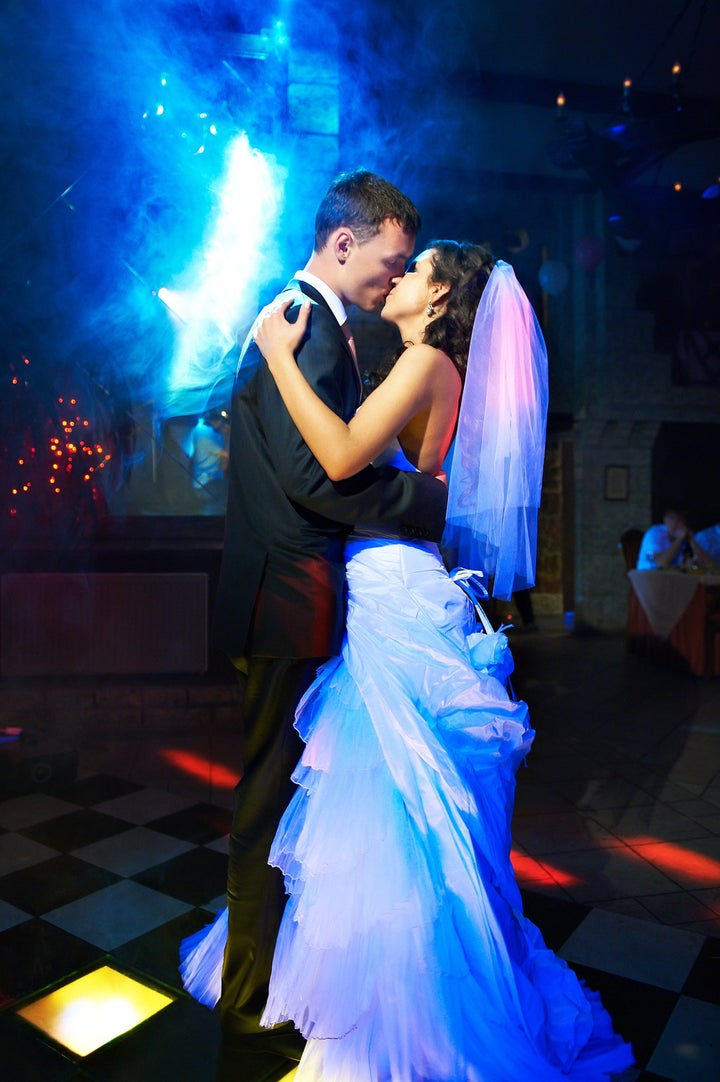 You're planning your wedding, and after a ton of deliberation you've decided to hire a live band instead of a DJ. Before you sign a contract, you'd better do your homework. Otherwise you might end up with a band that can't get your guests on the dance floor, that overcharges you, or that doesn't listen to your vision for your big day.
To help you navigate this tricky process, I sat down with musician and band manager Adam Mason, of 45 Riots, a band that plays weddings and clubs in and around New York City.
What's the first thing a couple needs to do to choose their wedding band?
The couple has to decide what kind of kind of band they want. One option is to go with a traditional wedding band. But what I'm seeing more and more is that couples want something closer to a nightclub vibe, so they're looking for a band that can play some indie rock, or hip hop, that sort of thing. An advantage of hiring a band that's out playing at clubs is that those musicians are playing together all the time, so they have a synergy and cohesion that really comes across in their sets. That said, couples should make sure they go with a band that has private party experience as well. You don't want to end up with a band that has no experience coordinating with other vendors, or ensuring that the wedding venue has an adequate sound system.
How does the couple narrow it down to one band, with so many to choose from?
There's definitely a lot of research involved. Online searching on reputable sources like The Knot or WeddingWire is helpful. If they're looking for local bands, the couple should go out to different clubs and listen to a lot of live music. It's really important to see a band actually performing in front of an audience, and it's also important to check out the band's website. Usually, the quality of the band's website and advertising parallels the quality of the band's performance. It's also helpful to watch the band's videos on their website, even though nothing beats going out to watch them live. Another important clue about the band is whether they get back to you right away. Also, pay attention to whether you get to speak with the actual band leader. Or is it a sales person calling you back? You want to make sure you're going to have direct access to your band leader throughout the planning process.
What questions should the couple be asking, once they've found a band they like?
The couple should definitely talk about sound with the band leader. Some venues have an in-house sound and AV production team, but sometimes the band has to bring its own. It's important to make sure everyone is on the same page about that. The other thing to discuss is the volume of the music. Most couples want a party that's high-energy and enthusiastic, but almost everyone is also concerned about volume, because they want their guests to be able to talk without having to scream over the music. The question to ask is, "What do you do to play at the appropriate volume, but still with intensity?" Some bands may show up with a ton of state-of-the-art gear, but in a small room, that can be overkill. What you want is a band that can provide a clear and clean sound with a lot of energy, but without drowning out all conversation.
What else should couples take into account?
The personality of the band. In other words, do the musicians have a camaraderie that's sincere? If they do, they'll be engaged on stage. It's easy for musicians to go through the motions, but you want to find a band that's really in the moment, that's concentrating on each note, and that's playing with sincerity. Every performance has to be 100 percent, and from the heart. Don't hesitate to ask the band leader about the band's vision, and how they function as a team. Also, before hiring, the couple should ask the band leader how much he or she can customize the band for their particular wedding. A lot of bands tell prospective clients that they must have a particular size band, with specific instrumentation. The fact is, every client has a different budget, and the band should be willing to accommodate that. You want a band that can hand-select which musicians are needed to deliver the type of music you've requested.
What's the biggest myth about wedding bands?
The biggest myth? That the bigger the band, the better your wedding reception will be. You absolutely do not need a 12-piece band to sound great. Honestly, it all comes down the rhythm section. If you have an excellent bass and drummer playing with the right feeling, the right groove, your guests will absolutely start dancing. That's what defines the sound and feeling and energy of a band. Then you add on a great vocalist, a brass section, and you're magnifying the strength of that core unit. But if you start with a weak core, you can add 12 people and all you're doing is magnifying the weakness. More does not mean better. Go for quality over quantity. Go with the one that makes you feel, in your gut, that you want to dance.
Related