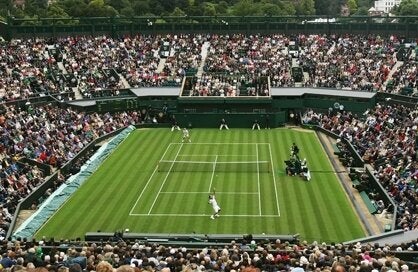 Nearly 63 years ago when a few old men drew a few old lines on a map and declared that there is such a thing as a Pakistan, Indians and Pakistanis alike were apparently supposed to forget how much they have in common.
Now, India's biggest female tennis star, Wimbledon contender Sania Mirza, has proven that age-old connections are alive and well on both sides of that randomly carved border.
She's in love, and she's set to marry a Pakistani.
And not just any Pakistani, but a well-known member and former captain of the Pakistan national cricket team, Shoaib Malik.
"We can all be one happy family," Mirza said at a press conference this week outside her home in India.
It turns out that India's tennis darling and the surprise package of Pakistani cricket have been smitten for awhile -- the dates are fuzzy as Mirza announced the dissolution of her engagement to another fellow just two months ago but stated Malik caught her eye "six or seven years ago" when he performed exceptionally during a cricket match.
But now, only weeks ahead of their planned wedding in India in April and wedding reception in Pakistan a few days later, they have decided to let the world know.
Mirza, an Indian Muslim whose family remained in India after the 1947 partition, and Malik, who was born and raised in Pakistan, have more than a few of their compatriots concerned.
The minor worries are about who Mirza will support during an Indian-Pakistani cricket match ("I will support India, but I will support my husband, too," she said this week).
The bigger worries are about some backlash by groups who oppose the marriage, including the Hindu Makkal Katchi party, one of whose members has inexplicably declared the impending marriage an "insult...to Muslims living in India" and demanded her deportation from India.
But on both sides of the border, there is a longstanding culture of interference when it comes to marriage -- arranged marriages are, after all, commonplace in both Pakistan and India, amongst various religious groups.
"Love marriages" -- when individuals choose to marry someone they have met on their own, versus mediated marriage based on careful study of curriculum vitae and a few select photographs shown by eager mothers -- are still considered unstable at best or unacceptable at worst in many Pakistani and Indian families.
This, it seems, is one of many cultural aspects that has remained on both sides of the border.
While Mirza's focus is on how "very, very happy" the couple are and not on "any political statements", politics, like history, cannot be escaped and the marriage will no doubt be under an intense scrutiny that these two athletes seem poised to conquer with poise and strategy: the newlyweds intend to settle in the neutral territory of Dubai.
Calling all HuffPost superfans!
Sign up for membership to become a founding member and help shape HuffPost's next chapter