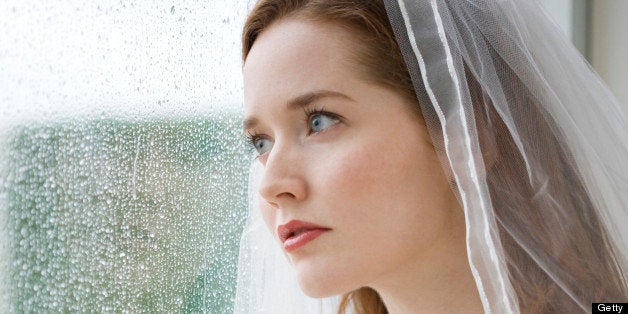 As much as you may have complained about planning your wedding, the moment it's all over you might find yourself feeling more depressed than relieved. But you have a lot to be happy about -- after all, you just married the person of your dreams! So what gives?
This phenomenon, known as the "post-wedding blues," is completely normal and happens to many brides. Wedding planner Bitchless Bride described it best in her HuffPost blog post, "5 Ways to Beat the After Wedding Blues."
"Similar to a tumultuous breakup, when your wedding planning is over, even if it wasn't a great experience for you, it still became a habit," she writes. "You always had something to do, decisions to make, places to be, people to not only spend time with, but who were desperately trying to assist your every whim. And now it's over...Whether you choose to admit it or not, wedding planning became your pastime."
On Wednesday, we asked our followers on Twitter and Facebook who suffered from post-wedding blues to tell us how they coped. Click through the slideshow below for 10 things that will have you feeling like your old self again.

How To Deal With The Post-Wedding Blues
Related