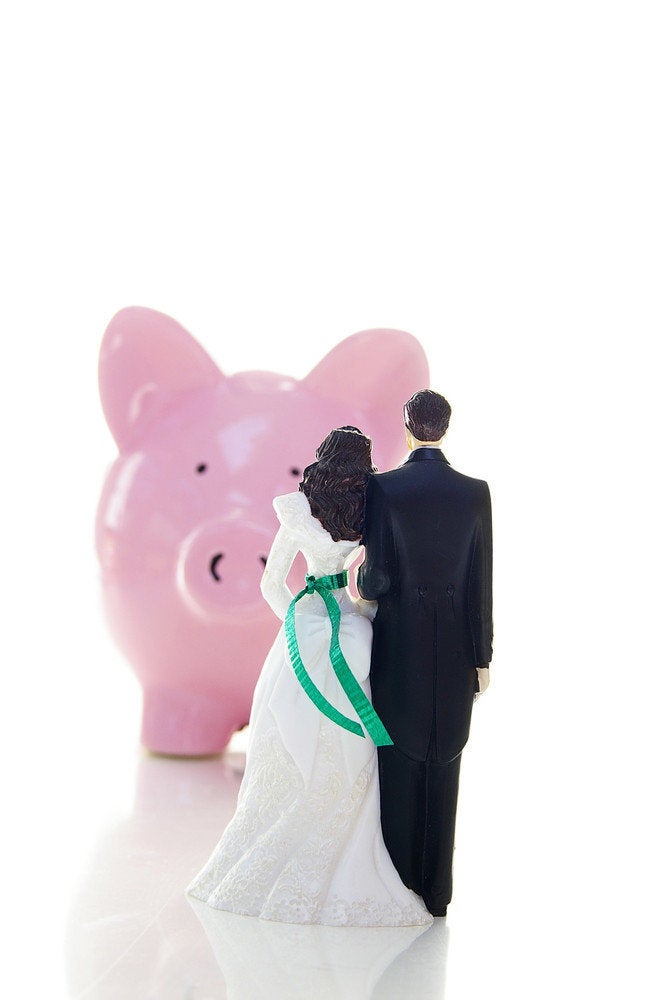 I am a meticulous planner. I also love surprises, but only those that are no cost to me. I have a confession: even planners can't plan for the unexpected. My recent escapade planning a trip to a wedding, however, proved to lessen the stress, even when blindsided by extra expenses.
Spring 2012. My boyfriend and I received an invite to a September wedding -- our third for the year. The previous two required a plane and a circuitous drive. This one would be no different. Lucky us! But I value celebrating special moments (big and small), so my excitement to see friends tie the knot outweighed the stressful fact that we would have to shell out a lot of cash to attend.
As an entrepreneur, I have to be extra careful how I spend money because I don't have steady income. It's hard, but as Lauren Vanderkam says in her book All the Money in the World, What the Happiest People Know About Getting and Spending, it's our experiences, not money, that bring pleasure in life.
If I wanted to go to the wedding, I had to find ways to cut costs. After all, I'm also a Millennial and we are even more cost conscious than our parents given how hard we've been hit by the recession.
So we booked our airline tickets on Southwest three months in advance. I love racking up airline rewards and I hate paying extra fees for checking luggage, so flying Southwest fits my travel style. We defied conventional norms that say the best time to buy domestic airline tickets is six weeks in advance. When you see a good deal, you go for it. Period. I've found that the best time to buy online tickets online is Tuesday through Thursday, and at night.
With our flights covered, the next step was hotel. But after looking at the location, I realized a cousin lived 15 minutes from the wedding ceremony. My cousin even lived close to a gym, a high priority amenity for my boyfriend. After some research online, we found out we could use their facilities for free. I couldn't argue with his desire to stay fit while I looked forward to the wedding appetizers and dessert. In planning events with others, each person will always have experiences they want to have. Choose the one or two things that mean a lot to you and find ways to meet those desires. If you can get your experiences on the cheap, that's even better.
Attending this wedding was starting to look better and better.
Next, we had to figure out how we would get around. Renting a car was out. Altogether it was going to cost us $150 with taxes and fees, plus extra for gas, insurance and tolls. Since we would need the car for two days, we decided instead to ask my parents to borrow their second car, cutting our transportation expense by $100. Additionally their EZ-pass would cut the bridge toll by more than 25 percent.
I decided to wear something already in my closet. I use to fear that people might recognize an old outfit I had already worn. Worse, pictures from the wedding would end up on Facebook and everyone would see that I wore the same outfit to another event. I know, it's sad, but true. In sharing these shallow fears with my friends, I realize that I was not alone. These days, I remind myself that no one has to deal with my credit card payment after a purchase, but me. And I'd rather wear something of quality more often than something less expensive that I'd buy just for one occasion.
It was finally time for our trip.
Everything was going smoothly until the day of the wedding. My boyfriend went to bring the car but minutes later called to tell me that a tow truck was taking my parents' car. I remember his words clearly: "The driver wants $125 to put the car down. If we don't provide it in the next few minutes, we won't be able to get the car until tomorrow morning and it will cost $250 to get it out." I was furious.
"Who tows on a Sunday?" we asked. We had seen the same tow truck driver two hours earlier inspecting the lot close to ours. At the time, we smiled confidently because we parked in the visitor's lot. We now felt so stupid that this same guy was about to tow us because we didn't have the Visitor sticker in the window. A small detail that my cousin forgot to tell us, but the tow driver had no sympathy.
I scrounged for cash in my wallet, while the BF ran to the ATM and five minutes later we had my parents' car. Whew! While I was still hot that we had to shell out extra money, my boyfriend reminded me of all the savings we already got on this trip and "these things happen." In that moment, I'm glad that we both had some extra cash to cover the expense. Later that night, I was glad we could drink and eat away the sorrows of our lost $125.
At least we didn't get the car completed towed. Planning in advance was key to giving me a cushion for unexpected expenses It's worth it to spend a little more time upfront cutting costs of things like attending a wedding, which is usually expensive. The way we thought about it was this -- the less we spent on travel, logistics, clothes and transportation, the more we could afford to get the couple-to-be a nice gift. Or pay a tow truck driver. Either way, we worked together to make the trip affordable. David Bach, author of Smart Couples Finish Rich, would be proud of our teamwork.
I am proud that I kept my sanity through the planning, finding deals and handling the unexpected expense. Several weeks back, another friend told me that she is engaged. I say, "Bring it on!" How are you getting ready for your next big event?