Swirls of buttercream, cascades of iced ribbons and blossoms — wedding cakes are the stuff of dreams, and it's the rare guest who doesn't look forward to the prospect of that magical last course. But there's no sugar coating it, the cost of confection perfection can soar. Especially these days, with desserts (and dessert tables) such a major trend.
(The national average cost of wedding cakes and desserts will be $451 in 2013, jumping to $466 in 2014, up from 2012's $437. In areas like New York City and Napa, Calif. cakes can run as high as $1,200-plus.)
No worries! We've gathered loads of ways to slice your costs.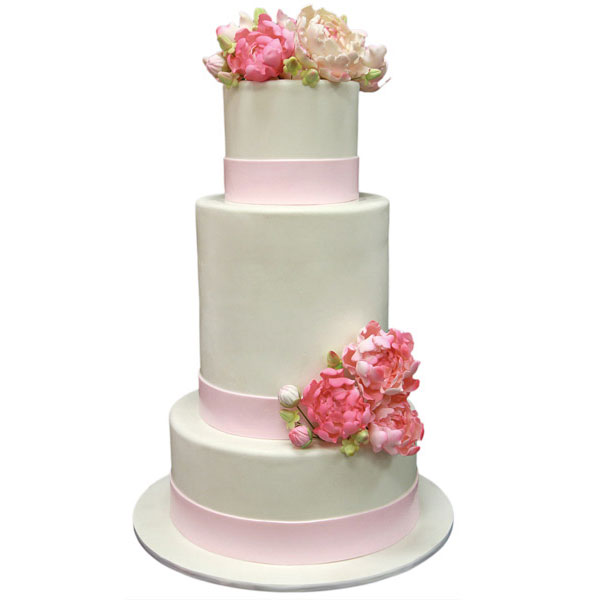 1. As you begin to conjure up your cake, the number-one rule to keep in mind is that it's the labor — the time spent constructing, icing and detailing — that determines most of the cost, not the ingredients. This isn't to say that size and shape don't come into play: They do.
2. Cakes are priced per slice, and since not every single guest is going to partake in your wedding cake, you're safe asking your baker to allow for 25 fewer slices for a 150-guest head count.
3. Opt for a cake-slicing station (rather than a served course) so that guests can choose from the plated presentation, for a savings of 10 percent.
4. Create the effect of a larger cake by separating each layer of cake with thick, decorated non-cake layers — such as styrofoam squares wrapped with glittering fabric — to turn your three-tier into a six-tier wedding cake. You'll get the effect of a super-pricey cake for about half the cost.
5. Go smaller. "Most couture cakes are small," says Ramona Osirka, owner of Perfect Wedding Cake in Marietta, Georgia. "So choose a smaller, two- to three-tier wedding cake for your display and cake-cutting, and then have a non-decorated, non-stacked sheet cake in the kitchen from which your servers will cut most of the guest slices. This can save you 50 percent."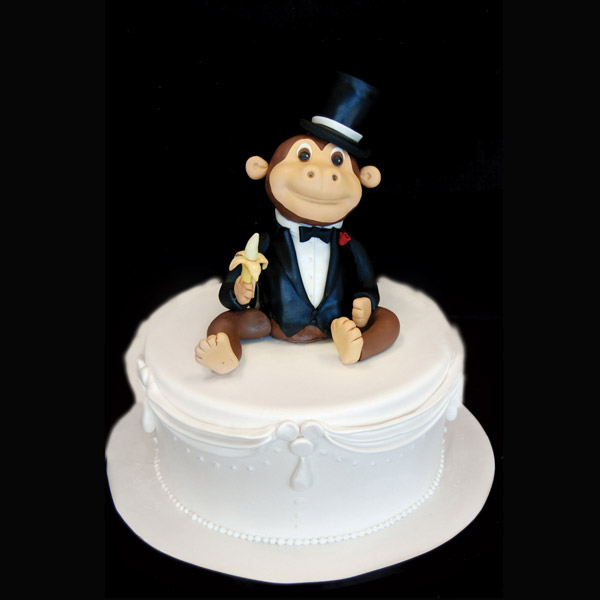 6. Create a deconstructed cake. Osirka says, "When you display each of your standard-size wedding cake tiers on different platters and pedestals side by side, you cut out the costs of stacking and decorating a grander tiered cake." This strategy saves 25 percent, since many bakers charge a fee for stacking cake layers.
7. Re-think mini wedding cakes for each guest table. According to Renay Zamora, owner and cake artist at SweetFace Cakes in Mount Juliet, Tennessee: "The amount of labor involved in mini cakes can raise costs. My general rule is one-quarter the size equals four times the cost." (That said, table cakes can stand in for centerpieces, so you might end up saving on your floral bill.)
8. Go square. A square cake will usually feed more guests, since it's easier to cut it in a grid pattern and get a larger number of servings from each tier. (Ignore the myth that frosting a square cake takes more time, effort and money: An experienced cake maker can cover and ice a square cake in no time!)
9. Shaped cakes are notorious budget busters. "Topsy-turvy cakes can take three days to make," says Saint Sepulveda, owner of Layer Cakes in Pearland, Texas. "They also require extra layers that get carved away in the sculpting process, adding up to large expenses in ingredients and in labor-intensive decorating time."
10. Instead of a car or football shape, Osirka says that grooms' cakes cost a lot less when they are square, sporting an image on top made from edible ink (such as a monogram, sports logo or even a photo from a digital image). "Or you can top the cake with a toy motorcycle or other fun item."
11. Many reception sites charge a per-slice cake-cutting fee that can range from $1 to $8 or more per slice. Some sites will charge this fee if you bring in an outside baker's cake, and some charge it even for a cake they've provided. Since $3 per slice for 150 guests equals $450, this is one charge you should always try to negotiate out of your agreement.
12. Standard flavors cost less than more unusual "premium" flavors. Anne Heap, owner and designer at celebrity favorite Pink Cake Box in Denville, New Jersey says vanilla, chocolate, lemon and key-lime cakes cost a bit less than red velvet and carrot; vanilla or raspberry buttercream run less than cream cheese or chocolate hazelnut cream.
13. Choose buttercream frostings over fondant coverings. Heap says "Buttercream frostings are $4 per slice, while fondants are $5 per slice." The extra effort that goes into rolling out and applying fondant accounts for the price bump.
14. Choose standard flavors for the largest tiers, and premiums for smaller tiers to save 10 to 40 percent. And stick to two flavors and fillings, as is often standard. Many bakers will charge more if you order three cake flavors and fillings.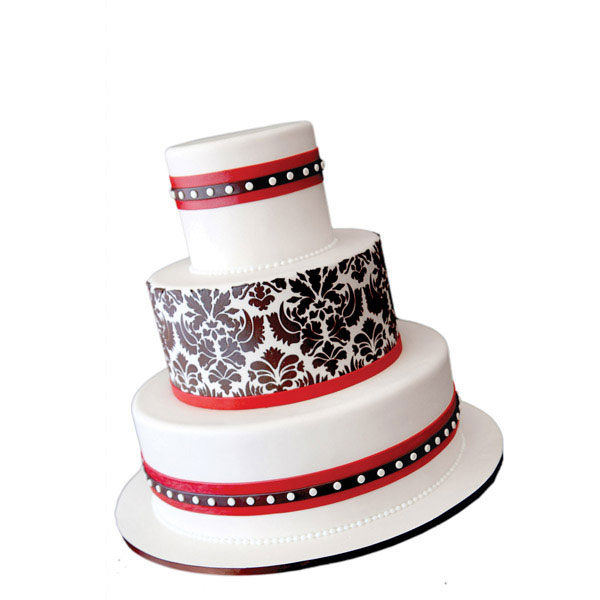 15. Icing dots are easy and inexpensive, says Zamora, and a cake covered with icing "pearls" is an elegant touch.
16. Bigger sugar-paste flowers make an impression for less. Zamora says it's intricate bloom designs like stephanotis that cost more. Sugar-paste anemones and peonies are popular budget-friendly accents. Heap says that limiting yourself to one bold sugar-paste flower on the cake lowers the cost by 40 to 50 percent.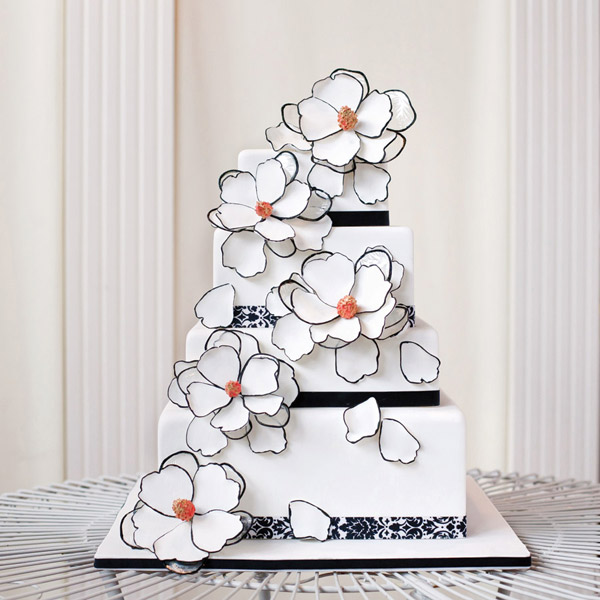 17. Hand-piped lacy designs are pricey. Instead, "Your baker can achieve a lace-like, damask or chevron effect with a roller pressed over fondant," says Zamora. "Just avoid the second step of cut-outs, because it costs a lot more if we have to cut out hundreds of tiny little pieces from a lace design."
18. Encircle cake layers with ribbon, which takes only seconds to apply. Heap says damask ribbon is popular now, adding more effect than solid-colored ribbon. Affix a crystal brooch to the front of a ribbon wrap for sparkle.
19. Instead of sugar-paste blossoms, embellish your cake with fresh flowers or chocolate-covered berries and save up to 40 percent.
20. Doughtnut cakes are rising high on the foodie trend-o-meter. Doughnuts can cost as little as $5 for a dozen at bakeries. A top cultural choice is malasadas, a doughnut topped with cinnamon and sugar, often priced at 75 cents apiece.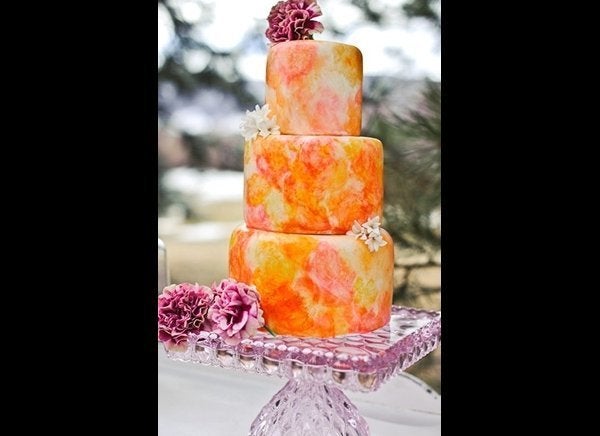 9 Showstopping Wedding Cakes
Popular in the Community