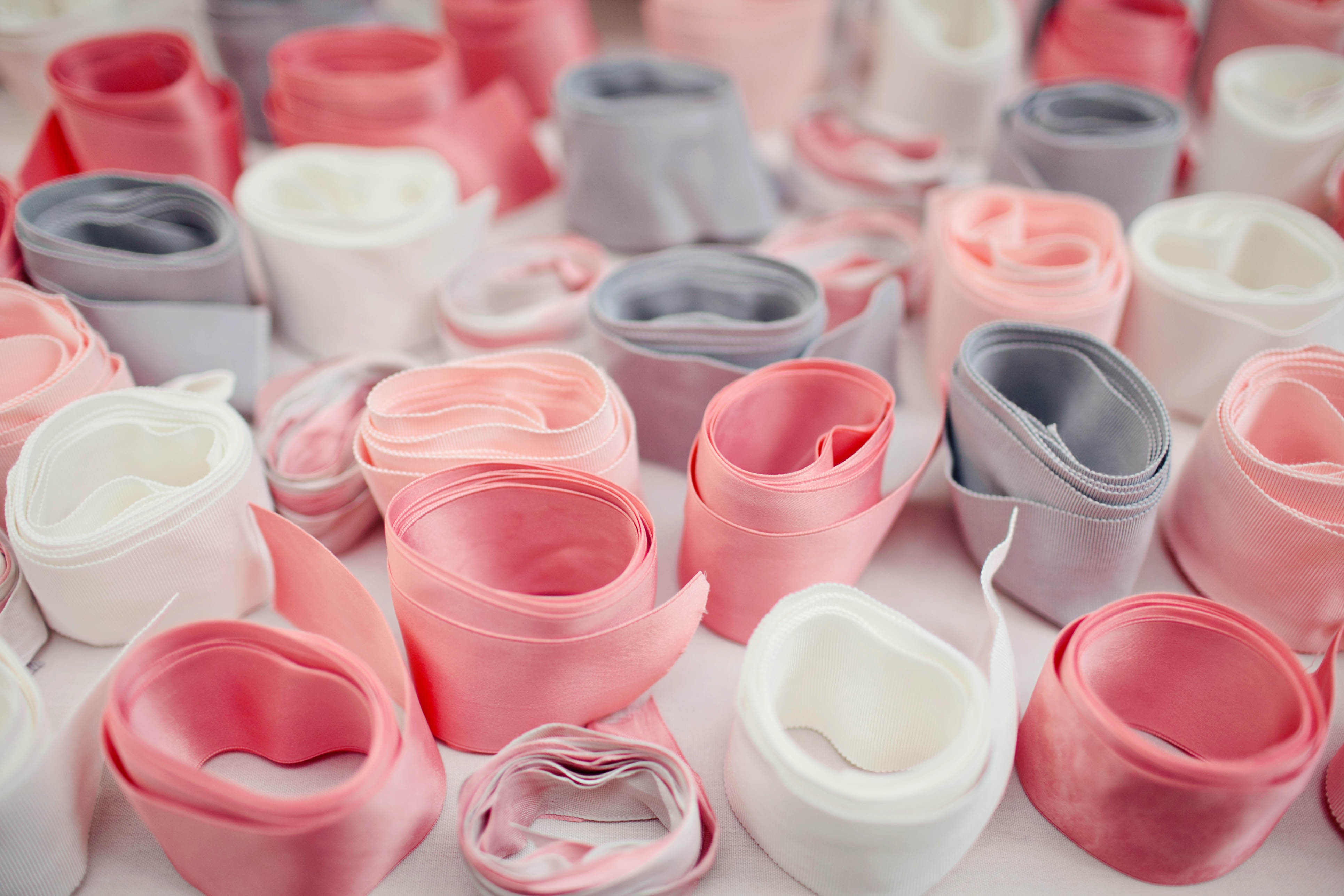 Photo Credit: Heather Kincaid Photography
How does one make their wedding special, different, unique and beyond memorable? Some weddings are built upon tradition. Whether it is one's religious traditions or creating a spiritual wedding environment, a wedding should be all about the bride and groom. It is always the goal to design a wedding with custom details in which guests leave with a lasting impression saying "that was SO them!" There are many ways to incorporate special details that are specific to the couple and also conceptualize original touches to create sacred moments and beautiful visuals.
Incorporating ribbons into the design element is a unique touch and can double as a keepsake for the couple. Here are a few examples of how the simplicity of adding ribbons to your event can make for a truly memorable experience for you and your guests.
We had a New York bride and groom that were getting hitched in Del Mar and didn't want a ceremony that was centered around religion. We wanted to come up with a ceremony element for them to embrace and get them excited for their nuptials.
We did a special mailer to each guest who was slated to attend the wedding. A beautiful hand dyed silk ribbon in colors of ivory and blush was sent to each guest with a personal note from us to send a sentiment to the bride and groom for their wedding day. Guests wrote their notes on the actual ribbon and knew that the ribbons were going to be a part of the wedding but we did not detail the "how."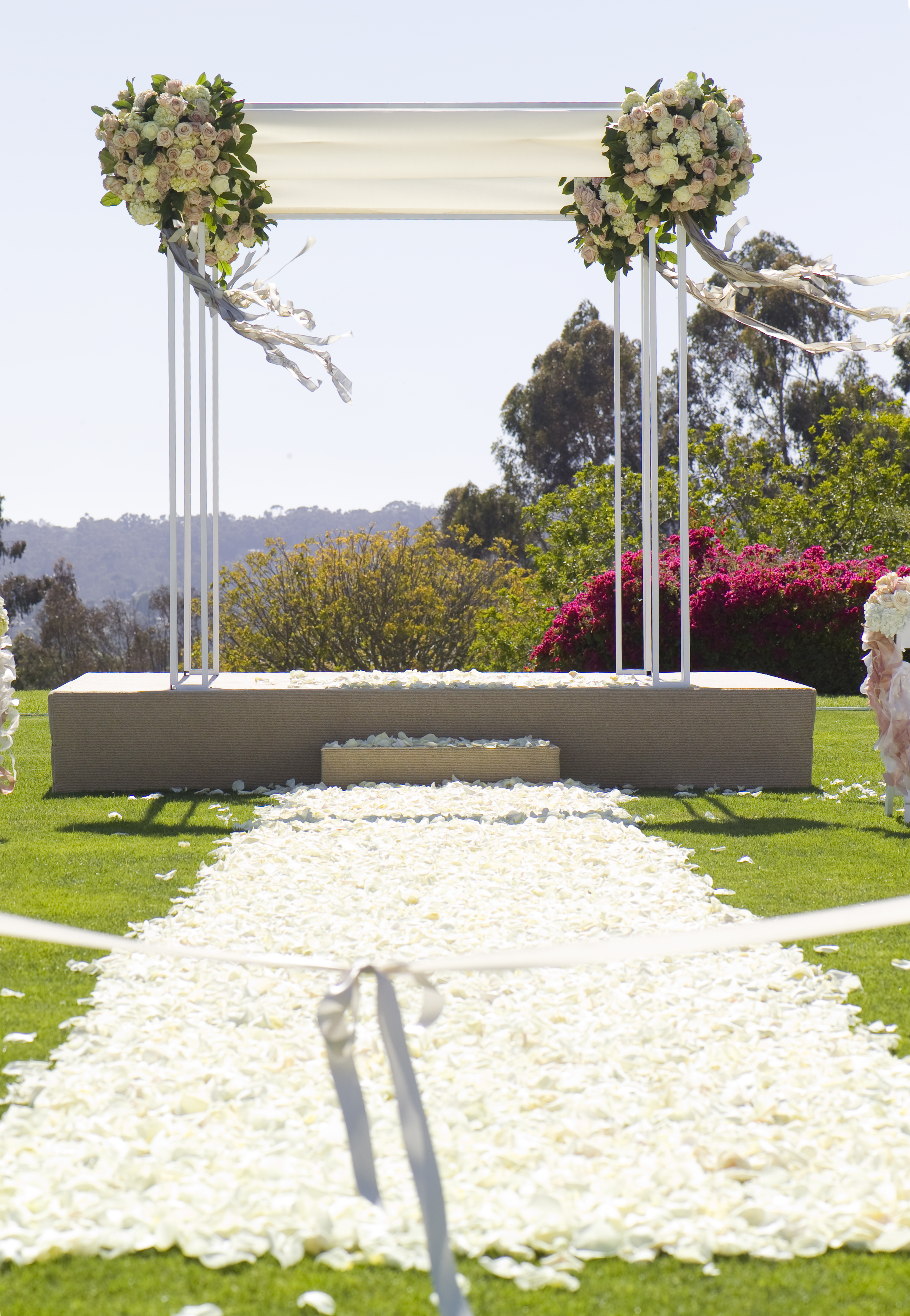 Photo Credit: Allison Duke Photography
The couple was married under an arbor with the ribbons from each guest hanging above at the four corners of the arbor. The wind blew during the ceremony and the ribbons waived softly in the air. The officiant touched upon this outstanding detail and noted in the ceremony that the bride and groom were not only being married surrounded by their most cherished people in their lives but their wishes and advice encircled them.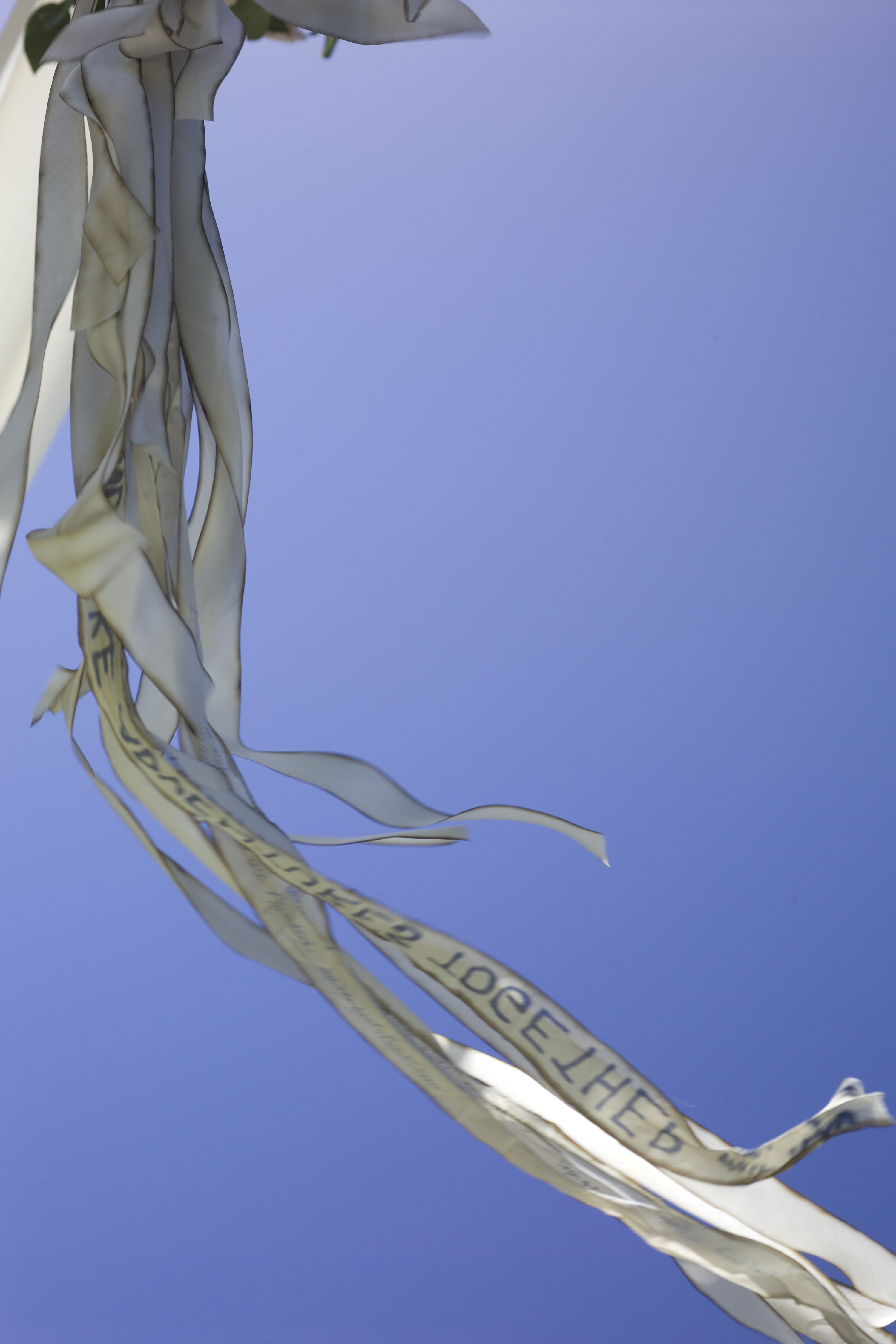 Photo Credit: Allison Duke Photography
We presented the bride and groom with a gorgeous box where all of their guests' ribbons could be kept safely and the well wishes read in years to come. The guests loved being a part of the ceremony and were pleasantly surprised by the ribbons' use.
Another example of using ribbons to create special moment at your wedding is one of our brides was an interior designer and the wedding we designed for this particular bride was high-design showcasing stunning décor elements, a few that were quite architectural. She envisioned her chuppah, the traditional Jewish canopy, to be much more of a designed piece rather than a structure with many flowers. She actually wanted no flowers.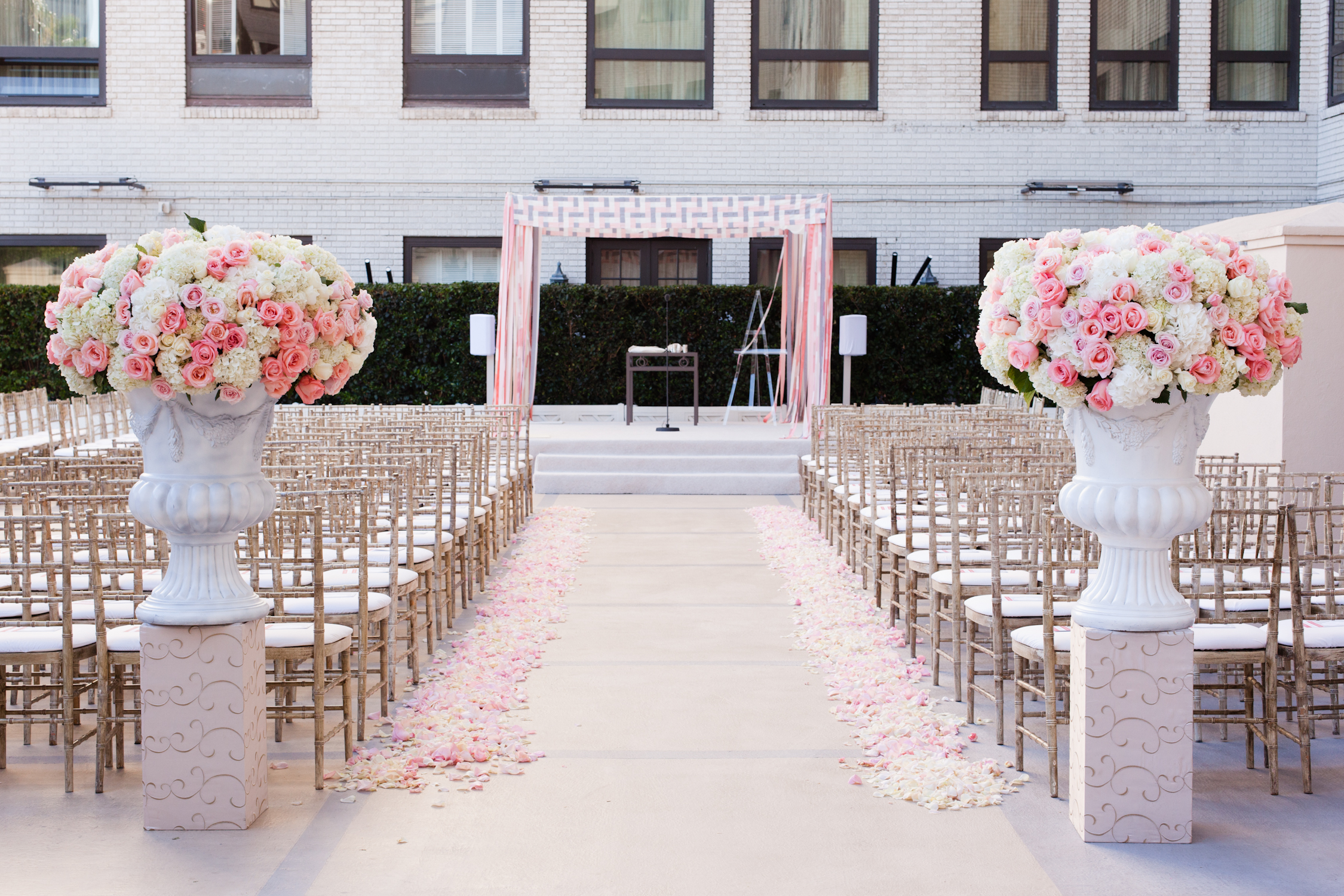 Photo Credit: Peter Bohler
Together, we designed a chuppah made entirely from ribbon. It was a basket weave of different colored ribbons in the color palette of the wedding: ivory, coral, blush and gray. Some of the ribbons were hand dyed silk ribbons and some were grosgrain so texture also played a part in this look. The top of the chuppah showcased the basket weave pattern in a very taut manner while the same colored ribbons hung at each down leg of the chuppah, to the ceremony riser. An ombre of color was created which tied into the overall aesthetic of the wedding design.
The wedding brunch the morning after the wedding had a few elements from the wedding reception, which carried out the bride and our vision bringing all elements full circle. We displayed the couple's custom cake topper under a cake dome with their wedding date and name next to it; their cake topper joined their two sets of parents and one set of grandparents' cake toppers which were all displayed alongside the couple's cake at their wedding reception.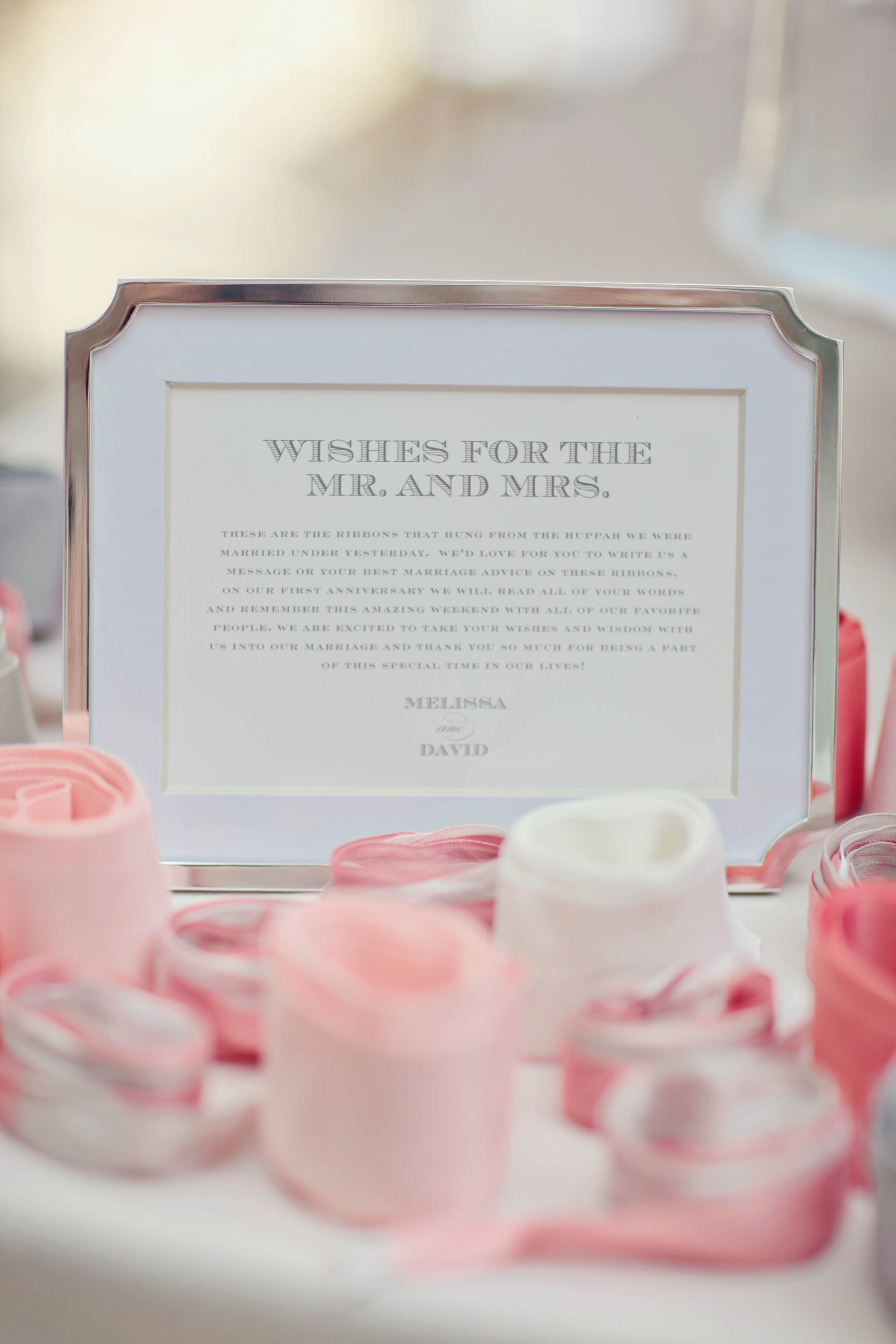 Photo Credit: Heather Kincaid Photography
On this installation, we rolled single strands of the different colors of ribbon from the chuppah and positioned the coils of ribbon to cover the table top in an organic fashion, which was quite pretty in it of itself. A vintage glass candy dish filled with permanent markers sat on the side of the ribbons along with a framed instructional notifying the guests to write the couple an important piece of advice or wish for them and on the couple's first anniversary, they will read the wishes and notes written to them from this day.
Guests went wild and took this activity quite seriously. All of the written ribbons were deposited into another vintage bowl. The bride and groom were thrilled as they were left with a ribbon from all of their guests and cannot wait to read all of the notes!
Generic ribbons can be used as a napkin treatment or a menu band to add a personal touch. Both ribbons can be untied and placed in the center of the table for additional flair.
Brides often incorporate the tradition that comes from an Old English rhyme "something old, something new, something borrowed, something blue" by sewing in an embroidered ribbon on the inside of their wedding dress; this represents something blue if embroidered in blue thread or something new since it is created for the wedding day.
There are so many ways to incorporate a special touch to your wedding and sometimes the simplest of things like a ribbon can have a huge impact on your big day.