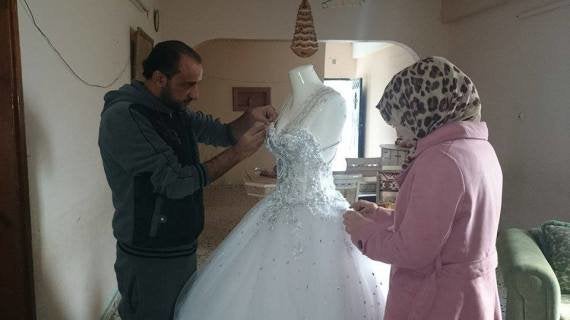 GAZA -- Dozens of weddings take place in the densely populated Gaza Strip on a weekly basis -- injecting a celebratory spirit in an environment of rampant political and economic hardship. Weddings form a key feature of life here. Gazan brides typically donned rented dresses imported from Syria and Turkey, but restrictions on imports to Gaza, dating back to 2007, have pushed young designers to locally produce gowns.
Yehia El-Shenawy, a 34-year-old designer with a degree specializing in video editing, makes wedding dresses in his small apartment for a living. He sells them to one of the many local dress boutiques, where they are rented out to brides.
El-Shenawy tells HuffPost Arabi that he discovered his passion for fashion design when he worked as a tailor in one of the largest evening dress showrooms in Gaza. For a while, he watched the professionals at work -- until he decided to try his hand at designing. He ran some sketches by his manager, and to his delight, they were approved. They were also popular among customers, he says.
The local wedding dress industry took off in Gaza around eight years ago, according to El-Shenawy. In 2007, when Hamas took over the Gaza Strip, Israel placed the area under blockade, curtailing imports and exports. Between 2007 and 2010, Israel only allowed goods into the territory that it regarded as "vital for the survival of the civilian population."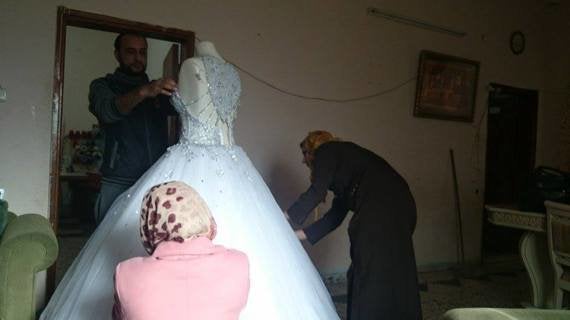 When retailers found that they could no longer easily import clothing from Egypt, Turkey and Syria, they started locally producing wedding gowns. They still promote them as imported dresses, however, which El-Shenawy describes as a selling technique. Customers would buy them for a higher price -- up to $300 -- if they thought they were imported, he says.
After El-Shenawy mastered his sewing skills, he set up a workshop in his house, and, as his business expanded, he asked his wife and one other person to help out.
Still, he finds it difficult and expensive to find fabrics and materials -- the only option is to buy them at a premium from larger merchants.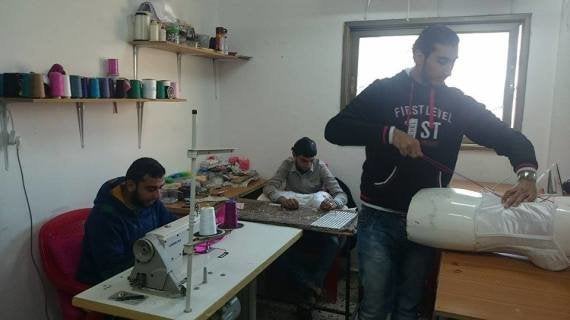 El-Shenawy adds: "One dress usually costs me $100 to make, but the surge in the cost of raw materials doubles the cost, and then we sell it to large showrooms for no more than $400."
The young designer says that he tries to tailor his designs to the tastes of his patrons. He observes that brides in Gaza city tend to prefer simpler styles, while customers in the northern or southern regions of the strip tend to prefer more festive, folkloric designs "with beading and diverse styles."
El-Shenawy's wife, Heba, says that she likes to think that she has a knack for grasping the preferences of brides and that she can work with them to design the perfect dress.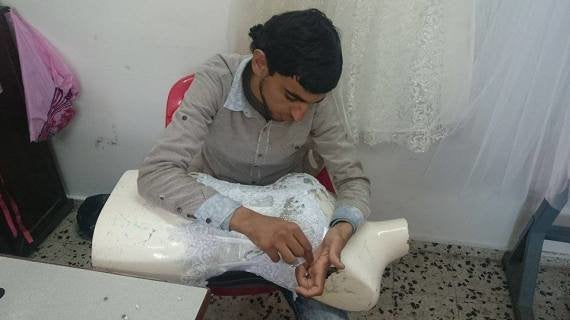 Mohamed Qenytah, who has a Journalism degree, couldn't find a job in his field, so he honed his design skills and decided to break into the fashion industry.
He now owns a store, "Mon Amour," which showcases gowns inspired by international designers. "I adapt international designs to something that would suite a Gazan bride," he says.
Qenytah says he recently came up with the slogan "Your Choice... Buy it, Don't Rent it."
Stores offering wedding dress rentals have multiplied in various parts of the Gaza Strip. His idea is to sell dresses for the same price other showrooms would rent them for.
Qenytah also struggles with the premium prices merchants charge for raw materials. He says that it sometimes costs him up to $300 to make a dress. He points out that he sells his gowns to larger showrooms, and sometimes exports them to the West Bank.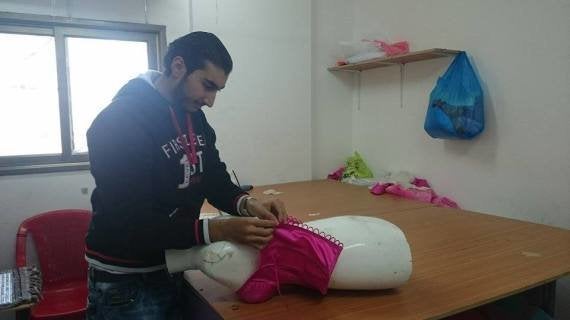 Qenytah usually takes one week to finish making a wedding dress. Impressed by the quality of the gowns he produces, a Turkish company recently asked him to showcase his designs at a runway show in Istanbul.
New shops like Qenytah's provide much needed work in an area that has high unemployment. Of Gaza's 1.8 million residents, 43 percent are unemployed, according to the World Bank.
"The tough economic conditions pushed me to find a job to be able to afford my university tuition," a law student who currently works at Qenytah's workshop says. "And it doesn't hurt to learn a good skill, because there's a scarcity of opportunities for fresh graduates in their field."
This post first appeared on HuffPost Arabi. It has been translated into English and edited for clarity.
Calling all HuffPost superfans!
Sign up for membership to become a founding member and help shape HuffPost's next chapter