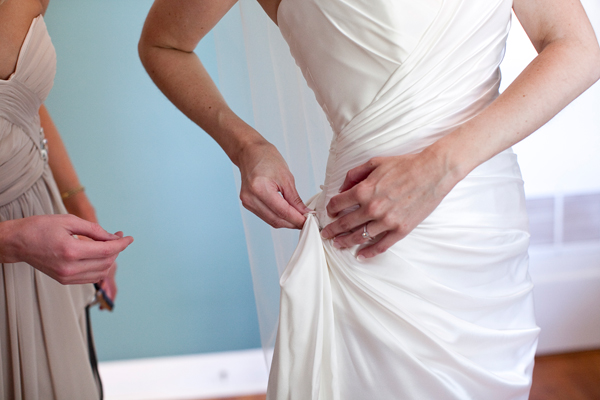 Photo: SMS Photography/The Knot
True tales of wedding attire gone wrong. By the editors of TheKnot.com
Ever been to a wedding where someone's outfit got more attention than the couple getting married? Or where a mishap with the bride's dress created a completely unplanned distraction? These people have -- and they told us their most outrageous wedding attire stories. We've removed their names just to be sure we won't get anyone into trouble.
"My aunt does competitive ballroom dancing, which usually involves outfits that attract a great deal of attention. One of her dresses is bright pink with sequins and is very revealing at the top and bottom. She thought this was a good choice for my brother's wedding since she would be dancing. It was so embarrassing!"
"I went to a wedding once where a female guest not only wore white -- she wore an actual wedding dress."
"At my best friend's wedding, her sister-in-law wore a salmon-colored dress that looked like a figure-skating costume. It was too short, strapless, and just all around completely inappropriate for their wedding."
"Four uninvited guests showed up to my sister's wedding -- a couple with their two children (they were relatives of a distant cousin). The daughter, who was about 10, was dressed in a full princess outfit, complete with a tiara. During the reception, she wouldn't leave my sister's side, so this little girl dressed in this strange princess outfit (who my sister didn't even know) was in almost every photo from the wedding."
"I was in a wedding last summer where we wore bright pink J.Crew bridesmaid dresses. Well, the bride had a friend who wanted to be in the wedding, but the bride was trying to keep the wedding party small, so she couldn't include her. Apparently this girl wouldn't take no for an answer: She showed up to the wedding wearing the exact same pink J.Crew dress the bridesmaids had on! The bride was mortified!"
"My friend wore a gorgeous (expensive) wedding dress that she had had made by a very reputable boutique, but not even halfway through the reception, the lace straps started shredding to pieces. In the bathroom, we duct-taped the straps of her dress and hid the duct tape under the capelet. That lasted for an hour or two, but eventually the rest of the lace over her shoulders began to shred as well. We still had her green jumpsuit that she had gotten ready in earlier that day at the reception, so the bride changed into her jumpsuit and rocked it with her veil for the remainder of the reception!"
"I went to a wedding where the invitation said 'formal,' but one of the groom's friends thought it said 'lumberjack.' He was scruffy and wore faded blue jeans and a plaid long-sleeved shirt. The couple was pretty upset."
"When my cousin got married, she chose very subdued browns and creams for her color scheme -- I don't think the mother of the groom got the memo. She showed up in a shiny, bright lavender getup. Her skirt was all sequins and beads, and her top was a wraparound shirt with a collar that came up to her over-the-top hairdo!"
"I attended one wedding where a female guest showed up wearing a purple, pleather snakeskin mini-dress. Needless to say, she's not in any of the pictures!"
"At my brother's wedding, the minister was a sweaty, nervous mess decked out in a black jacket, navy blue pants, and brown shoes, with hot pink socks peeking out where his pants didn't meet his shoes. Wow. Where did they find this guy?"
"I was a bridesmaid in a wedding last summer, and as we started the procession with the bride's mother at the front of the line, she was wearing a yellow chiffon dress with hot pink Crocs! I couldn't believe I had to wear these uncomfortable silver heels and the mother of the bride was wearing Crocs."