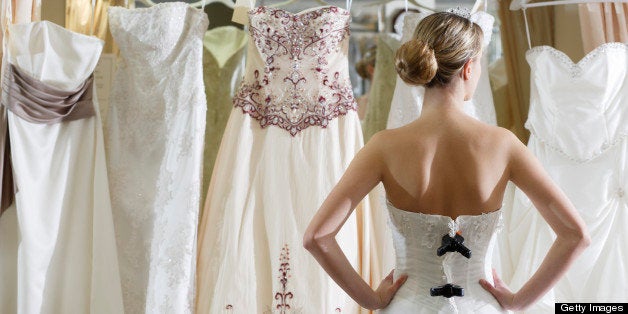 My mom and I went wedding dress shopping last weekend, and although I was very excited, I was also nervous. What helped, other than the fact that I found a gorgeous gown, was that we were able to find some humor in the process. If you're like me in that (a) you haven't been dreaming of a certain dress since you were 6 and (b) you find getting semi-naked in front of a stranger a little uncomfortable, it's probably best if you know what you're getting into and are able to laugh about it too. I've, therefore, prepared the following instructions based on my experience. Please note that you may need to adjust for your own search.
How to Find The Perfect Wedding Dress
2. Create a secret Pinterest board and pin anything that looks pretty. Remember the gorgeous Marchesa gown you saw two years ago that you will never, ever buy? Add that too, because why not?
3. Make appointments at several boutiques and one department store. Get asked by everyone if you are going to be on "Say Yes to the Dress." Laugh politely and say no.
4. Get caught in cold, wet weather after work on the way to meet your mom at the first boutique. Ask to use the restroom and notice the fun signs hanging on the walls. Instagram one of them. (Instagram another one when you use the restroom again on your way out.)
5. Try to tell the stylist the types of dresses you gravitate toward and find yourself forgetting your vocabulary. Use phrases like "kind of flow-y" and "not too princess-y."
6. Go into the dressing room with the stylist and realize the strapless bra you brought with you is going to stay in your purse (since you won't be wearing a bra at all). Pretend you're not modest. Learn how to kick into the dress until your foot finds the floor. Get clipped into the first gown. (The samples come in large sizes so the stylists have to pull them tight so you can see what you'll look like.) Panic a little about the way this particular dress draws attention to your stomach. Wonder if you're going to have to go to boot camp after all. Wonder also why no one offered you champagne. You don't even want it, but you thought that was supposed to be part of the experience. Show your mom the dress and observe that she has tears in her eyes. Reject the dress.
7. Try on more dresses. Have trouble moving in some of them. Notice that several remain standing when you remove them. Keep going until you put on the one that your mom had already worried was too bohemian. Step out of the fitting room and declare it's your favorite so far. Listen as your mom tries to find a nice way to tell you that it reminds her of lingerie. Wish you could show your fiancé to get his opinion.
8. Fall in love with nothing but write down two options anyway, just in case you don't ever have that magical "This is the one!" feeling.
9. Leave and look at the pictures your mom took of you in the various gowns. Note that you look kind of pissed off. In your defense, she didn't tell you to smile, but it would have been nice if that had been your natural reaction. Eat Mexican food with your mom, dad and fiancé. Talk about more wedding stuff. Go to bed.
10. Wake up, drink coffee and meet your mom at the next boutique on your list. Realize you are becoming more comfortable with the terminology. Use the word "crinoline" properly. Pick out a bunch of dresses and go into the fitting room with the stylist. Drop your bra on the floor like it's no big deal. You are a pro at this.
11. Put on the first dress and get really excited. Think, "This is the one!" Or rather, this might be the one. You are not ready to make a decision, as you need to evaluate all your options. Show your mom and watch as she also gets really excited. Inquire about the price and learn that it's at the very top of your price range. Of course it is.
12. Model more dresses and determine that one other gown is a contender. Try on your two favorites again. Look at pictures of yourself in them and be glad you are smiling in both. Decide the first one is still the best. You feel like a bride, but you also feel like you.
13. Briefly debate if you should even go to your next appointment. Decide it can't hurt -- either you'll confirm that you've already found the winner or you'll find something better. Tell yourself and your mom that it's win-win. Get your measurements taken so you don't have to come back. Give the stylist your credit card number and say you'll call her later. Cancel your final appointment of the day because you're sure the next stop will be your last.
14. Eat a light lunch because, as your mom has experienced many times in the past, you get cranky when you shop on a too-full stomach. Email a picture of the dress to your sister and your future sister-in-law and hear back that they love it. Text it to your dad and get a reply that say it's PERFECT in all caps.

15. Go to your next appointment and finally get offered champagne. Decline, but feel satisfied that you were not crazy -- that really is something that happens when you go dress shopping. Start looking through dresses and realize this is going to be a waste of time. Feel surprised when the stylist offers you a bustier. Feel surprised again when she has one small enough to fit you. Step into dresses and act like you're considering them. Agree to see what a gown looks like with a sash, even though you don't actually like sashes that much. Share a look with your mom that says, "Nope."
16. Make an impromptu decision to go to one more boutique, one that wasn't part of your original plans. Look through the racks and realize immediately that everything is way too casual. Apologize, wait for your mom to finish the cup of water she just requested and leave.
17. Feel pretty certain you're going to get the first one you tried on that morning, but don't let that stop you from asking your mom over and over if she's sure she likes it. Realize you are being ridiculous. You already found a beautiful dress that you love, and you should check this off your list and move on. Look at the picture again.
18. Go into Whole Foods to get a bottle of water and end up ordering a piece of s'mores pie. Look at the picture again. It really is PERFECT. Call the first boutique and tell the stylist to put the order through.
19. Call your grandmothers and feel certain they are going to lose it when they see you all dressed up at your wedding.
20. Eat your pie. You earned it.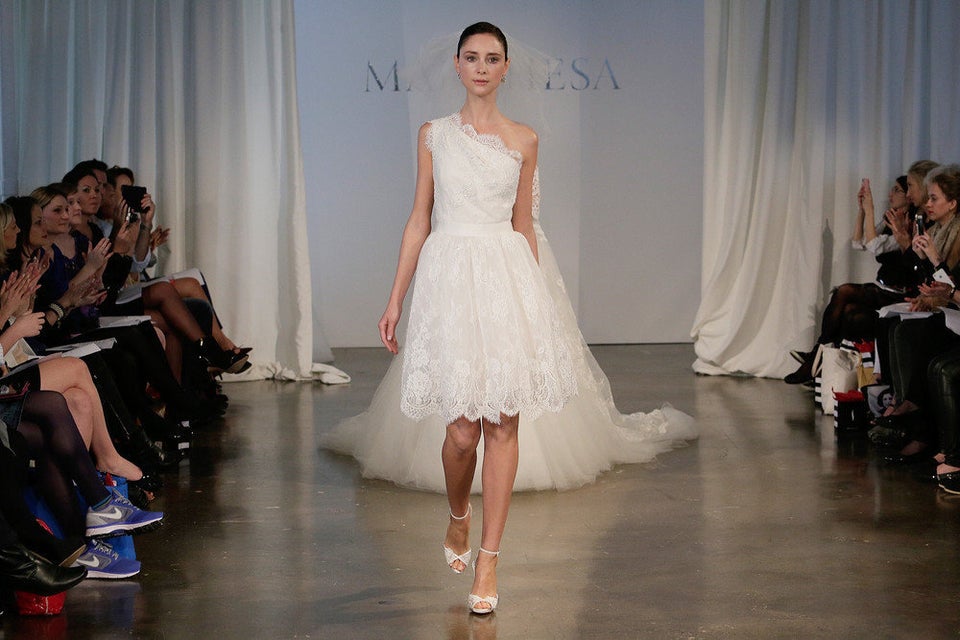 Spring/Summer 2014 Wedding Dress Trends
Popular in the Community