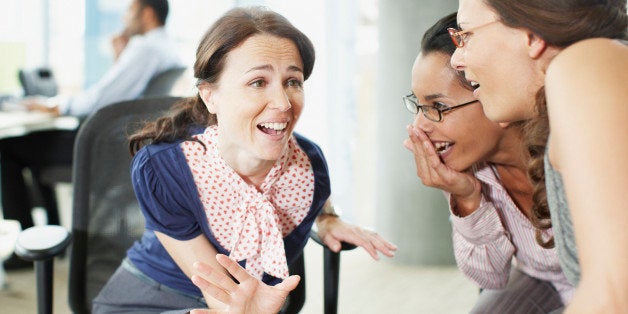 The rules of wedding etiquette are constantly changing, making it difficult for modern brides, grooms and guests to find up-to-date and correct information. But here at HuffPost Weddings, we're all about making your life easier. That's why we've launched #MannersMondays, a weekly series in which we ask our followers on Twitter and Facebook to submit their most burning etiquette-related questions. Then, with the help of our team of etiquette experts, we get you the right answers to your biggest Big Day dilemmas. You can send yours via Facebook or tweet it to us @HuffPostWedding with the hashtag #MannersMondays. Check out this week's question below!
The rule is that there is no rule -- just common sense. But I will offer some guidelines: If you have co-workers that you hang out with after work on your free time, then they can be considered guests the same as friends. I would just suggest to them that they not make too big of a deal about being invited to the wedding while at work. If the number of invited co-workers is so large that it includes most of your office or group, you might want to include extending an invitation to your boss or manager. It's not worth the professional ramifications if you think that they are the sensitive type who might be offended. You're not under any obligation to invite anyone that you work with to your wedding and by no means are you obligated to invite anyone from work that you don't like. But you also shouldn't use your wedding as an opportunity to re-enact a scene from "Mean Girls" by purposefully excluding one individual if you work in a small office, group or team. The No. 1 rule of inviting or not inviting co-workers is that you shouldn't make your wedding a constant topic of office conversation if you don't have the intention of inviting your colleagues -- it's just a matter of being sensitive to their feelings.
Below, the 13 worst crimes a wedding guest can commit, according to our readers.

The Worst Thing A Wedding Guest Can Do