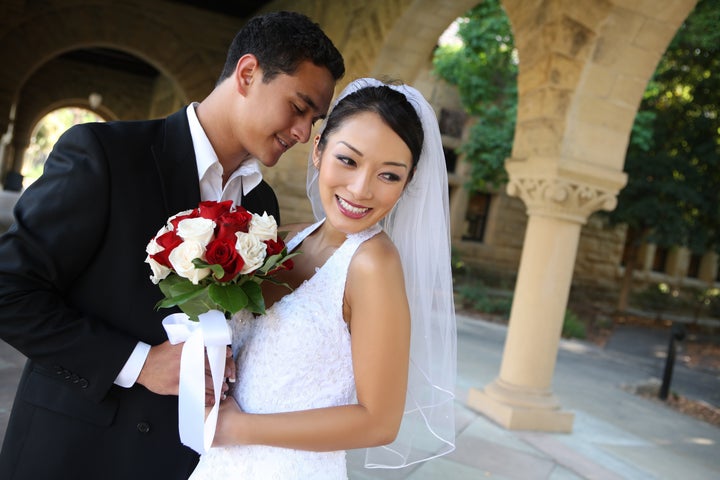 Many of us have a vision of the perfect wedding. From stunning sandy beaches to holiday celebrations, some of the more idyllic scenarios have some harsh realities. If you're considering one of these fantasy-wedding ideas, take note of the realities you may face and how you should deal with them.
Fantasy: What could be more romantic than a ceremony on the beach? The crashing waves, the breeze in your hair, the warm sun...it sounds like perfection.
Reality: High winds, blowing sand, extreme heat and sand fleas are all things that my team and I have experienced at beach weddings.
Solution: There isn't much you can do to change the environment on the beach. You have to prepare a good "Plan B" in case weather conditions aren't well suited for a ceremony on your wedding day. If you only need to protect your guests from high temperatures, purchase some pretty parasols to shield them from the sun and make sure they wear at least flip-flops to protect their feet from the scalding sand.
Fantasy: Outdoor wedding receptions look so beautiful in the movies. The natural setting of trees, lakes and blooming bushes makes a gorgeous backdrop.
Reality: Expensive tents, flying insects, uneven ground, bad weather and unfortunately placed trees can get in the way of this fantasy setting.
Solution: It's important to be aware of the extra expenses that go into hosting a successful garden wedding, particularly if you're having it at home or at a location that isn't geared toward having outdoor events.
A good tent can be very expensive. I've had clients spend $7,000 for a basic one. Once you add flooring, air conditioning and décor, it can cost much, much more. If you're doing this at home, you will also incur the expense of renting tables, chairs and linens.
Insects are a big issue for outdoor events. If you're doing it at home, you will need to arrange for some sort of pest control close to the wedding day. Otherwise, your guests will be overcome by mosquitoes and similar pests. Flying insects love sugary wedding cakes!
Something as simple as a poorly placed tree can also derail your outdoor wedding. Tents need a certain amount of space to be raised. If there isn't enough clear perimeter space around the tent, you won't be able to use one.
Bad weather can be an issue, too. You must have a good back-up plan whenever you plan to celebrate outdoors.
Fantasy: You're a crafty bride who wants to show your skills and create a rustic-chic atmosphere for your wedding. You envision guests oohing and ahhing at your stunning creations, all done with your own two hands and maybe a little help from your friends.
Reality: The months spent planning your wedding can be very busy. Time often grows short, and all of the projects you want to do take more time and money than you planned. Your approaching wedding day begins to feel more like an albatross than a joy.
Solution: Pick your projects wisely. We love when couples add special touches to their weddings, but if you're having an elaborate event and you try to do everything, you may exhaust yourself. Hire professionals to do some of your less favorite (or more difficult) projects and keep the fun ones for yourself.
Make sure you're realistic about what materials will cost you. DIY doesn't necessarily mean cheap.
Plan ahead and start your projects well in advance of the wedding day. That way, if you get fewer helpers than you expect, you'll still have time to either complete the projects on your own or find an alternative.
Fantasy: Holidays are a perfect time to have a wedding. Guests have time off from work, locations exhibit beautiful décor and everyone is in a festive mood.
Reality: Guests have family obligations that may keep them from your wedding. Airfare, rental cars and hotels can be more expensive. Venues may have fewer staff working because holiday time usually means a slow-down for group business. Depending on the holiday, some items that you want may be more expensive.
Solution: Talk to the family and friends that you absolutely want to attend your wedding and find out if having your wedding on a particular holiday will make it difficult for them to attend. Plan in advance so your traveling guests can find the best deals for their travel expenses. Discuss your service needs with your venue to make sure that they'll have appropriate, top-notch staff for your wedding day.
Finally, make a realistic budget. If you want red roses for your wedding on Valentine's Day, for example, be prepared to pay a premium. Don't wait for the last minute to order, either, or the services and options you want may be unavailable!
It's easy to get swept up in the idea of a fantasy wedding seen in a movie, magazine or online article, but keep in mind that every fantasy comes with a dose of reality. As long as you're prepared for potential pitfalls, you can achieve the wedding of your dreams!