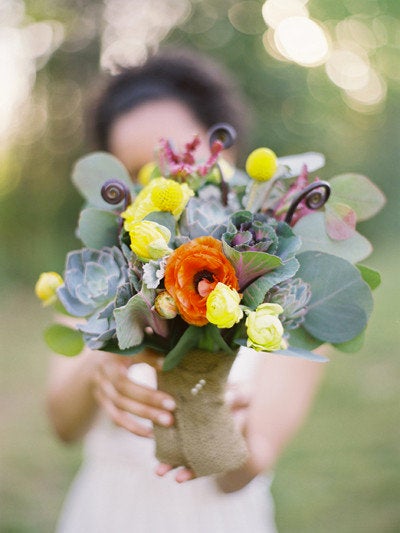 Flowers and decor will take up approximately 10 percent of your wedding budget, and between personal flowers (bouquets, boutonnieres, corsages), ceremony decor and reception centerpieces things can quickly add up. There are ways to save beyond the obvious ones -- double up by making ceremony decor your centerpieces too, don't have a lot of bridesmaids and groomsmen. I asked floral designer and blogger Janie Medley to share creative ways couples can save money on flowers for their wedding. Here's what she had to say:

What's the deal with seasonal and locally-grown flowers? Is there really a savings?

Yes, there is a savings. Locally-grown flowers and pretty blooms from the Farmer's Market are generally less expensive and the freshness of locally-grown flowers is amazing! Flowers that are locally-grown are coming directly from the field, so there is less time spent in having them shipped directly to you, and it's always a plus to support your local Farmer's Market.

What are some larger bloomed flowers that work well for a bouquet and can save you money since you don't need as many stems?

My first choice would be peonies. Peonies are stunning on their own and you can even carry one single bloom if you prefer. Peonies always make a beautiful and romantic statement at a wedding. Other larger blooms are a bouquet of dahlias, especially the café au lait and the dinner plate dahlia, and a lovely bouquet of hydrangeas, which also come in a variety of colors so you don't have to choose white. Also, a pretty bouquet of chrysanthemus would make a lovely bouquet that's inexpensive. Depending on your style and theme, you can also use sunflowers. No matter what bloom you choose for your bouquet, the key is to wrap the stems with a beautiful ribbon to finish the look.

I've seen ceremony décor take on a second role as reception centerpieces. Is this a good way to save money and what are some things a bride needs to think about or know when doing this?

Finding a home for the ceremony flowers to be used at the reception is totally doable. Here are a few ways to use them at the reception:

· Bridesmaids bouquets can be placed in pretty vases and used on the bridal party table, the guest book table, at the bar area, in the bathrooms (an area where most people forget to place flowers) and on the cake table.
· Altar arrangements can be transferred to the reception and placed on pedestals at the entrance doors of the reception or you could use them to flank the cake table. Depending on the size of the arrangements, they can be placed on mantels and used in the lounge area too.
· You can use pew décor to line the walk way at the reception and you can also dress up the bride and groom's chairs with these blooms.

A few things to consider when re-using the ceremony flowers:

· Speak to your floral designer to find out if this is doable and if there's an additional fee. Most floral designers would be more than happy to accommodate you, but, please remember that this is time consuming and there be a delivery and set-up cost.
· Remember, the quick change over of the ceremony flowers to the reception has to take place before your guests start arriving at the reception, you wouldn't want your guests to see all the "behind the scenes" set-ups. If possible, have them take place while your guests are at the cocktail hour.
· Be certain that you and your floral designer select hearty flowers that will withstand "double-duty". You don't want any of the flowers wilting during the reception... that's just not a good look.
· If you are planning to have your bridal party or close friends and relatives transport the ceremony flowers to the reception, plan ahead as to who will be in charge of doing this, and I would advise to have a few extra of the smaller flower arrangements made just in case there any mishaps during transport. However, I think it's best to have the professionals take care of this, you really want your guests and family to enjoy the day and not put them to work.

Are there any floral decor details that a couple doesn't really need?

Beautiful flowers are the key to wedding décor. I really wouldn't say that a couple doesn't need certain flowers at their wedding. You want to have the wedding of your dreams. If a couple is truly watching their floral budget, I would suggest not to factor in flowers for the guest book table, pew décor and to minimize the altar arrangements.

Focusing on venues that can offer a beautiful ambience for the ceremony and reception can be a great money saving tip. By this, I mean to take note of the décor at the venues. For example, if you are getting married at the Botanical Gardens, you may not need any decorations for the ceremony. Also, instead of adding flower décor to all the chairs or pews at the ceremony, only add it to immediate family seats lining the aisle and every other one. I do recommend that you focus on the reception flowers and the bridal party flowers.

What are some flowers that are lovely, but cost a lot? Are there less expensive replacements for these high-priced blooms?

I would have to say peonies and garden roses. Who doesn't love these lush blooms, they make the perfect wedding flowers from the bouquets to the centerpieces. Although they are priced a bit higher than you may want to pay, you can always achieve that same lush effect with dahlias, hydrangeas and a less expensive rose. The key with roses is to get them early enough to have them to full bloom open when it's time to make the arrangements. You definitely don't want to design with a "closed" rose, you want to see the beauty of the bloom.

Centerpieces: What are some ways to save money? Should a bride replace flowers with feathers or fruit or another pretty detail?

· Have your floral designer use flowers that are in season
· Use potted plants as centerpieces so your guest can take them home at the end of the night as their favor
· Use flowers with big blooms so you will need fewer stems
· Collect fun vessels to give to your floral designer
· Use clusters of bud vases with fewer stems of flowers

Replacing flowers with feathers or fruits is perfectly fine if done beautifully. Presentation is the key!

What are some of your favorite and affordable flower and décor ideas?

I love a chic and elegant look and feel to a room. I adore a monochromatic look. For example, a long table lined with all white flowers in clear vases with touches of green fillers. I also envision a table filled with gorgeous pink peonies and pops of yellow. I love seeing a bride having her ceremony and reception flowers totally opposite of each other in color. A total surprise to her guests!

As much as I love gorgeous flowers, I also love the look of long reception tables filled with lots of candles in different vessels -- it's such a stunning and dramatic look. Another favorite look is using succulents as your centerpieces. They are a lovely surprise to see in the bride's bouquet. Succulents also make great favors for your guests.

Photos by Amelia Johnson and Modern Romance.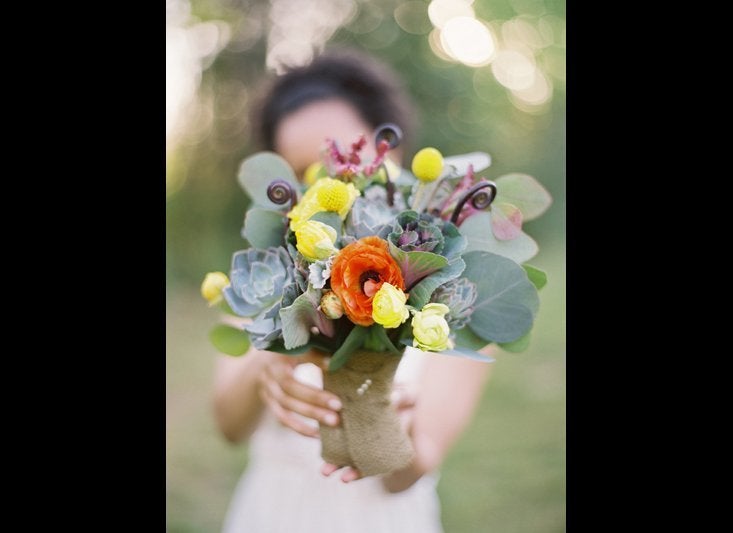 Gorgeous Wedding Flowers