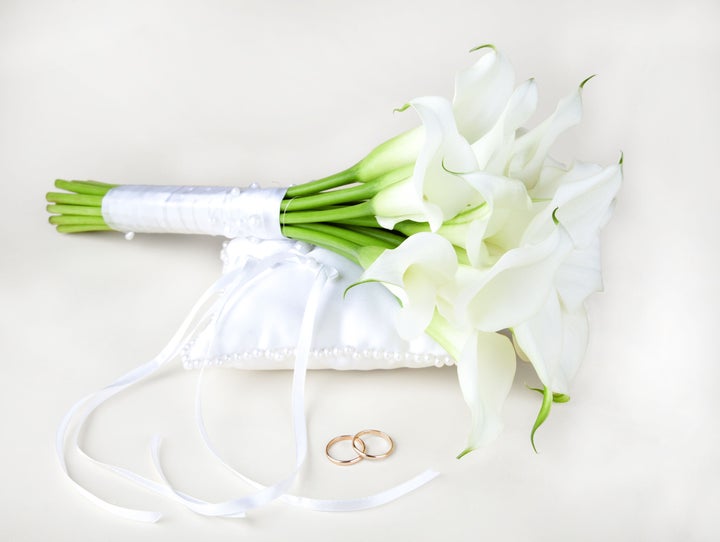 When it comes to wedding flowers, every couple has a different approach. Some brides and grooms spend the entire night before their Big Day adjusting table arrangements just so. Others blow half their budgets on exotic orchids.
HuffPost Weddings spoke with the floral guru recently and picked his brain on everything from the biggest floral trends of the season, to how to avoid a DIY floral disaster, to finding the right florist for your budget. Below, his exclusive tips, tricks and trends.
What are the biggest floral trends you're seeing this season?
It's a combination of hand-tied bouquets with either ivy or orchids hanging down. It's the hottest look, it's not even around much yet. I've started showing it in class and everybody loves it, and I've seen a few designers do it. It's a hand-tied bouquet of flowers with trailing ivy or orchids so you get that cascade feeling without going back to the old plastic holder.
I've been doing 7th Ave. fashion shows ... [The designers] said, 'we don't want any flowers in their hands.' At the runway shows I did mufflers of orchids around their necks, and trailing garlands of orchids down the aisle behind them, gardenias on the side of their heads -- like a hair comb of gardenias -- so flowers to wear instead of holding.
We're [also] going to follow Kim Kardashian's lead in that I think a lot of florists were surprised by how simple her bouquet was. I think we're going to go back to very, very simple, clean, beautiful, smallish -- a little bit smaller -- bouquets. Big is out. One handed, not double-fisters as I call them. No more passing off the baseball bat to your bridesmaid.
What DIY tips do you have for couples who want to do their own floral arrangements?
Number one, take my class in one of the eight cities I'm in. Number two, page through a magazine and then maybe ask for a little help from somebody to figure it out. Look through magazines and find a simple but effective design and copy it. Copy, copy, copy.
How can couples avoid DIY floral disasters?
Hire a florist. The truth is, I tell people, do not do it. Your day goes way too fast to be fussing with flowers. [But if you do]: Research the flowers. Do a mock-up before the event. Do a mock-up of where the flowers are going to come from before the event. So make sure that Costco, or whatever market you're going to, can, on any weekend, get 100 pink roses of a medium color, and 25 white, and 300 blue irises -- whatever you want, make sure they can [get it]. Number two, buy a product called Crowning Glory and spray all your flowers; it makes flowers last three times longer ... Keep [the flowers] in a cool place. You don't need a cooler, you just need a basement, a detached garage, an air conditioner turned down to 65. And, most importantly, pick a design that's do-able and is easily done. These days flowers are these one-ball-of-flowers looks, which are so easy to do I could teach someone how to do it in five minutes.
And timing -- organize, organize, organize. Set a layout of when each section of your do-it-yourself wedding should be done. Don't wait 'til Friday or Saturday to do those bouquets. All top designers, we do the bulk of our weddings on Wednesdays and then finish up on Thursdays and any last details on Fridays ... The sooner you get those flowers into a little bit of water with a couple of drops of bleach in it, spray it with Crowning Glory, the better off you are than waiting until Saturday. Do your flowers ahead and keep them cool so on the day of your wedding, you can glide through it. The [flowers] will be fine if you start with good quality.
How do you get expensive-looking florals on a budget?
[For DIY]: Get a look and find out which flowers cost less per stem, but do the same look. Carnations are in -- way in -- in New York. Hot, hot, hot flower. I know people hate them, but they're hot. Nothing wrong with them!
If you're doing it with a designer, they should be able to recreate an elegant look that from five feet away you can't tell there's a mix of inexpensive and expensive blooms. In fact, oftentimes when you do that, the expensive ones leap out of the bouquets and they show up better. Here's my advice: Simple dress, more complicated, little bit busier bouquet. Busy dress, Oscar de la Renta, simplify the bouquet. The dress is like the gallery wall and the flowers are hanging on that wall.
What's the number one thing couples need to remember when choosing flowers and a florist for their wedding?
The most important thing is find a reliable source and educate yourself on a realistic budget. It could be lower than you think, or higher than you think, but do your homework. Find somebody you feel comfortable with and interview them.
When choosing arrangements, use what I call the 'work horses.' Choose the flowers that are going to hold up through the day, through the next day and, why not, through three more days so guests can enjoy their flowers after the reception ... [The 'work horse' varieties are] lilies -- Casablanca and stargazer -- roses, of course, they're now very long-lasting flowers. Orchids, stock, gerber daisies, beautiful assorted fillers, peonies, hydrangeas and callas.
How can couples talk to their florists so that the florist will listen?
Have your bottom line down and stick to it. The florist will tell you if you're really unreasonable, but most people aren't. They have an idea of where they want to stand and you have to stick to it. You have to say to the designer, 'I want to look spectacular on $50 a table. This is what I want.' And most of the time, you'll get it.
Do a little homework. If your florist knows you know a little bit, he's less likely to show up with something you weren't expecting.
Where do you get your inspiration?
I get it from interior stores, magazines, fashion magazines, movies, beautiful women -- all women, really. All women should have flowers. When I'm really, really rich I'm going to have 'Free Flowers for Women' stands all over America. So everyday, you can just pick one up!
I was with three very famous Parisian designers at Macy's flower show last spring, which I opened up, and I said to them: 'Have you ever had a bridezilla?' They go, 'No, it's a myth.' That's what I tell my students. [Brides] are in love, they're happy, they may be nervous but they certainly don't want to get the florist mad. I'm just saying that I love my brides, they're just so sweet and so thankful. They're in love, it's the happiest time of their life.
Popular in the Community