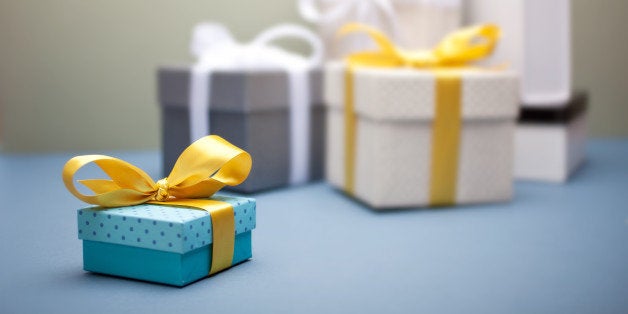 The rules of wedding etiquette are constantly changing, making it difficult for modern brides, grooms and guests to find up-to-date and correct information. That's why we've launched #MannersMondays, a weekly series in which we ask our followers on Twitter and Facebook to submit their most burning etiquette-related questions. Then, with the help of our team of etiquette experts, we get you the right answers to your biggest Big Day dilemmas. Check out this week's question below!
"I was invited to a friend's bridal shower that I cannot attend. Am I still obligated to send a gift?"
Anna Post -- great-great-granddaughter of etiquette guru Emily Post and author of Emily Post's Wedding Etiquette -- is here to help us answer this week's question. Find out what she had to say below:
No, there's no obligation to send a gift if you are invited to a bridal shower but cannot attend. You certainly may if you want to -- after all, this is likely a good friend or family member. If you do send a gift, it's fun to have it arrive in time to be opened at the shower, though any time it arrives is fine.

Also, if you attend or are invited to more than one bridal shower, you don't need to give a gift at each -- usually just at the first you are present for.

The answer to this question is often mixed up with that of wedding gifts -- if you are invited to a wedding (not just a reception, but the actual wedding), there's an expectation to send a gift whether or not you attend. There's also no connection between shower gifts and wedding gifts: If you gave a shower gift, you still give a wedding gift, regardless of whether you attend the wedding. Keep in mind that anyone invited to a shower should also be invited to the wedding, with the exception of office showers.

While this might feel like a lot of expense, remember that shower gifts are typically smaller than wedding gifts, and there's no set amount to give for either. For both, consider your budget and your relationship to the bride and groom -- that's all.
You can submit your wedding etiquette questions via Facebook or tweet them to us @HuffPostWedding with the hashtag #MannersMondays.