As wedding season approaches, you're likely to start getting several different wedding invitations, and all may have different requirements for your attire. Learning the etiquette (or even the definition!) of all the types of attire as a guest -- or as a bride! -- can be a challenge. Here are the different types of wedding attire you may see on invites.
1. White-tie and black-tie.
White-tie is the most formal look for men; it includes a formal tailcoat, a white vest, and a white tie. Black-tie is slightly less formal; men can simply wear a tuxedo, and should take the "black tie" part literally, wearing an actual black tie (and vest or cummerbund). For both black-tie and white-tie events, women should wear a formal evening gown or a dressy cocktail dress and can go all out with hair, makeup, and jewels.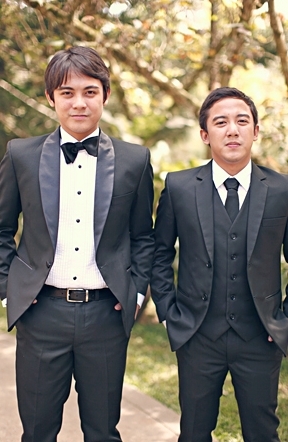 Photo by We Do It For Love on Bride & Breakfast via Loverly.
2. Black-tie suggested.
Men can wear a tuxedo if they have one, but can otherwise opt for a black suit, white shirt, and conservative tie. Women can wear the same as they would for a black-tie event: an evening gown or dressy cocktail dress.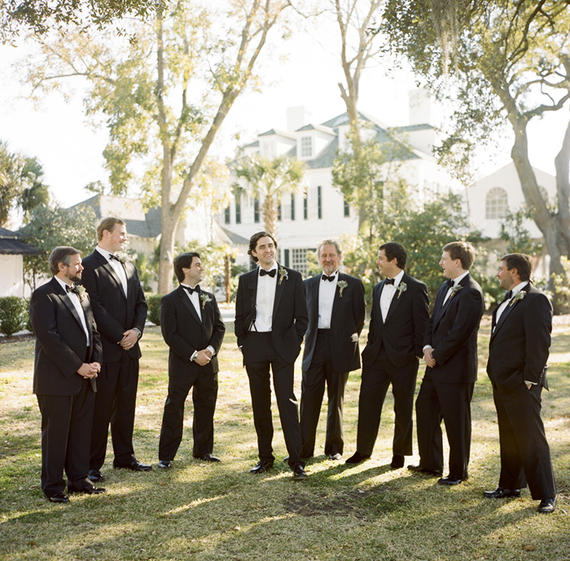 Photo by A Bryan Photo on Snippet & Ink on Loverly.
3. Semi-formal.
Semi-formal is probably the most common type of wedding attire you'll see on invitations. A nice cocktail dress is a sure thing here, but women can also wear a dressy suit. When it comes to semi-formal weddings, just pay attention to the season and venue to help ensure you look appropriate. Wearing opaque black tights with your dress in the winter, or something with a slight retro feel for a vintage wedding will help you blend in while still looking nice.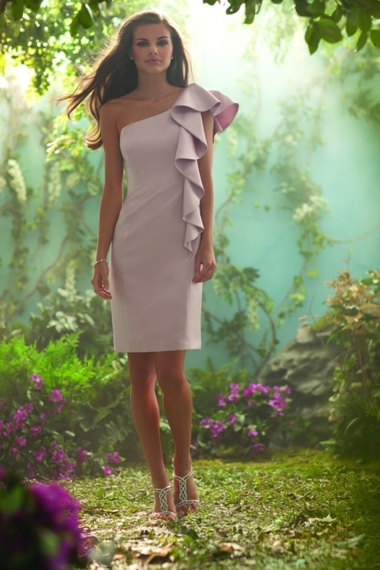 Photo by Alfred Angelo via Loverly.
4. Beach weddings.
Though beach weddings may seem casual, not all are; do a little research about the wedding when you're planning your outfit. If you get the impression that it's going to be a pretty formal event that just happens to take place on sand, wear a nice maxi dress with embellished flats or a dressy, summery cocktail dress with wedges. If the bride and groom describe it as laid-back, you can get away with a more casual maxi dress or a nice sundress. In either case, avoid anything that looks like a beach cover-up.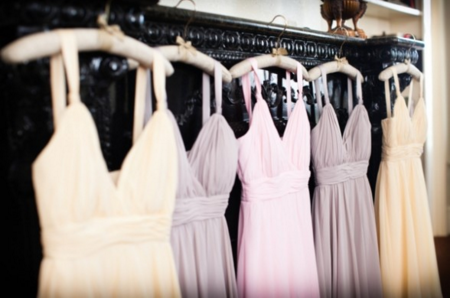 Photo by Tracy Autem on Heart Love Always via Loverly.
5. Daytime weddings.
Though "daytime wedding" isn't a type of attire, it's something of which you'll want to be aware. Cocktail dresses typically work for both day and evening weddings. But if the entire event will be over before nightfall, opt for a non-strapless cocktail dress; if it's a late afternoon or evening affair, strapless is likely fine. You can also take a cue from the bride here -- if she's wearing a less formal dress with sleeves, you can go that route, or opt for a pretty suit.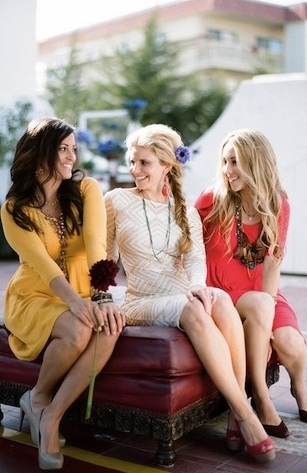 Photo by Lane Dittoe on Bridal Musings via Loverly.
6. Casual weddings.
A casual wedding is the perfect opportunity to wear a cute sundress, a pretty skirt and top, or even nice trousers with a pretty top. But unless the host specifically said that blue jeans are OK, skip them.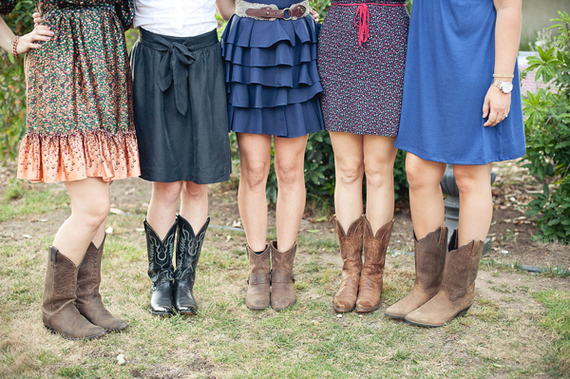 Photo by Brandi Welles on Inspired by This via Loverly.
While you may specify the suggested attire on your invitations, you can also help ease guests' anxiety by putting more details on your wedding website and relying on word of mouth to let the guests know what to wear. Here are some things you may want to mention.
Any traditions based on your and your partner's cultures or the wedding's location. Guests want to look appropriate, so if your culture, religion, or region dictates any clothing requirements or restrictions, let guests know in advance.
If you're wearing a non-traditional dress. You don't have to post pics of the dress on the wedding website, but if you're not wearing a white gown, let your guests know what color they should avoid by adding something like, "Semi-formal attire. (P.S. The bride's wearing pink!)" to the invites. And if it truly is a casual wedding: "The bride and groom will be wearing jeans!"
What the weather will be like. If many guests are traveling, let them know the typical weather for your destination at that time of year so they know whether to bring a warm coat or an umbrella.
Any notes about what shoes they may want to wear. If you're getting married outside in the grass, a note on the website like, "The reception is in a garden so the bride and bridesmaids will be wearing wedges" will let guests know that this is not the time to bust out the spike heels. You can also add "Shoes not required" for a beach wedding so guests don't stress about finding beach-appropriate heels.
Get more wedding etiquette on Loverly: