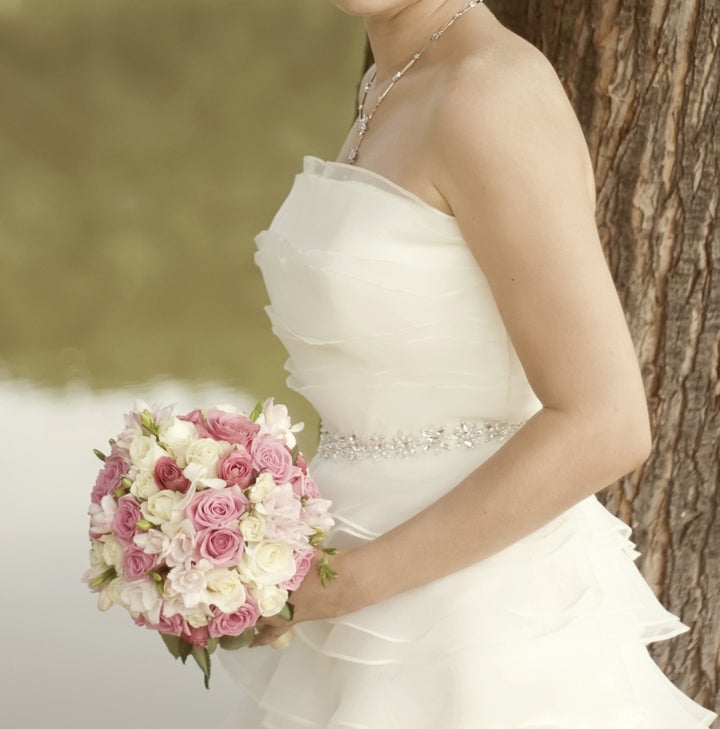 If the dress makes the wedding, then I say the jewelry makes the dress. Who am I? Urvi Tejani, founder and designer of TEJANI Jewelry. I've been in the wedding industry for almost 10 years, and I help brides across the globe create their aisle style every day, through one-on-one appointments in my showroom and complimentary recommendations online.
In my time, you can say I've seen my fair share of bridal blunders and wedding wonders. Here are my top Dos and Don'ts, so you can absolutely glow on the first day of the rest of your life:
DO mix borrowed with new.
Long gone are the days where everything is matchy-matchy. Boring! To look put together, express your style in a cohesive way. The finish of your jewelry should be similar, but feel free to mix and match, as long as the general shape and/or era echo the same tone. This is the perfect opportunity to blend your something borrowed (think: heirloom) with a new piece. You can incorporate your grandma's vintage brooch or your mom's favorite bracelet and still exercise your style.
DON'T wear a necklace with this season's asymmetrical gown trend.
A one-shoulder gown is already a statement in itself. Adding a necklace to your look is a definite no-no. Not only will it have you looking unbalanced, but it ruins the interesting line of the gown and stops the flow of the eye to your face. Opt for a spectacular pair of earrings and a bold cuff.
DO bring your headpiece when trying on earrings.
If you're wearing a headpiece, make sure you bring it when selecting jewelry -- especially earrings. You'll need to consider proportion and the finish of the embellishments, not only against your face, but also against the line and style of your gown. The goal is to enhance your look, not add competition.
We know you have a schedule to keep, but this is your day, so skip the watch and let your planner or family handle timing. Think of all the close-up shots of your hands -- at the altar, with the bouquet, your wedding bands -- there are few things less elegant than donning a wristwatch. Choose a shimmering bracelet instead.
DO mix finishes: your ring is its own entity.
Pay no mind to the finish of your wedding band when selecting a finish for your bridal jewelry. What you should think about is the "season" of your skin, the color of your gown (I'm partial to antique finishes for ivory and pastels), the color of your gown embellishments and your wedding vision (go shiny for classic and modern, antique for rustic and vintage, etc.)
The last thing you want to look like is you and your 5-year-old niece were playing Pretty Pretty Princess before walking down the aisle. For extreme-chic looks, I love the "less is more" concept. If you want to make a statement, choose one part of the body to accentuate with a large piece, and balance the rest with small baubles. For a traditional affair, you're almost always safe with an earrings and bracelet combo.
DO give yourself enough time!
Bridal jewelry is all too often lumped into the "accessories" category and barely mentioned against its counterparts: shoes, hair and handbags, yet it's such an integral part of pulling together your look. Make sure you select your jewelry three months (minimum!) before the wedding. This way, you'll have time to receive your order (pay attention to delivery times for custom jewelry), try it on during your gown fitting, and make any necessary exchanges.
DON'T compromise personal style.
This isn't the day to try something new or go out of your comfort zone. All too often, I've seen brides head for trends, rather than expressing their true style. There's enough to stress about on the day, much less adding the feeling you're out of your skin. Go for classic beauty, and you'll walk tall and enjoy your pictures for a lifetime.
DO incorporate color into jewelry.
It was shades of pink, now it's passionate red. Or is it Tangerine Tango? Whatever your color scheme, incorporate matching or complimentary hues into your jewelry. If you're walking the aisle in white, but want to add some pizzazz, try fun jewel-toned earrings. Or, gift your bridesmaids colorful pieces that can be worn in everyday life too.
DON'T cut corners -- quality lasts a lifetime.
Every girl has her budget -- especially in this economy -- but your wedding is not the time to go cheap on accessories. Those to-die-for Jimmy Choos you'll only see in that wedding shot where you lift your dress? Awesome. Teen store earrings in every shot? Not so much. Choose quality pieces you can wear again and maybe even pass on to your daughter someday.
DO wear your wedding jewelry after the big day.
Unlike most everything you'll purchase for your wedding, your bridal jewelry is actually something you can wear on multiple occasions: your honeymoon, anniversary, formal events -- and depending on the style -- perhaps just to dress up an everyday look. Again, if you buy quality, it's an instant heirloom.
DON'T wear wire earrings.
Unfortunately, wire earrings often fall under the category of handmade (and of course, cheap, which I'm fully against). I don't mean to discourage the DIY girl or a wonderfully thoughtful gift, but here is my two cents: wire earrings are too informal. Just don't do it.
DO change jewelry for the reception.
By now you know simply changing your jewelry can completely change the look and feel of your wedding style. So even if you aren't letting your hair down or changing dresses, this is the perfect opportunity to try those statement earrings you loved or add bangles to make a stack (after all, you won't have to worry about clanking noises once the party's started)!
Still stumped on what to wear for your wedding? Ask Urvi for a complimentary personal recommendation!
Related