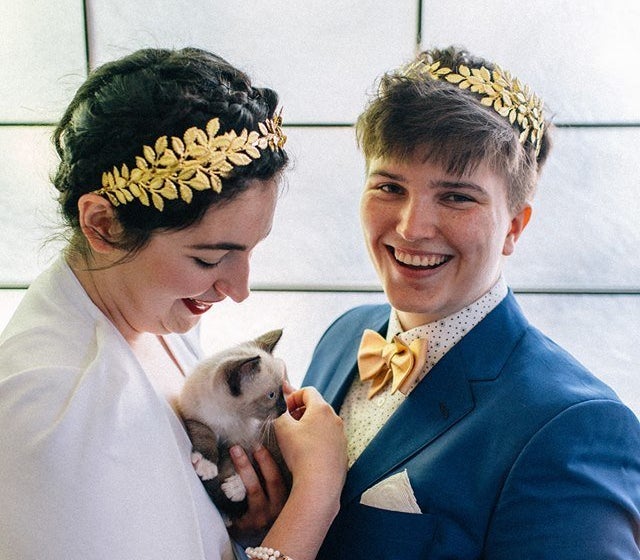 A cat-loving couple in Seattle found the purr-fect solution to a wedding day dilemma.
Newlyweds Iz, 26, and Colleen, 27, who asked to be identified by just their first names to protect their privacy, were married in August at a Quaker meetinghouse — a venue that did not allow alcohol.
This created an obstacle for the pair, who wanted their guests to be entertained at the venue while they had their post-wedding family portraits snapped by a photographer.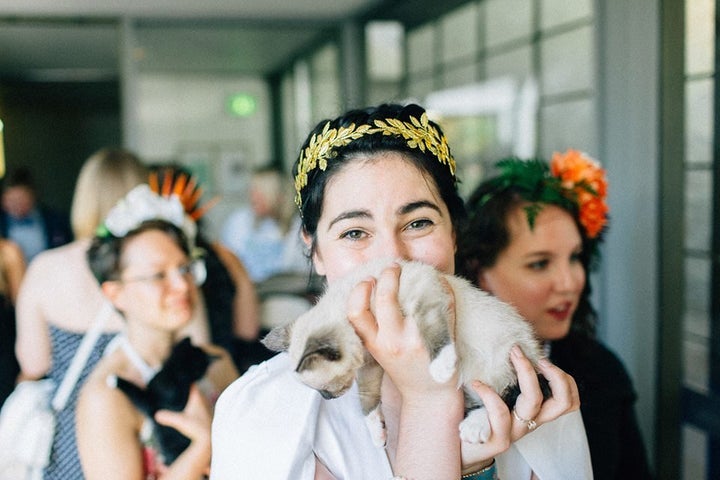 After Colleen suggested doing something with a falcon (which Iz adamantly opposed) the couple came up with a plan that paid tribute to two special friends that couldn't make it to their nuptials — their older, disabled rescue cats, Ladybird and Pangur.
"When we were brainstorming something alcohol-free for our guests to do while we took family pictures, kittens came up and things flowed from there," Colleen told HuffPost.
The result was a "kitten hour" instead of a cocktail hour — where guests could play and snuggle with six kittens from the Seattle Animal Shelter.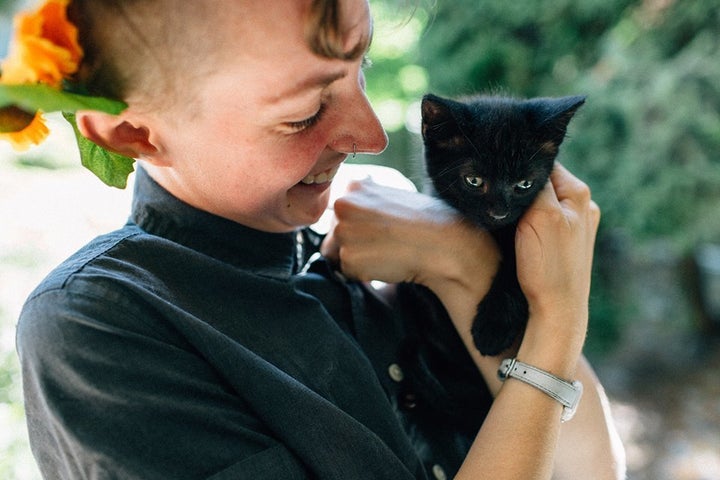 Iz and Colleen foster cats from the shelter and donated to the rescue before their wedding. They also asked guests to donate to SAS as wedding presents.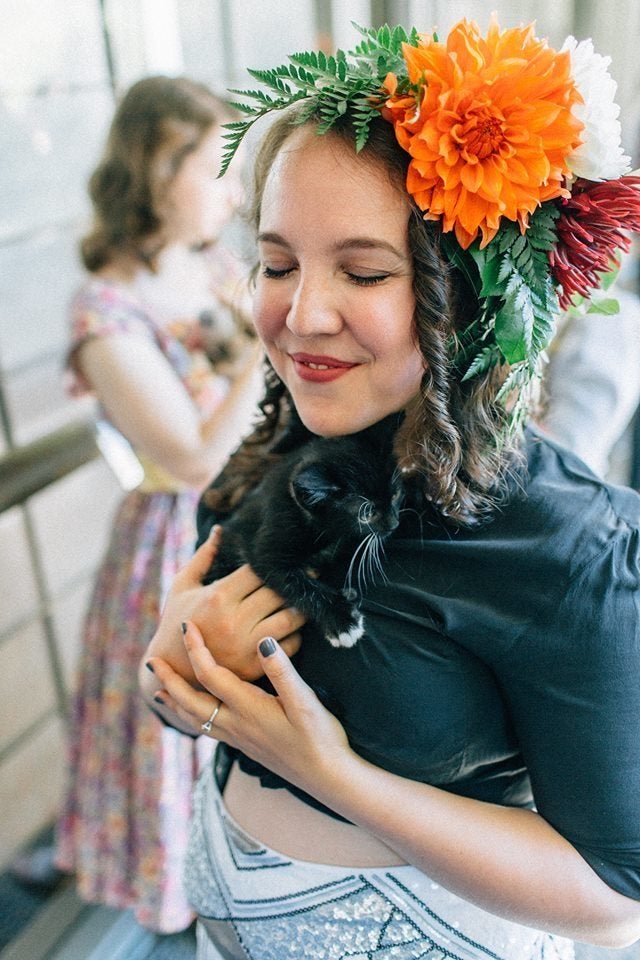 "There were volunteers there to make sure that the kittens weren't overhandled and to keep them corralled in their pack-n-play," Colleen said. "The kittens only stayed for about an hour, and judging by the way they wanted to fall asleep in our arms, they felt pretty relaxed."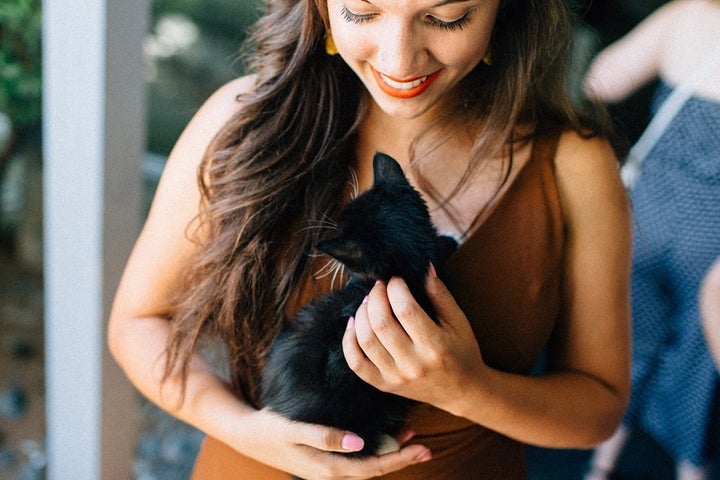 Iz explained that the shelter also picked these particular kittens because they were "the chillest litter they had at the time of our wedding. They were definitely mellow little guys!"
The couple also offered guests with allergies an option to make flower crowns.
"We worked with our flower vendor to make sure that all the flowers were safe for cats," Colleen noted.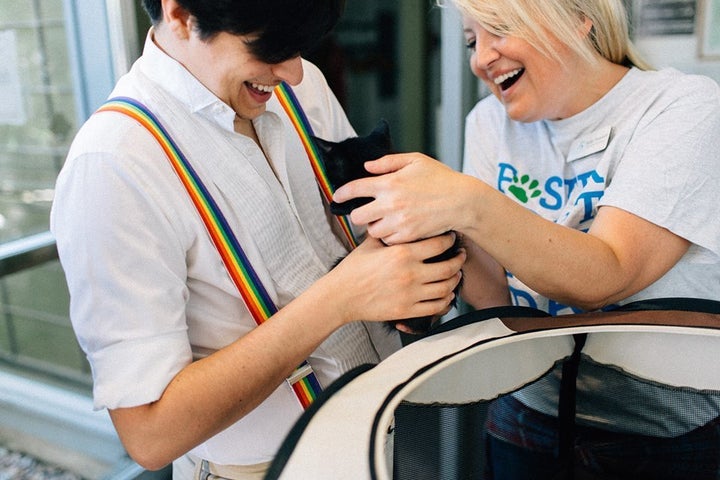 Needless to say, the kitten hour was a pretty big hit. The couple said many of their guests asked to fill out paperwork to adopt the kittens on the spot, but unfortunately the kittens were too young to adopt at the event.
"But multiple guests took home paperwork from the reception to adopt other eligible kittens," Colleen said.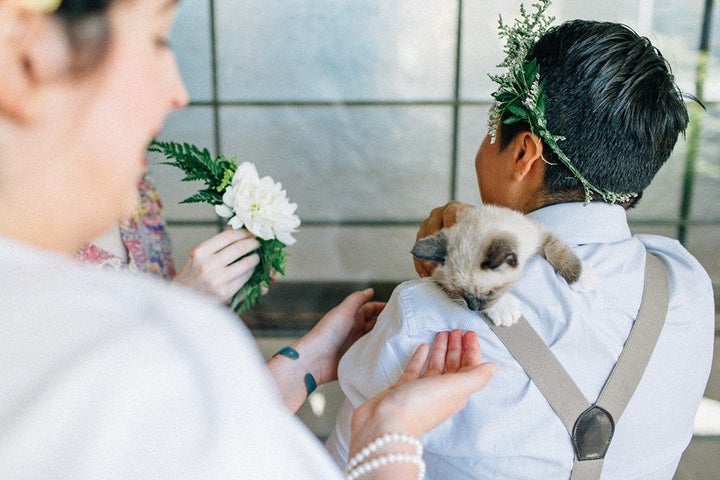 According to the two, all the little furballs featured at their kitten hour have been adopted — but they urge people looking to adopt a pet to consider an older cat.
"Our advice for anyone looking to adopt cats would be to check out an older bonded pair," Iz said. "Our cats adore each other, and we have no qualms about leaving them alone all day for work knowing that they will keep each other entertained."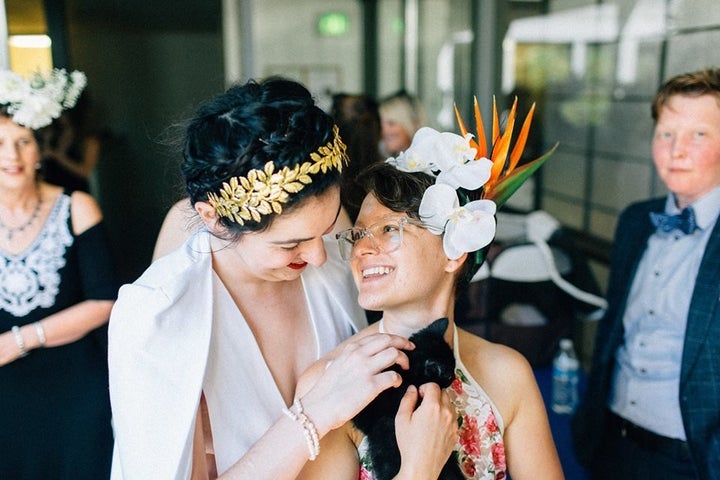 This mentality obviously also extended to their wedding, which their cats Ladybird and Pangur were not invited to because, according to the couple, they wouldn't have wanted to go anyway.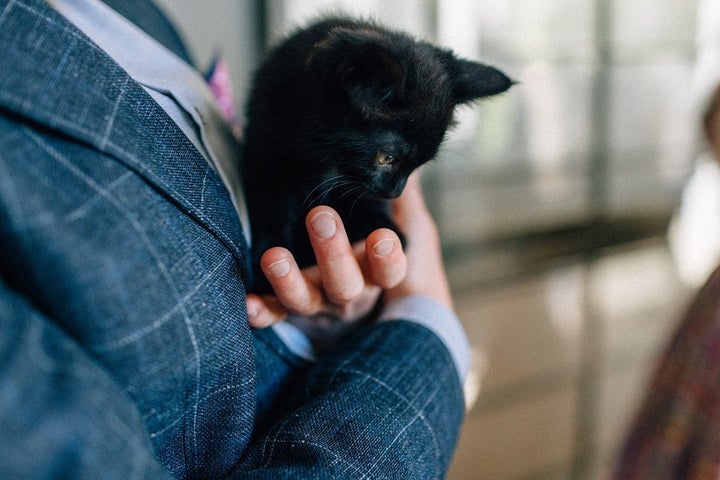 "Our cats have their own goals and agendas. Their goals include, but are not limited to, sleeping on the couch, watching squirrels out the window and thinking about killing them," Colleen explained. "Their goals do not include leaving the house, meeting strangers, or generally doing anything that a wedding guest might like to do with a cat."
They added: "We thought that kittens would be a nice way to honor the love they've brought into our lives, while also not cheating on our cats by petting adult cats."
The couple also honored their cats at their reception — at a venue that did allow alcohol.
"We did have cocktails named after our cats at the reception!" Iz said.