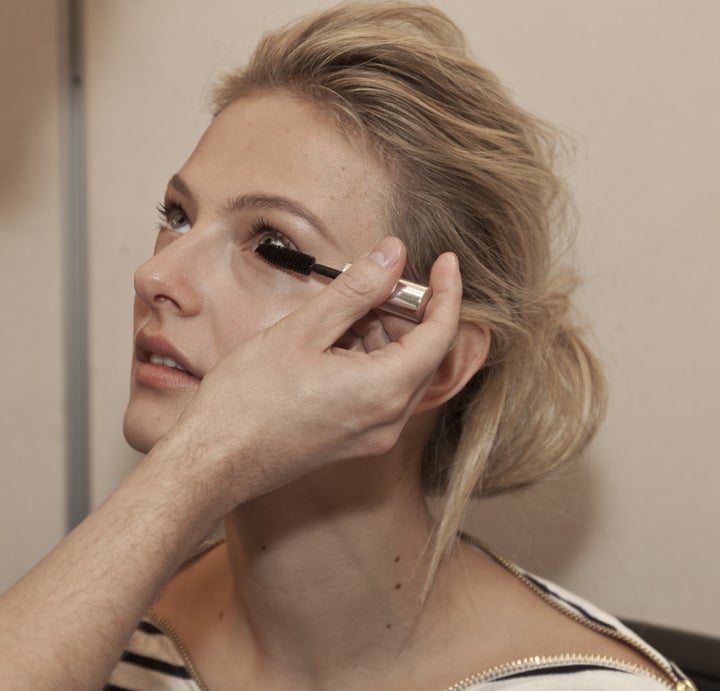 Deciding on a makeup artist for your special day is a huge decision! Whether we believe it or not we are highly egotistical creatures. If someone showed you a picture of yourself in a group you would automatically look at yourself first and the first thing you will check out is the expression on your face.
With that said, after the most expensive four hours of your life, i.e. your wedding, is over, the only thing you will have aside from your memories are the pictures. Picking out your wedding day look isn't as simple as picking out a cake flavor. You need to make sure that the particular look you select will look amazing five feet away and 25 feet away. You need to make sure it will be natural enough that your garden pictures in daylight don't look like a montage from "Priscilla, Queen of the Desert." And bold enough that in dim candle lighting across a banquet hall you can still see gloss, glow and contour. It needs to last all day -- from "I do" to the last dance. And most importantly it needs to meet the standards of modern technology -- meaning that you look great in person, in still photography, and in video.

As much as I wish I had fairy powers to make sure that every bride's makeup meets the below criteria, I do not. But with this criteria handy, you can make sure your artist is versed in the ways of the fairy.
Make sure your artist is using a primer! Silicone-based primers are the best. Silicone fills in fine lines, wrinkles, pock marks and blocks the sebaceous glands from producing oil. It also is noncomedogenic and nonacnegenic -- which means it doesn't harbor or produce bacteria. In layman's terms, it keeps your makeup on all night and keeps you from sweating!
Foundation. A foundation can make or break your wedding day look. You basically want to re-create the way shadow and light naturally bounces off the skin in the finish of the foundation you select. If you go too matte, your skin will not deflect light at all and you will end up absorbing a ton of light -- making your face look eons lighter than the rest of your skin. On the opposite end of the spectrum, the "J-Lo glow" should be created with bronzers and luminizers, not the foundation. If you go too dewy all over the skin it will just attract way too much light, making you look more like a golden ball than a bride.
Neutral Palette. I get it -- some girls love makeup and love color! But color is more of a trend and is something I tell my brides to save for the bachelorette party. That is this time to take your electric eel shadow and go from lash line to brow with no mercy in intensity. But your wedding day is a different story. Your artist can deliver just as much oomph with neutral colors and it allows the look to have a more timeless quality. Thirty years from now, you don't want to look at your pictures -- the ones super-tight, on your face, next to your flowers pictures -- and say "Wow, my eye shadow is the same shade as my roses!" You want to say "I looked gorgeous." So keep it neutral!
No Frost! Frost is a photographer's worst nightmare. It creates holey pixels in photos and glares back at videographers. It is the number one no-no for brides. So as much as you LOVE your pink freeze and your nylon -- let your brow bone breathe! Stick to matte finishes and if in doubt, nothing on the brow bone. Take photos as you do your makeup trial, too -- if something is glaring back and you and seems too white on an iPhone, there is no telling what it will look like against a real photographer's flash.
Picking a lip color. A lip color can make or break your wedding day look. Amazing eyes can turn heroine chic if the lip is too light and Robert Palmer-esque if the lips are too red. Keep it peachy -- and definitely not blue-based. Blue-based colors bring out the yellow in teeth, and if your teeth don't even have yellow, against certain lip colors, they will look like a witch's! Stick to yellow-based colors -- cool colors -- as they brighten up your teeth and compliment your eyes. Some of my favorite bridal colors are MAC'S spice liner and angel lipstick with a generous coat of love nectar lipgloss. Also YSL makes long wearing peachy pinks to die for!
Avoid Period Makeup! I get it -- you have a birdcage veil, a 20's flapper-inspired gown and chandeliers galore around the event, but if you go too 20's with the makeup, you might look like you just finished an off-broadway show. Keep the makeup fresh, timeless and modern. Do what's best for your eyes -- not Marilyn's.
Set it and forget it! After your makeup is done, your artist should seal in their work with an incredible setting spray! It will keep your makeup on all night and in some cases it can ensure a particular finish on your look. Urban Decay's "All Nighter" and the infamous "Model in a Bottle" are my absolute go-tos.
Remember to tune into Style every Sunday at 9/8c for more from Alexa, the Glam Fairy!
Popular in the Community