When Stephanie Gefroh got engaged to Bryan Fish in April, the couple figured they'd have a year to plan the wedding of their dreams.
Instead, they did it in 25 days to ensure that Stephanie's mom would be there.
Susan Gefroh was diagnosed with Alzheimer's in 2011. By this spring, the 58-year-old was having difficulty even on short trips around her home town of Devils Lake, North Dakota.
Stephanie's sister, Amber, wasn't sure whether their mom would be able to handle a 3.5-hour drive to the couple's preferred wedding spot in Detroit Lakes, Minnesota.
″[Amber] suggested we get married in Devils Lake as that seemed to be the only way that my mom would be able to attend," Stephanie, an accountant in Minneapolis, told HuffPost.
The 27-year-old admits being "pretty broken up" about the situation and didn't think their family and friends in Minneapolis would be able to make the even longer trip to Devils Lake.
"But I knew she was right," Stephanie said. "I got off the phone with Amber and talked to Bryan about it. He completely understood."
Bryan suggested doing a small ceremony for Stephanie's mother and a larger one in 2018. Stephanie then pointed out they were planning to visit her mom in three weeks and asked, "Should we just do it then?"
Bryan immediately agreed.
"We called my sister back and told her the news that we were going to get married in 25 days," Stephanie said. "She was a little shocked, but agreed to help pull it off."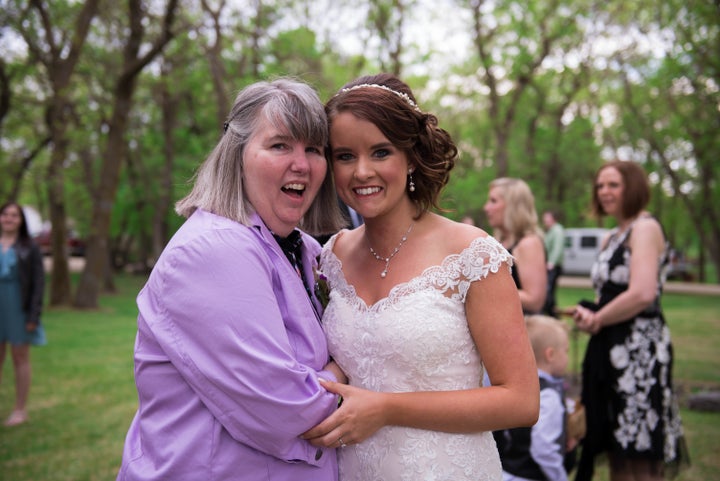 The wedding was held May 27 in Susan Gefroh's backyard. Stephanie is still amazed that it all came together so fast.
"Planning this wedding was surprisingly pretty easy," she said. "I was pretty laid back when it came to the wedding details because I knew I couldn't be as picky as I probably would have been had I allowed myself more time. I know I definitely could not have pulled this off without my sister, brother-in-law, aunts and grandmothers. They all came together to make our day so special. It turned out so beautifully."
Amber and her husband, Isaac, did "a ton of yard work" at their mother's house, Stephanie said. They even surprised the bride by creating an aisle lined with hanging flower pots to walk down.
"They worked with our local Catholic elementary school to get all the chairs donated," she said. "Isaac's dad was able to get the tables donated from our local hospital."
"My aunts, grandmothers, cousins and various friends and family members made the food, ordered the cake, helped with decorations. Most of our wedding decorations were donated from Bryan's stepsister. The floral decorations, bouquets and boutonnieres were made by my extremely talented friend, Rachel."
Fittingly, the ceremony was performed by the man who'd introduced Stephanie and Bryan back in February 2015 at a Whirlyball game.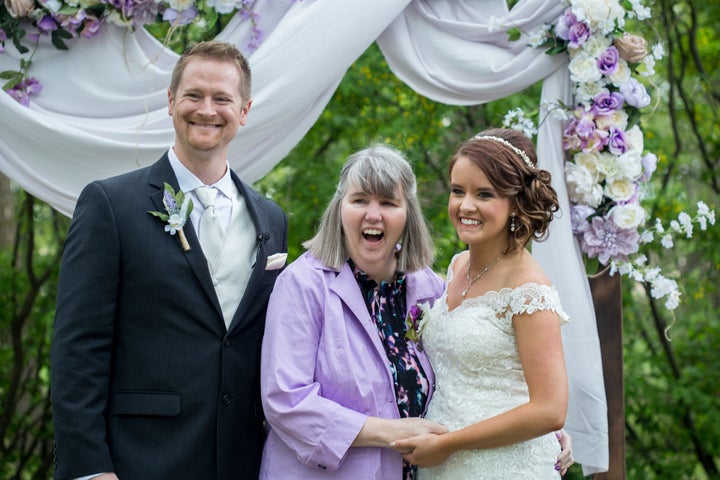 Even within the familiar confines of home, Stephanie wasn't sure how her mom would react to the ceremony.
"I walked into her house before the ceremony started. My sister said, 'Look, Mom, Steph's getting married!' She looked at me with an expressionless face and walked away," the bride said. "She didn't understand what was happening. We were worried we wouldn't even get her out of the house to attend the ceremony in her own backyard as she hadn't been wanting to go outside for a few days prior to the wedding."
Happily, Bryan and one of Susan's caregivers were able to slowly persuade her to come outside.
"They had to take her out the front door of the house and walk her around so she didn't need to walk through the 100 people in attendance," Stephanie said. "We were nervous that if she saw all the people, it'd be difficult to get her to keep walking. They sat her down in the front row, and she stayed there through the duration of the ceremony."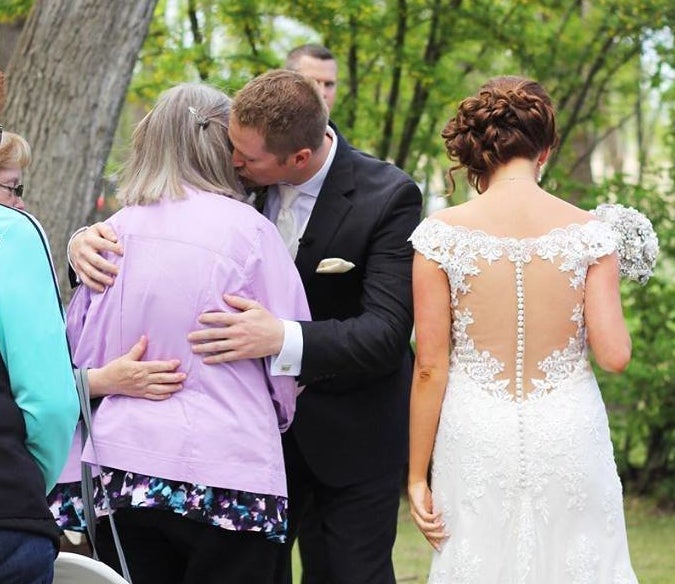 Although it wasn't exactly how Stephanie imagined her big day, she said her mom's reaction in the end made her realize she'd done the right thing.
"My favorite moment after the ceremony was seeing and hearing my mom burst into laughter," she said. "My aunt was making funny noises and crawling on the ground, and my mom was loving it. It was so amazing to see how happy she was in that moment."
Susan's situation has changed since May.
"Unfortunately, about a week after our wedding, my mom pushed her caregiver. They both fell and my mom ended up having to get four staples in her head," Stephanie said. "That's when one of the nurses told my sister it was time we moved my mom into a memory care unit, where she would be given more care. Two weeks after our wedding, she was moved into the MCU also in Devils Lake."
While Stephanie and Bryan are still planning a second ceremony next year, the couple has also focused on another project: developing a Facebook page for the children of parents with young-onset Alzheimer's disease.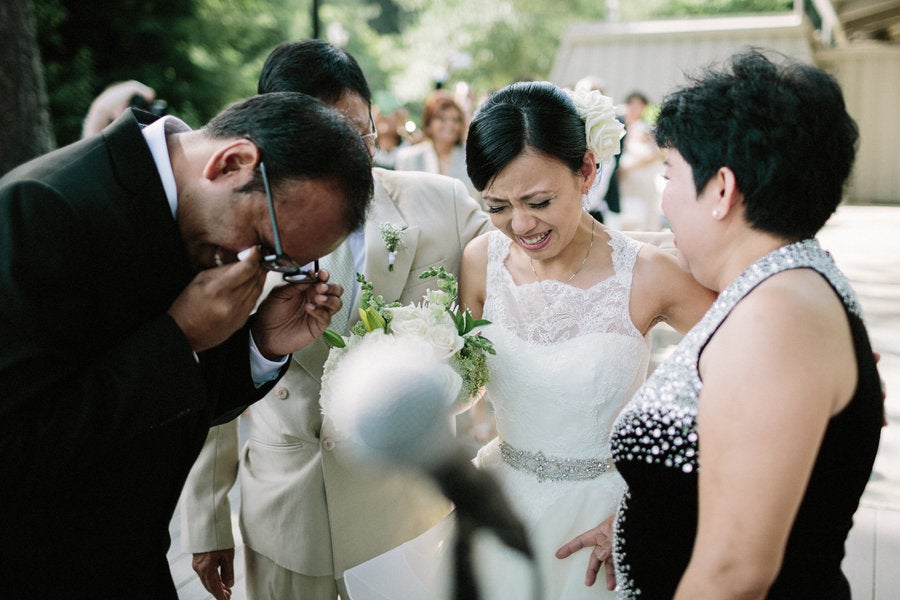 Emotional Wedding Ceremony Moments