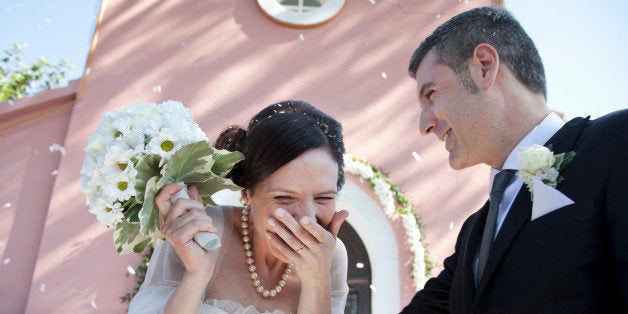 Your wedding day is filled with big moments -- the first kiss, cutting the cake, emotional (and sometimes inappropriate) toasts from friends and family -- but some of the most unforgettable moments can also be the most unexpected.
On Thursday, Redditor Davide48 asked users, "What was the best part of your wedding day, in regards to the ceremony and different events/parts of the day or days leading up to the wedding." Below, find 10 of the most special Big Day moments.
Walking down the aisle, and suddenly being able to only see him, and his face had a huge, stupid grin on it, just like mine did. I still can't tell you who was sitting by the aisle as I walked up it, it was all a blur except for him. - kthriller
Other than the moment we kissed and were pronounced married? Probably a tie between the candy bar and the bouncy castle. Ahh yesss. - DBplatypus
I hadn't seen my wife in her gown and had no clue what it would look like. Best part I remember is seeing the church doors open as I stood there, looking at her all dressed up for the first time. I thought "goddamn my wife (almost) is hot." - Jkinct
On my wedding day, about three hours after the reception ended, my wife and I sat in the restaurant at the Hilton Hotel at the O'Hare Airport in Chicago (we were staying there overnight because we had a flight to Puerto Rico the next morning). We had been talking, catching up (one has surprisingly little time with one's future spouse in the day or two leading up to a wedding) and there was a moment of silence. I was toying with my beer and out of nowhere I said, "These are some of the greatest hours that a decent man could ever expect to have." She smiled at me and raised her wine glass and we clinked them together. And that was the happiest I've ever been so far. - StChas77
No friends and family around, just the two of us and the judge in a cute little resort town. No pressure of the wedding day, bridezillas, managing peoples' behavior, etc. Just a nice exchange of vows and a relaxing weekend together. - doobie-scooo
I had been told once that it was good luck for the marriage if it rained on the wedding day. As I was growing up, I always paid attention to this when I attended the weddings of my cousins and siblings. When I got engaged, we decided on a December wedding. I figured that rain was not likely to happen since it was winter time, right? Sure enough, it was too cold for rain, but that evening we had a beautiful snowfall. No weather forecast called for even a chance of snow that day. It's been 20 years now and we are still going strong. - kenos99
The feeling of relief at the end of the night. Everything went well, we had no more planning to do or bills to pay, guests had fun, we had fun, and now we could just go on our honeymoon and relax. - quesrah
Seeing all of the hard work come together. Seeing all of our friends and family having a great time and laughing hysterically at their antics. Bouncy House. Good food. Good drinks. Playing cards with my cousins. Then stripping out of the damn uncomfortable spanx and removing all of the pins from my hair. - knitkitty
The 15 minutes we got to ourselves after we exchanged vows. Our wedding was large, and we hadn't seen each other all day. Just sitting down, playing with the new ring on my finger, and hanging out with my wife was awesome. Oh, and the sex. The sex, too. - reformed_slytherin
Actually saying the vows. You hear them a million times at other weddings, but something never quite sinks in about just how serious a commitment it is, or how exciting it is to say them and make that promise to the person you care for so much. I can only compare the feeling of hearing and reciting the vows to the feeling of your stomach flipping as you go upside down on a roller coaster. But, ya know, it's the excited flips, not the gonna puke flips. - defectiveburger
Click through the slideshow below for 150 wedding ideas to make the Big Day unforgettable.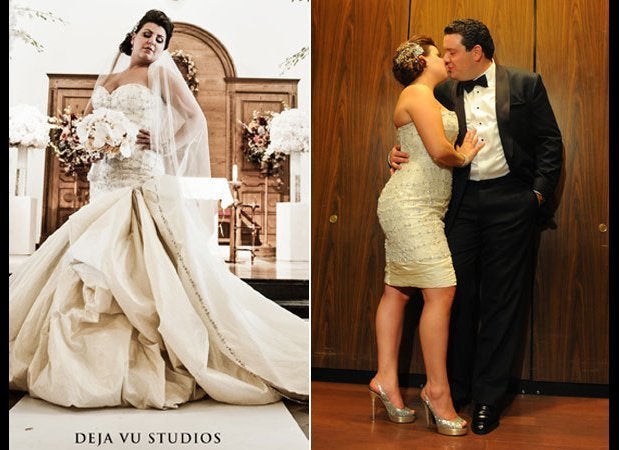 150 Ways to Make Your Wedding Unforgettable
Related