Wedding party fashion has changed in recent years, as couples look for unique ways to mix and match their bridesmaids and groomsmen for a unique and personalized feel.
Putting together a wedding party is an exciting and important step to every wedding planning process. However, as rewarding as it is, it may come with some extra considerations for you to keep in mind.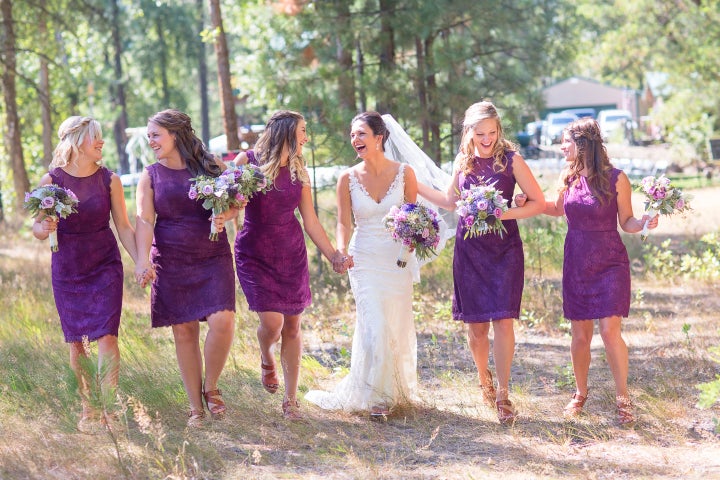 Different Shaped Bridesmaids
All women are of different shapes and sizes – and that's a good thing! If you embrace this philosophy, it will make it much easier to put your bridesmaids in the dresses that they look and feel best in.
"A knee-length strapless dress is the most universally flattering dress regardless of body shape," shares Araceli Vizcaino-S of Azazie, a made-to-order custom bridal & bridesmaid dress retailer. "If your bridesmaids are extra busty and don't prefer strapless dresses, opt for an illusion neckline with has the sexiness of a strapless dress while still providing more coverage and support."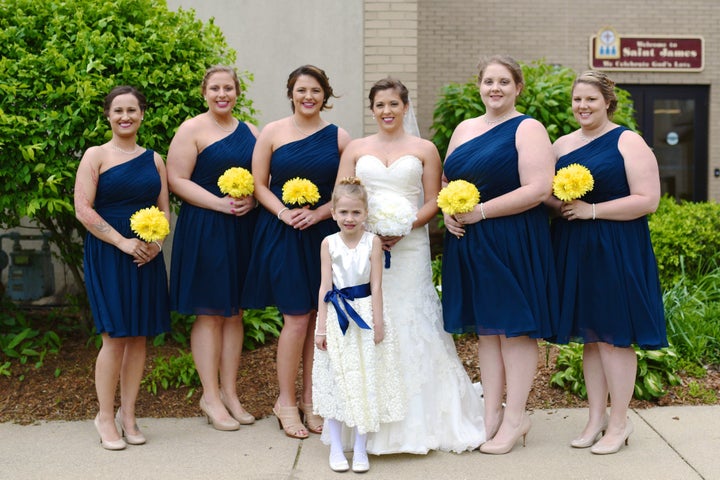 Oftentimes, junior bridesmaids are invited to a wedding party but sometimes the typical bridesmaids' dress is not appropriate for their size and shape. A simple remedy is to go with a more conservative version of the other dresses – adding sleeves or straps can go a long way in this situation! It's also wise to allow them to wear shoes that make them feel comfortable – high heels should not be required.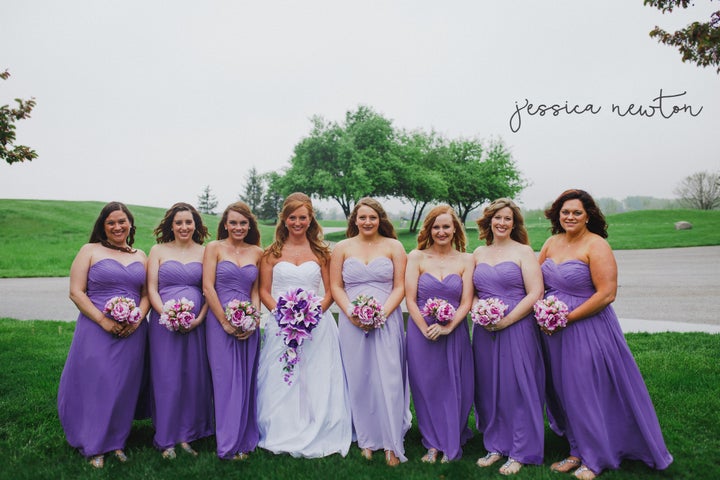 Accommodating Pregnant Bridesmaids
Just because a baby is on the way doesn't mean a gal can't look her best down the aisle. If anything, she should be drawing attention to her beautiful bump – empire waists are perfect for maximum comfort while still looking fabulous. Consider adding a colorful sash for quite a flattering maternity look.
As for sizing, "mom-to-be bridesmaids should add an inch to each measurement for every remaining month of pregnancy before the wedding day," explains Vizcaino-S. "For instance, if the wedding is two months away, then account for an additional two inches to your current bust, waist, and hip measurements."
Expectant bridesmaids should wait to purchase their dress as close to the wedding day as possible to minimize the need for major alterations. Between eight and twelve weeks is ideal, so there is enough time to get it tailored if needed but will still be close to the right size. A bride should also allow her pregnant bridesmaids to choose flats over heels to reduce any pressure in the legs.
Mixing Wedding Party Attire
Nowadays, brides don't strictly have bridesmaids and grooms don't strictly have groomsmen. These are the days of "mix and match" so why not extend that to the party members themselves? In addition, some bridesmaids may not feel comfortable in a dress, so consider putting out the option for them to wear tuxedos or other masculine clothing made for women. Don't restrict your party to gender roles – allow everyone to dress the way that they feel comfortable!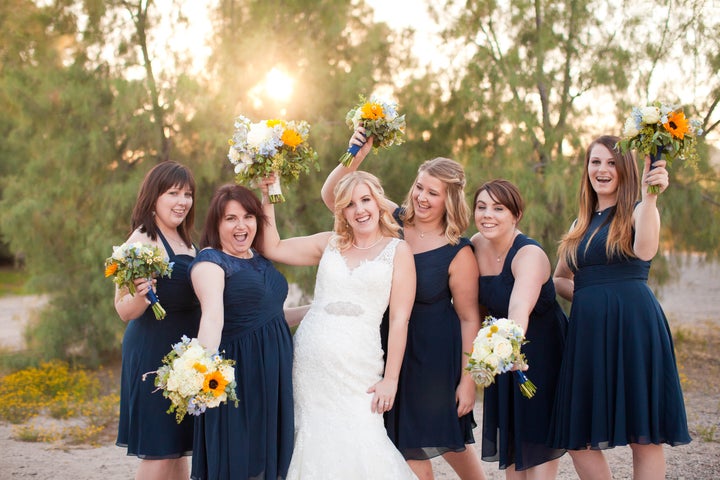 When it comes down to it, comfort is essential for a happy wedding party (and a happy wedding party is key for a successful wedding day!). Listen to your wedding party's concerns and do what you can to accommodate them. While it may be "your day," keep in mind that you invited them to be a part of that very special day – they deserve to enjoy themselves too!
Amanda Zack is a proud millennial and wedding PR specialist with OFD Consulting, based in Richmond, VA. She also serves as a Public Relations adjunct professor at her alma mater, Virginia Commonwealth University. Inspired by the power of words, she is an avid storyteller with a love for animals, weddings, and anything else that elicits a smile.
Popular in the Community