For the past decade, my career has centered on bridal magazines. From New York to California, I've launched publications, attended bridal fashion shows and worked on countless articles about color, table settings and hairstyles. I've spoken at industry events, selected real weddings for publication and sampled every type of wedding cake on the planet. Throughout all this, I felt pretty confident that I knew everything there was to know about wedding planning. I considered myself quite the expert. And then I got engaged.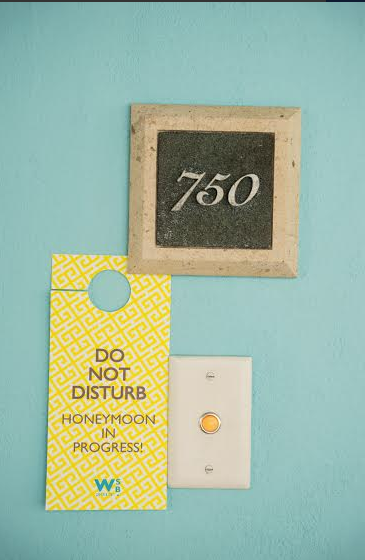 The minute that ring went on my finger, I realized I was completely unprepared for the practical realities of wedding planning. So I thought I'd share some hard-earned advice I learned through the process of planning my own wedding. Hopefully this will make you more prepared for what's to come.
Somebody will get mad at you
Your engagement has now set off a chain reaction of heightened emotions from those around you. Perhaps your dad will grapple with the loss of his "little girl", your mom is thinking back to everything she didn't have at her own wedding or your cousin is reeling because her boyfriend hasn't yet proposed. What's more, you're forced to rank the people around you. Who will be invited? Who will be your bridesmaids? Whose kid will be your flower girl? The reality is that weddings set up a no-win situation where someone will get hurt. All you can do is check your ego at the door, be overly gracious, empathetic and appreciative of those around you and then accept what comes. You can't control anyone's actions but your own and only you can allow your day to be ruined by drama.
Money may have strings attached
When it comes to wedding planning, the biggest consideration is budget. In some cases your family may offer to pay and it will be all too easy to accept when the bills start adding up. You should talk to your family and see what their contribution really entails. If you're lucky, as we were, you may be offered help with no strings attached. Others may want more input on things like the guest list and venue. Every family is different and will have different expectations. To take money and then expect them to have no opinion on how it's spent may be unrealistic. So take the time to discuss your family's thoughts and then decide if the parameters they set work for you. If you feel they require compromises you're uncomfortable with then turn down their offer. It's entirely possible to have a beautiful wedding on a shoestring budget. You will just need some creativity, time and realistic expectations. So before you take that check, understand fully what you are committing to. Your sanity and family relationships are worth more than a Vera Wang and a few chiavari chairs.
Choose a venue for its staff
Trust me, no venue on this planet will look beautiful when your wedding is double booked, the wrong food is served or your bill is triple what you budgeted. I can't emphasize enough the importance of trusting the staff at your venue.
We had our reception at The Lido located at the Mandarin Oriental Elbow Beach in Bermuda. While it's certainly one of the most beautiful places on the planet, it's the staff that made the location memorable. The coordinator on site, Sophie Dier, helped us think through every practical detail from creating a custom menu to selecting rain contingency locations. She watched out for our budget to be sure we didn't go over all while making us feel like royalty. This is the level of service you should be looking for. Think of venue shopping as a job interview. Do you trust this person with the most important day of your life? Does she seem interested in you beyond the deposit you would leave behind? If not, then look for another venue. There is no view that's worth the consequences of poor service.
Don't compromise -- plan multiple events
For our wedding it was important to my family to have a Catholic ceremony in my hometown. My husband and I wanted a non-traditional destination wedding. After a few weeks of unsuccessfully trying to meld these two ideas, we decided to plan multiple events. We had our wedding in Bermuda, followed by the Catholic service a month later. Both events were beautiful and meaningful to us. This allowed our guests to choose the event they preferred to attend, prolonged our celebration and gave us two very special memories.
Don't use a wedding planner -- opt for a stylist
Unless you're Kate Middleton, a traditional wedding planner is probably an unnecessary luxury. Anyone with an excel spreadsheet and some common sense can manage an RSVP list and read a vendor contract. That said, many weddings are a relentless series of photo shoots and styling decisions. From choosing colors and fabrics to selecting clothing and gifts, the process of making these decisions is painstaking and often overwhelming.
For our wedding we hired the event stylist firm, Wish Social Events. Heather Cassady, the founder, gave us creative direction for all of the aesthetics. Understanding that we were a preppy couple getting married on an island, she created a theme of yellow chevron and turquoise that was incorporated into every part of our wedding. From custom runners branded with our monogram to Polaroid place cards accented with the chevron clothespins -- Wish thought of every detail. They worked with local vendors, like florist Flowers by GIMI, who perfectly wove in native flowers, and they helped select the outfits worn by the entire bridal party. Wish also styled all of our photo shoots from our engagement session to our wedding portraits. The result was that our wedding planning became fun and stress-free and our album looks like a feature in a magazine. If the overall look of your wedding is important to you, I strongly suggest searching out this type of service. It will be a major sanity saver and will ensure that you have a visually cohesive and impressive wedding.
Ditch traditions you don't like
Some traditions aren't for everyone. For example, if there are only a few single women at your wedding, perhaps you spare them the humiliation of the bouquet toss. Take some time to think through what traditions resonate with you and don't be afraid to do something completely different. At our wedding we did away with many expected traditions and instead opted to launch wish lanterns over the ocean. It made for beautiful photos and was much more fun and memorable for our guests.
Hire the right photographer
Beg. Cheat. Steal. Do whatever you need to in order to get the best photographer you can. You will have your wedding photos forever. Spend the time to find someone whose work you love, whose personality you enjoy and who is reputable and experienced. Don't limit yourself to searching just your immediate location; they are often willing to travel.
In our case we worked with Robert Evans, based out of Los Angeles. We chose him because we love his work. What we didn't realize before the wedding is that we would spend more time with him than each other on our wedding day. Robert was the first person who saw me in my dress and the last person I spoke to before I walked down the aisle. His laid back personality and sense of humor added so much to our day. Beyond that, his years of experience became vitally important to us when a memory card (with photos from our reception) got corrupted. Due to his long-standing relationship with the manufacturer, Lexar, he knew they could rescue the photos. They were saved without any drama when a less experienced photographer might have lost them. Don't cut corners when selecting a photographer. Find the best professional photographer you can, and then schedule your wedding so that he or she can be at it.
Find a cool DJ, not a band
In my opinion, "Save the Last Dance For Me" just doesn't sound right sung by anyone other than Michael Buble. For this reason, I have to say that one of the best decisions we made was not having live music at our reception. We hired for DJ Scott Roy of LifeStyles Entertainment whose laid-back attitude, good looks and delightful Bermudian accent added the perfect local touch for our event. A good DJ will set the tone of your event, help pace the evening and will ensure that every song sounds as it should. A DJ allows for the flexibility to have a wide range of music played rather than one style and is a much more affordable option.
Wedding planning is not fun
Contrary to what you may think, much of wedding planning is not fun. For many, it means spending a lot of money and deciding on a million things. It's budgeting and compromising and managing a wide range of emotions both within yourself and from those around you. What makes it worse is that there is this constant expectation that it should be fun while every moment is loaded with overwhelming sentimentality. When else will you cry just because you try on a dress? My advice is to accept that some things will be fun and most will not. Take the pressure and expectation off of yourself and go about it like it's a job. Then indulge in the fun happy moments as they come -- I promise you will have those too.
Most of all, remember that wedding planning is preparation for a party. Your marriage is what you're celebrating. Your day will be perfect because you will be saying vows to the love of your life and it will pass in a blur of elation that will still make you smile months later. So don't forget to take the time to emotionally prepare for marriage, enjoy each other and plan for your future together. No matter what drama you're facing now or how overwhelmed you may feel, what means the most on your wedding day is the person you love.