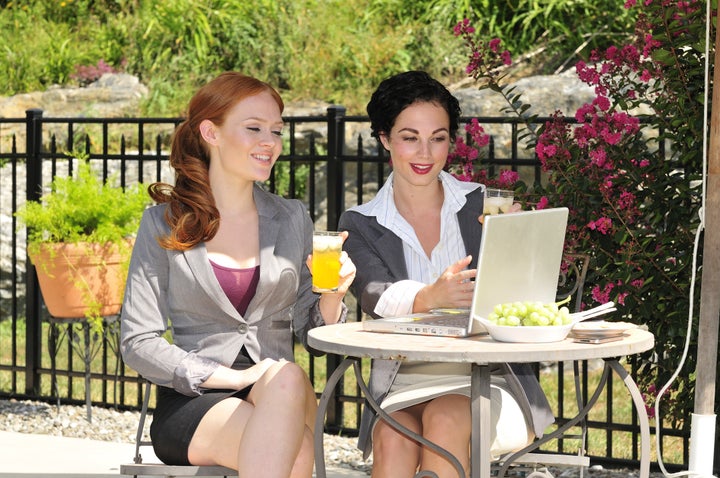 You're engaged! How exciting! Now what?
Most brides turn to wedding blogs and magazines for ideas and advice, only to quickly start feeling overwhelmed with all the steps that are involved in planning a wedding. All of a sudden, you have to start thinking about setting a budget, picking a date, finding a venue, hiring a caterer, and deciding on a theme—and that's just in the first two months! Sounds like a full-time job—so how are we working girls supposed to handle all that?
Hire a wedding planner.
Yes, really. A good wedding planner (or coordinator or consultant) will be a key player in the success of your wedding. A planner can help you pick out a location, hire vendors, negotiate contracts, and coordinate all the logistics—so you'll be able to relax and enjoy not only your big day, but the planning process, too.
So, how do you find a good one? Wedding magazines and blogs offer great advice about starter questions to ask when looking to hire a wedding planner—like what types of services she offers and the rates she'll charge—but there's a lot more that should go into selecting the person who'll be a major part of your day. After you've gone over the basics, here's what to ask to make sure you're hiring the right person.

1. "How do you communicate with clients?"
Before hiring your planner, make sure you know how you'll be keeping in touch with each other. Does email or phone work better? How does she feel about meeting in person? It's also a good idea to find out how often you should be expecting to communicate with your planner. Some brides do better with weekly check-ins, while others want be involved as little as possible. If your planner works part-time (some planners have full-time gigs and do weddings on the weekend), make sure she'll be available when you need to contact her.

2. "How many clients do you have in a year, and in my wedding month?"
The answer to this question will give you an idea of how much your planner will be available to you during the planning process. Planning a wedding is time-consuming and requires great attention to detail. If your planner has too many weddings booked around the same time as yours, the success of your event—not to mention your trust in her ability to juggle it all—could suffer. High-end planners should book no more than 1-2 weddings per month, whereas day-of coordinators can get away with 3-4 weddings per month.

3. "Do you work alone or with a team?"
Consider the size of your guest list. There's a lot more involved in planning and executing an event with 300 guests compared to an event with 75 guests. Does the planner have any assistants she works with during the planning process? How about on the day of your wedding? Make sure you feel confident that your planner will have enough support to be able to handle all the details, guests, and vendors at your wedding. (It's also a good idea to clarify that your planner will be attending the wedding, not assigning someone else from her team to run the show.)

4. "What happens in the case of an emergency?"
Let's face it—no matter how much planning work you do together, things can happen. So definitely ask your planner about her Plan B is if she's not able to make it to your wedding. A good planner will have a back-up plan for every scenario that comes up, including her own illness or emergency.

5. "What additional fees do I need to know about?"
This is an area that isn't often talked about until after all the vendors are hired, but you should ask it up front to avoid unexpected costs. A caterer's estimate, for example, will include charges for the food, labor, taxes, and gratuity, but you may still need to tip the servers at the end of the night. And a 10-15% tip on top of all the service fees can put a serious dent in your budget! Make sure your planner is able to explain any potential hidden costs that may come up with each vendor, venue, or service, so you're able to plan your budget accordingly.

6. "Do you have any questions for me?"
Keep in mind that your potential planner should be asking you lots of questions as well. You're both trying to get to know each other and see how well you'll work together—since you'll be spending the next 9-12 months together planning one of the best days of your life! Your planner should be just as concerned as you are about the success of your wedding. And if she's not? Don't hire her.

Now that you've got some idea of what you're looking for, try to interview 2-4 wedding planners before making a decision. You want to be confident that your planner is a good fit—so you and your fiancé can have the best day of your lives.
Cheryl Clements is a wedding/event planner and personal assistant. An avid home cook, she lives in San Francisco with her fiancé and four chickens (yes, chickens in the city!). Interests include sewing, rooftop bars, homemade cookies, watching Arrested Development, and, of course, a great party!