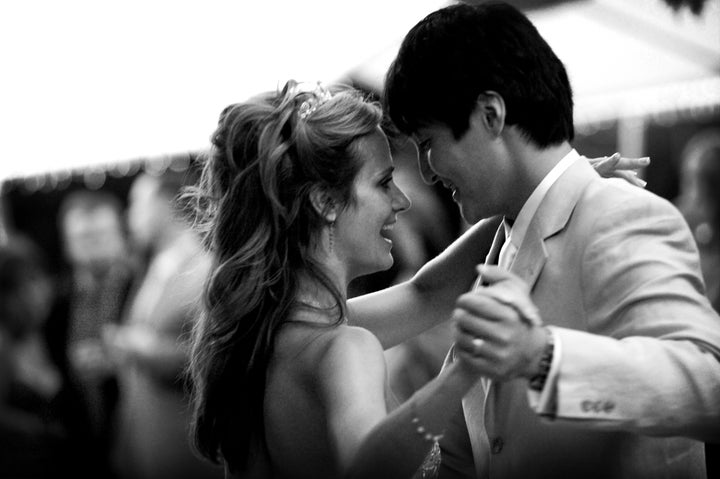 No one really warns you that after that magical minute and a half where you and your partner decide to make a lifelong, legally-binding, love-based commitment, a whole mess of other people get involved. And they can really put a damper on things.
Especially for those brides and grooms like myself, who's future in-laws didn't quite see them as up to par for their child or their family. Wedding planning is already tough with all of your time, money and ego stretched to the limit, but if one of your parents is trying to stop the whole shebang from happening, engagement can become the final stage of your relationship.
So to prevent that, here are some bulletproof ways to remember your wedding is about the two people making that promise to each other... and not any other family member with a very vocal opinion.
1. COME UP WITH THE ONE THING that is most important to you and the person you are marrying for your mutual big day and OWN IT.
Figuring out what you dream of most for your nuptials -- no matter how small or grand or untypical it is -- and sharing it with your partner will put you in charge of each other's wishes. Your one thing might be to have "all the most beautiful flowers you can afford gathered in one place," or even to get "far enough away from home that only people who really love you will make it there."
Admitting these things to yourself first, and then to each other, will greatly inform all your other decisions. When I was planning my wedding it was just after I lost a loved one to a drunk driver. My one thing was a wedding destination where absolutely no one could drive to or from our events, as lots of alcohol would be served. My groom had a huge family that lives all over the world and his one thing was to be able to invite as many of them as possible. With those two directives, we ruled out getting married where we lived (too expensive to fit a large wedding) or in either of the cities where we grew up (people might drink and drive home) and suddenly, a destination wedding was born! Crafting each one thing was not only helpful to define and organize, but it was also as the first step in claiming the day for us.
2. TAKE ALL THE ADVICE YOU GET and put it through the "US FILTER."
When your mother has thoughts about your wedding dress/music/flowers or transportation -- because she always wanted a different kind of wedding dress/music/flowers or transportation -- she will often fail to mention that second part. Rather, she might wholeheartedly believe and advise you that she loves her idea for you. And after she spends some time selling you on it, you, too, might love her idea and be shocked when you go back to your partner with, "I want to ride a horse and buggy, alone, to our civil ceremony in the middle of our city, and you can just meet me at the courthouse," and he has some doubts. Because you may have also forgotten where this bright idea came from. That's when you need the Us Filter.
U- Understanding where an idea came from -- and then asking yourselves
S- Servicing who's needs or wants?
Just a few weeks before my wedding, my fiancé mentioned something about the Korean ceremony we would be having in the middle of our wedding vows. Which was particularly jarring to me, not only because I am not Korean and had never heard of this before, but because he also casually mentioned it required a wardrobe change out of my wedding gown into something his mother would pick for me.
I may have screamed: "US filter."
After careful consideration, we understood the idea came from his parents' relatives, who were not even remotely interested in servicing our needs. But before taking it off the table, we researched together what this ceremony entailed and thought it might be a great homage to his Mom and Dad for our rehearsal dinner the night before!
The US filter is important to help every couple define where their parents, friends or relatives needs' end -- and your own begin.

3. Go to a nearby drugstore and BUY TWO OF THE SILLIEST MASKS you can find.
Weddings are a big business. Alongside familial pressure, wedding blogs, magazines and purveyors of all things for the big day can also make you feel that this one event must be the sum total of your life so far. Or even worse, be a show of what your life is going to be like in the future. When really, it's about making a promise to someone you love and having some food together afterwards.
The best way I found to not take the whole thing too seriously was to put on a bozo the clown mask every time I sat with my fiancé to plan it. I also bought him big ears, a top hat and a plastic nose to wear so we might remember we were really just planning a party. We wore these masks like our uniform for the planning talks during our engagement and they never failed to make me laugh -- both at myself and ourselves any time it all got too serious. They also reminded to make the one event I would spend more money on than any other in my life... a good time for both of us.
Because in truth, engagement and marriage have little in common. During the latter you and your partner will draw straws to see who is in charge of your household, your calendar, your money and other important departments of your life together. But until you get there, don't allow yourself to breakdown in the pre-marriage tunnel because too many voices are giving you direction on how to get out. Just follow the light and your own laughter.
Below, two photos from Diane's wedding.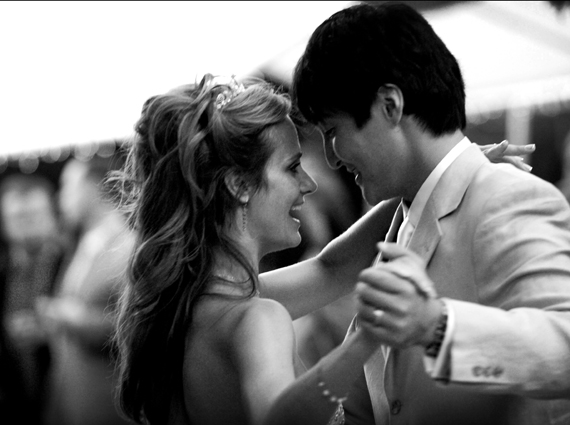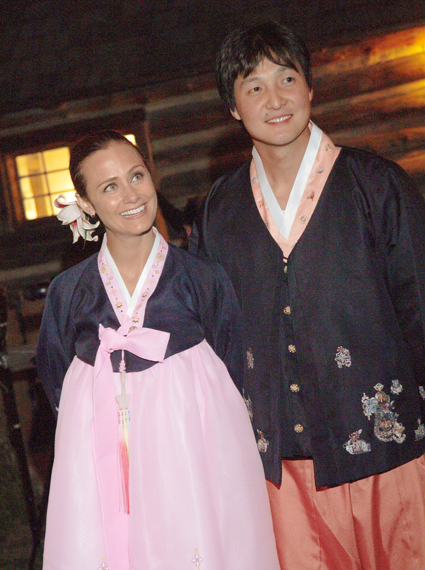 Diane's book, "Kissing Outside The Lines," is available on Amazon.com and in bookstores nationwide.