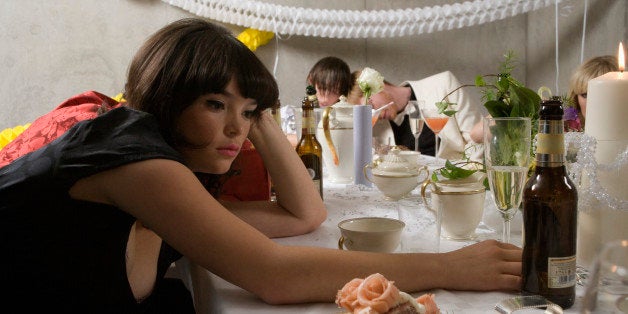 We're sure you want your guests to have an awesome time at your wedding -- but just in case you don't, here are a few suggestions for ensuring a few eye rolls, dramatic sighs, and thumbs-down from your guests when you aren't looking.
1. Give them an extremely specific dress code.
While it's fine to ask guests to dress up for your wedding, being militant about a color or theme is very off-putting. If you know most of your guests love to dress up in Harry Potter regalia (and you won't be mad at those who don't), then go for it. But don't put a ton of pressure on guests to wear something they aren't comfortable with, or strongly encourage them to buy something new that they'll never wear again.
2. Ask for cash. On your invitations.
Don't do it, y'all! If you'd prefer to receive cash, opt for a cash registry or rely on word of mouth to let guests know. And registry info goes on your wedding website...not your invitations.
3. Have a looooong ceremony.
The ceremony is an incredibly meaningful part of your day, but it doesn't have to be the longest part of your day. If you aren't showing signs of wrapping things up after an hour, guests are going to start checking their watches.
4. Let everyone and their mother give a 15-minute speech.
We know your parents, in-laws, and six bridesmaids all want to raise a glass, but long speeches (even if they are well-written!) really wear on guests. We recommend keeping the toasts short and doing them during the meal; everyone will be more attentive if they aren't starving.
5. Choose a venue that you know will be super hot or super cold.
You might be totally fine spending six hours outside in Southern Florida in July, but that doesn't mean your guests will be. If you know your venue could cause some discomfort, offer something to guests (like fans or pashminas) to take the edge off. And always put weather info on your wedding website (and mention if any part of the day will be outdoors!) so guests can plan accordingly.
6. Confiscate their cell phones.
It's totally acceptable to have an unplugged wedding, but don't make guests check their phones at the door unless you want to start a riot.
7. Create confusing seating arrangements.
While your complicated succulents-in-Mason-jars-strung-from-a-tree escort card display might look cool, it also might make it hard for guests to find their seats. When it comes to escort cards, keep it simple (and alphabetize if possible).
Hungry guests are not happy guests, so don't go light on the appetizers or the main dishes, and be sure to offer a decent vegetarian option. It's better to have too much food than to run out.
We know this one is controversial, and whether a cash bar is deemed acceptable varies by region and community. That said, most guests expect their drinks at a wedding to be covered. If you plan to have a cash bar, at least give guests the heads-up on your wedding website so they can plan accordingly.
10. Don't bother to send thank you cards.
Guests just want to know their gift was received and that you appreciated it. Get your thank you notes out ASAP once you start receiving gifts.
More from Lover.ly: