When my partner and I announced our engagement and began telling friends and family that we were getting married, one of the most frequent questions we got was: What are you going to wear?
Seriously?!? What we were going to wear?
It was 1999 and I was more preoccupied with finding a location for the ceremony and vendors who didn't hang up on me; wondering who would officiate since the Methodist minister who baptized me said No; and, hoping that our families would actually attend the ceremony.
This was a time when same-sex couples did a cute little private thing called a "commitment ceremony." We barely dared to call it a wedding because that's what straight people did. So the last thing on my mind was what I was going to wear, which, much to the constant chagrin of my Dallas born-and-bred mother, pretty much sums up my 42 years on this planet.
If you must know, we traumatized my mother by telling her we wanted to wear jeans and fleece and be barefoot at our garden ceremony. We meant it when we said it and, I'll admit it, I did enjoy watching her squirm. I suspect, however, that she enjoyed watching me squirm in return when she had me in her clutches at Lord & Taylor trying on dresses (which was ultimately my choice, not her agenda).
Luckily for me, my mom has an excellent sense of style and she offered some fabulous advice and, better yet, I had the good sense to listen without protest. Chalk another one up to Mother Knows Best.
Since then, I've thought a lot about this topic. Knowing what to wear and how to wear it (not to mention how to afford it!) is a key component in any wedding planning -- straight or gay.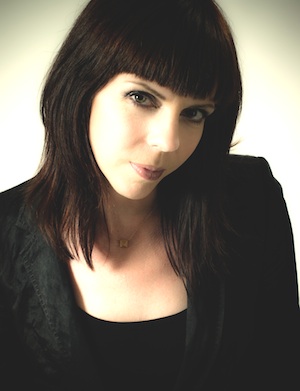 To learn more about today's trends from the perspective of a style expert, I turned to Rhode Island School of Design alum and fashion designer, Mila Hermanovski, of "Project Runway". Mila was a finalist in Season 7, enabling her to show her Fall 2010 collection at New York Fashion Week, and she's currently starring in Lifetime's "Project Runway All-Stars", an experience she describes as "a bit nerve-wracking and intimidating at first (because it) ups the ante," but one which is "flattering nonetheless."
Mila's fashion sensibility can best be described as modern and cleanly-styled with thoughtful color blocking and geometric themes, and when she's not making "Project Runway" appearances, costuming for productions like "Glee" or "Tron: Legacy," she's busy creating her MILA collection for Fall 2012, which will be headlining at Fashion Week Las Vegas in February.
And, though she hasn't styled any brides or grooms (yet!), she shared loads of great advice with us from her expert perspective. We spoke with her in between cash registers while she was out and about in Los Angeles shopping for her latest project, the upcoming film, "Star Trek 2," directed by JJ Adams.
Here's what she had to say:
What are your top 3 pieces of advice for brides and grooms as they plan outfits for the Big Day?
1. Don't be afraid show a little bit of your personality in what you select. If you have a quirky sense of style, don't wear something bland. Don't be afraid to go out on a limb. You can do that with bridal wear. It doesn't have to be so cut and dry.

2. Colors should be complementary, not matchy-matchy. Limit the use of color when trying to coordinate your outfits and leave color for the bridal party ... I think it's dated and passé to do any kind of a matching thing. I wouldn't match a color or a style; it's just not modern. But, you could tie colors in perhaps with a flower or small accent. Just don't wear matching color accessories like, if you are two grooms, matching neckwear.

3. Never underestimate the time that's involved in finding the right fit for you. Start early, plan early, and don't forget to plan your undergarments accordingly. Shopping for such a special outfit is a process, and most likely you aren't going to find exactly the right thing for your big day in one go.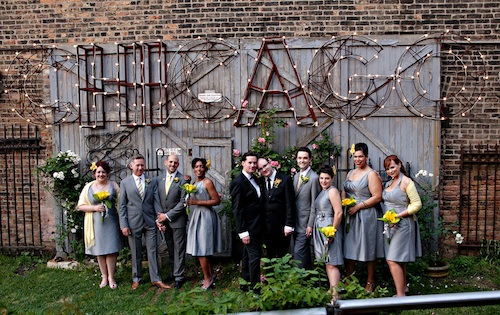 Photo credit: Arielle Doneson Photography
Do you have any special advice for two brides, particularly those who a) want to avoid looking like a fish out of water; or b) would never be caught dead in a dress?
There are a lot of dress options out there that don't look so much like the ideal of a [wedding] dress. Fear not: there are dresses out there for you (even if you don't think you're a "dress" gal); you can't go wrong with clean, modern, and classic. Just be sure to have a professional tailor help you fit it perfectly. Also, try a tailored suit in a beautiful ivory. A suit is automatically a little stronger and less prissy. Even a skirt suit will not feel like a dress. I'm visualizing two brides together right now with one bride wearing a gown and one wearing an ivory pantsuit and I'm thinking that's amazing!
Any special advice for grooms?
For grooms in general, I would say, if you're going to rent a tuxedo opt for the modern look, which is a non-pleated shirt and a four-in-hand tie. For two grooms, I would say try to change up the style of your suits. Select two suits which have slightly different styles to them. There are many different cuts of suits available, so bear in mind that you should be choosing a suit that is complimentary to your body type (e.g. one, two or three buttons, skinny vs classic cut, etc).
What colors do you see on the fashion horizon for 2012?
Chartreuse is a really big color. And pastels. Like dusty, really pretty dusty kind of neutral pastels, which is great for a bridal party and works well for weddings.
What stores would you suggest for finding alternative wedding attire?
For dresses, especially if you are on a budget, BCBG has a really nice selection of dresses and I also think that, if it's a more casual wedding, then sometimes Anthropologie can have interesting pieces. J. Crew has a great bridal selection of classic dresses with a little twist and the nice thing about J. Crew dresses is, if you opt not to go with a gown, there are shorter dresses that you can wear again.

For grooms or for brides who don't want to wear dresses, I really like Zara for both men and women. It's a long shot, but they have reasonably tailored clothing and a bit of a more European influence. You can also check department stores. Women can try some of the better contemporary sections in department stores -- look toward the career sections for suiting. For brands, I like Calvin Klein (at Macy's), Theory, and DKNY. I recommend you look for the classic and timeless brands. For the price point, the clothes tend to fit better.

For men, it's a lot easier --there are fewer choices! If a groom wants an alternative to a tux, there are some reasonable options and those can be found in the better department stores, like Bloomingdale's and Nordstrom.
Any thoughts on going with a custom suit or dress for your wedding?
Just know that if you do go custom, it is going to be significantly more expensive. This is something that a lot of people misunderstand, and that is that they think they can get something made custom for less than for the price off the rack. By the time you pay for the fabric and hire the seamstress or tailor, it costs much more. But, if you have a difficult body type to fit or struggle to find clothes of the rack to fit you, then custom may be the way to go. If you do want custom, my advice is that you find a visual reference. For example, buy items off the rack or find images in magazines of what you want to better convey to the tailor your ideas.
How important is it for couples to consider the wedding party attire if they are doing something small but will have a professional photographer?
This is where I think the wedding party should coordinate color-wise. You really want the couple to shine and stand out and that's the point of the bridal party: being coordinated with and complementing the couple. And, it just looks cleaner if everyone is wearing something more simple. I do think this matters from a photographic standpoint. I think it's important and there are economical and alternative ways to shop to find attire out there that is budget-friendly and will still make your bridal party more cohesive.
Any style advice for those who will spend big bucks on wedding photography and/or videography?
Think of a color palette that you like and try to tie in everything in around you -- your wedding party, your flowers, your table settings ... Have your palette be as cohesive as possible. If money is no object and you don't have a lot of time, consider hiring a stylist to help you find the perfect attire and color palette. And remember: don't forget the little details, like invitations. From the invitation to the attire, coordinate your vision for your special day.
Author's note: Coincidentally, Mila and I wore strikingly similar dresses off the rack in 1975 when we were in first grade together and our mothers shopped for us. Though Mila has gone on to distinguish herself as a style expert, I have distinguished myself as being in need of one. I do plan on asking Mila what I should wear on the day I can finally legally marry in my home state my partner of 19 years (and counting!).
To learn more about Mila, tune into "Project Runway All-Stars" on Lifetime. Thursdays at 9 pm ET. You can also follow her on twitter at @milahermanovski.
Related