Written by Maressa Brown on CafeMom's blog, The Stir.

Brides have said it before, and they'll say it again: Regardless of how chill or relaxed or "whatever" you are going into it, it's shocking how the process of picking out a wedding dress is different from picking out any other outfit you've ever worn in your entire life. The dress is obviously the big ticket item, but it's quite normal to find yourself obsessing over all the other details, too -- from shoes to earrings, I sweat bullets over almost every accessory. Ironically, in the end, no matter how much time I spent debating the pros and cons of heels vs. flip flops or wearing a new bracelet I picked out with my bridesmaids vs. a friend's bracelet that would be my "something borrowed," I still suffered a handful of wedding style slip-ups on the Big Day.
But you don't have to have worn shoulder pads a la 1986 to come to regret a fashion move you made as a bride. Here, six wedding fashion mistakes real women have made and cringed at the thought of years later:
1. Hair in your face: It's perfectly normal to choose a wedding hairstyle concept that you're sure is stunning or timeless, only to later realize that you wish you had trimmed those bangs or gone for a style that would have prevented your hair from getting in your face throughout the night.
2. Last minute changes: Your wedding day may drive you to drastic, spur-of-the-moment measures, like cutting your long flowing gown short. You might think you're going with your gut, but switching at the last minute to something that's 180 degrees from what you originally planned could be asking for disaster.
3. Uncomfortable shoes: Damn shoes. Not wearing in the pair I was convinced would be comfortable -- because they're made for ballroom dancers with awesome padding! -- was one of my biggest mistakes of my wedding day. The strappy part that goes across your toes dug into my feet causing blisters that burned so badly through family photos and the ceremony. I'm still asking myself, "Why didn't I just wear flip flops the whole time -- especially considering that NO ONE would have known?" They sure didn't know when I wore them through the reception! Guh.
4. Sweaty dress: You may love your dress with the loooong train and layers of tulle, satin, and lace. I know I did. But when it came time to bustle it up later and get down on the dance floor while navigating all that sweaty fabric, I didn't love it as much -- and wondered if it would have been wise to switch into a sexy, short cocktail number for the reception. In retrospect, I am glad I stayed in my beloved dress, but I wouldn't begrudge any bride a pre-reception wardrobe change if it would make her more comfortable.
5. Ill-fitted dress: Despite standing there getting nipped and tucked for hours during an average of three fittings, it's not unusual for a bride to say she wished her dress had fit a bit better on the Big Day. I noticed mine was gaping a bit in the bust. Could pay to take photos of yourself at the second to last or last fitting, considering how the dress looks from all angles and while you're moving in it.
6. Underwhelming hair or makeup: No matter how many trials you do, the hairstyling or makeup job you're going to get on your wedding day is never going to be exactly the same as you've seen it done before. It helps to have pictures and communicate with your stylists, but ultimately, you might have to speak up about slightly tweaking something. Even then, some brides say they found they were underwhelmed or not over-the-moon with their hair and/or makeup. Bummer.
What's a style choice you made on your wedding day that you came to regret?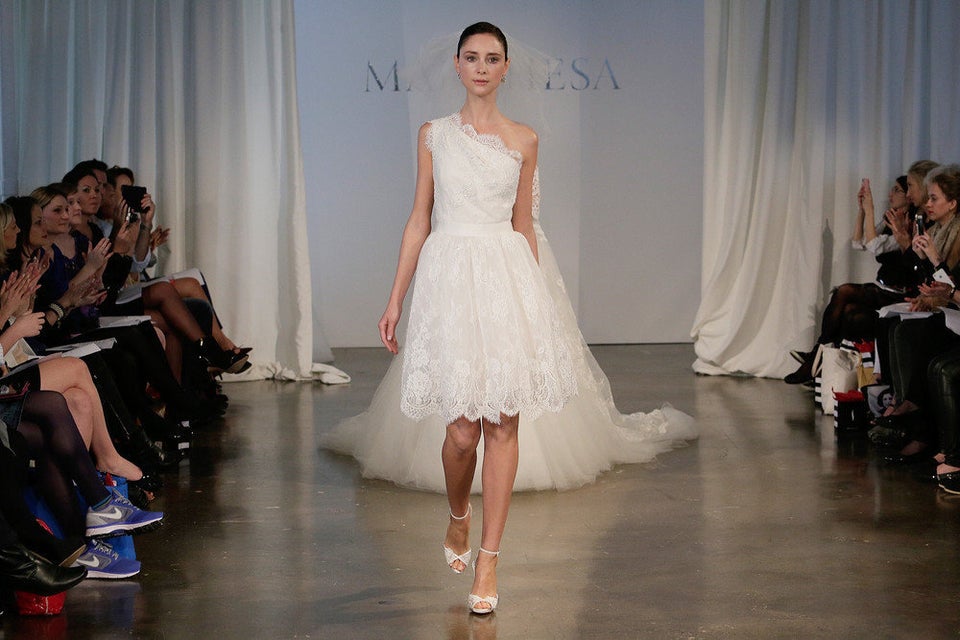 Spring/Summer 2014 Wedding Dress Trends