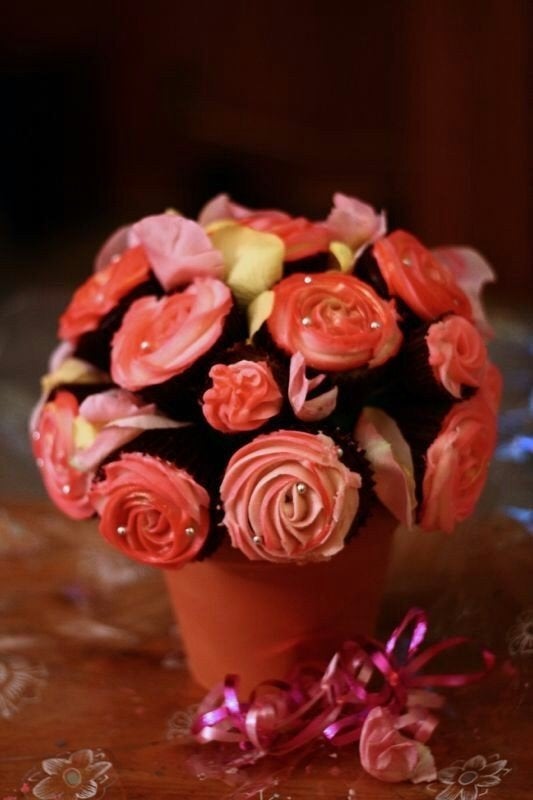 Here at HuffPost Weddings, we're all about celebrating unique and innovative ideas in the wedding world. In this series, Wedding Trailblazers, we'll be spotlighting wedding-industry professionals doing creative new things. Check out our latest trailblazer below.
Tania Grafstein-Ho's wedding bouquets are literally good enough to eat.
When Grafstein-Ho, wedding planner and founder of Toronto cupcake bakery Sugar Tooth Fairy, realized that pricey wedding centerpieces often get thrown out at the end of the reception, she decided to do something about it. Her solution? She crafted bouquets made out of cupcakes decorated to look like roses and garnished with real rose petals, leaves and chocolate-dipped fruit. These edible centerpieces definitely do not get tossed out at the end of the night.
We talked with Grafstein-Ho about how she creates her incredibly realistic-looking bouquets, and the most memorable bouquet she's ever made.
What inspired you to start making bouquets out of cupcakes?
I'm also an event and wedding planner. When I was doing weddings, a lot of times brides were trying to cut back on certain things because obviously weddings can get quite pricey. I found that a lot of times people spend a lot of money on the centerpiece and then it just gets left at the end of the night. I wanted to incorporate the idea of having a centerpiece that has a little more use, and could hit two birds with one stone. Instead of spending a certain amount of money on cupcakes or cake, and then you're spending sometimes up to $100 on centerpieces if not more, I thought that by creating an edible centerpiece it'd be a really fun idea to have for a wedding.
How have the bouquets been used in weddings?
It's too heavy to walk down the aisle. So far I've had it [used] as a centerpiece at the head table or on the dessert table. Now I'm trying to push it as something you can have at each table. Some people do it in addition to a cake, on their sweets table or as one of their displays, and some people just have it as their main centerpiece on the table. It really depends on the bride and the look she's going for.
What's the appeal of having a cupcake bouquet as a centerpiece?
It's really unique. And the cupcakes themselves are really tasty. It's appealing to the younger bride, the 20s and 30s generation -- they're really into cupcakes and in this economy, people are trying to save and cut back on certain things, and the bouquet allows them to have a really nice dessert at the table, and also serve as a beautiful centerpiece.
Describe the process of creating a cupcake bouquet.
I have to go get the [flower] pot, and then I go to a wholesale craft store because I have to fill the bouquet with a special type of foam. Then I make the cupcakes based on the flavors they want. Usually one bouquet will have 16-18 cupcakes. They can choose two or three flavors and at least two icing flavors. I attach the cupcakes on the top of the vase and I make sure the icing is the color theme of whatever their wedding is. The last step before I deliver it is go to my florist and get rose petals that complement the color of the cupcake icing, and I place the rose petals between the cupcakes. [Figuring out how to make a bouquet] was really trial and error. I tried all different types of pots and sponges and Styrofoam balls. I tried different ways of icing the cupcake and then placing it [in the pot], or placing all the cupcakes and then icing them. Eventually I got a little faster at it and once I thought I could make it look really beautiful I started selling them.
What is your favorite bouquet that you've made?
Probably my favorite was the first bouquet I delivered. It was for a newlywed couple and the husband was trying to come up with a way to surprise his wife. His wife really loves cupcakes and originally he ordered a box [of cupcakes] from me. And I said, "You know what, I think I have something a lot better." He said, "Go with it, I trust you." It was their 10-month anniversary, so I did a mixture of large cupcakes and mini ones and I made the number 10 in fondant and put it on the small cupcakes. So it was regular rose cupcakes with the number 10 written across the little ones. It was the color of their wedding scheme, Tiffany blue.
Click through the slideshow below to see photos of Grafstein-Ho's cupcake bouquets.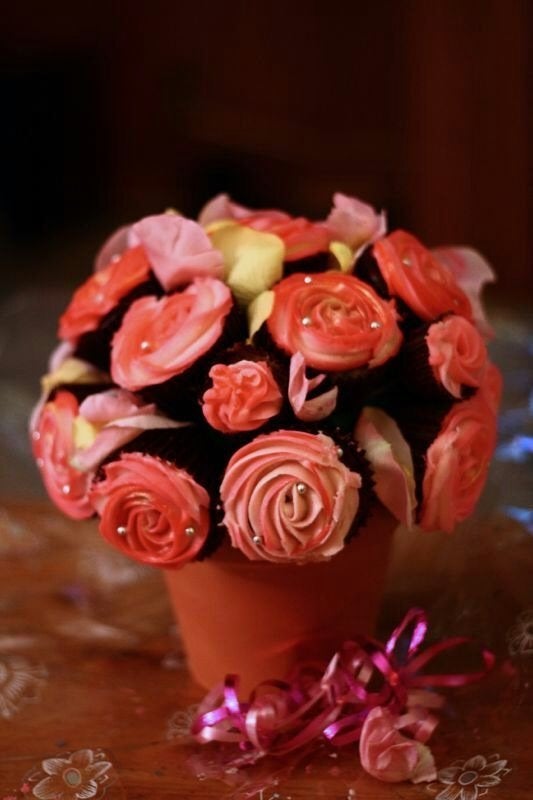 Sugar Tooth Fairy Cupcake Bouquets
Popular in the Community