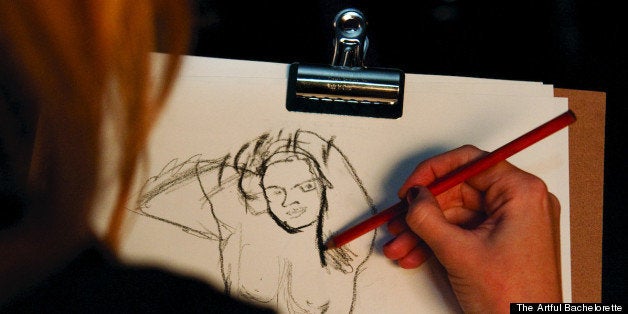 Here at HuffPost Weddings, we're all about celebrating unique and innovative ideas in the wedding world. In this series, Wedding Trailblazers, we'll be spotlighting wedding-industry professionals doing creative new things. Check out our latest trailblazer below.
At bachelorette parties hosted by The Artful Bachelorette, you'll see a naked man -- but he's not there to dance. He's there to be drawn.
The New York City-based Artful Bachelorette hosts nude life-drawing classes for brides (and occasionally grooms)-to-be, offering a unique, sexy party experience. Partygoers enjoy drinks served by a topless waiter and a two-hour life-drawing class, featuring a naked male model as the subject. Parties can be held in private residences or in one the company's rented event spaces, and every guest leaves with new artistic skills.
HuffPost Weddings spoke with Artful Bachelorette co-owner Samara Hodgson (her business partner is artist Fleur Childs) and one of the company's regular models, Kurt McVey, about the inspiration for the business and what it's like hosting an Artful bachelorette party.
Where did the idea for The Artful Bachelorette come from?
Samara Hodgson: I came here [to New York City from Australia] and I had a girlfriend who was getting married and she said, "I don't know what to do for my bachelorette party," and I said, "Do the drawing thing, with the hot guy where you draw them." She was like, "I don't know what you're talking about." So I did a bit of research and it turned out this concept wasn't here [in the U.S.]. It's been in Australia for many years –- there are four or five companies that do it and I've been to many for friends of mine that got married. It's generally thought that everything cool comes from New York, and when we figured out it wasn't here, it was a big moment.
How do you find the models?
Hodgsdon: We started on Craigslist the first time, being innocent and naïve. The second time around we started going on the Model Mayhem website, and I did a bit of Facebook stalking. I saw a cute guy on Model Mayhem and stalked him on Facebook and emailed him. But now we're at the lovely point where we've got five guys who are the core and they're amazing and each a wonderful person and bring so much to the business and really care about it. Now we've kind of got an in with the models, they find us or they know someone who knows someone.
What are you looking for in a model?
Hodgson: They have to be attractive. We like a guy who is able to walk into the room and [the bride] can blush a little. But most of all they have to be laid back and charming and friendly. We want them to feel special, just be a really warm, open and nice person, particularly for the servers. For the models they just have to be very fit and attractive and fun.
How do guests react to the model?
Hodgson: Girls are always a little giggly and shy, or they're completely out there and love it. We see all extremes. We had one bride who was nervous about her mom coming. As soon as the mom got there she was like, "I don't want to do this," and I said, "Sit up at the front with me, and I'll talk you through it." I bring out the nude model and I'm expecting the mom to be really nervous, and we get him naked and she's like, "Oh, my gosh, I've been staring at the same manhood for 20 years, it's so refreshing to see another one." By the end of the class she was the life of the party. She was telling me that no matter what instruction I give her, she's just going to draw his one particular region. Some classes are definitely more rowdy but nothing that's ever been out of control and we can't just have a bit of fun with it. We did have two girls offer to get naked with the model in the last pose. I had to look my model dead in the eye and say, "Are you going to be OK if these two girls get naked with you?" And he was like, "Yes, yep, I can do it." They ended up being topless, so that was pretty crazy.
How do you get people comfortable if they're feeling shy?
Hodgson: There are definitely some groups where they may not all know each other and are a little more reserved. With the staff we all try to be light and fun with each other and we've always got a couple of jokes up our sleeves. With the more reserved girls we do a couple exercises and after we'll ask them to show their drawings and without fail most of them will be missing the penis. It's like, "Hey guys, have a look around, what's missing?" And they all have a giggle, so once they get going we kind of break the ice a bit.
Kurt, what are the parties like for you, as the a nude model?
Kurt McVey: What I really enjoy about The Artful Bachelorette is that you are taken through a traditional art class, a traditional studio 101 life drawing class. It's treated with the same scholastic professionalism, but at the same time it's like, go ahead and laugh. Half of you are terrible artists, its not important, it's about having fun. It starts operating on these levels the people in the parties aren't even aware of. Suddenly they're dealing with their own insecurities over the human figure or as an artist or as a sexual being. You can see people coming to terms with millions of things in their heads, and each and every one is this incredible social experiment.
What type of bride interested in this kind of bachelorette party?
Hodgson: I think it's just your everyday girl that would be your friend. I would say 80 to 90 percent of the girls I would go out and have a drink with. For most girls it's a way to start the day, something silly and fun and something that's like team building. They might not all know each other so it's a good way to get everyone to know each other and loosen up and then they go out and have dinner and party.
What's the advantage to this style of bachelorette party, as opposed to a more traditional party?
Hodgson: It's just a better fit for the average New Yorker. It allows you to have this really fun bonding moment with your girlfriends where you can be a little cheeky and flirty. I don't want to just have drinks and dinner with my girlfriends. I do that every weekend. This allows them to have a special moment that's different and be a little bit of a flirt and have a bit of fun.
Click through the slideshow below to see photos of Artful Bachelorette parties.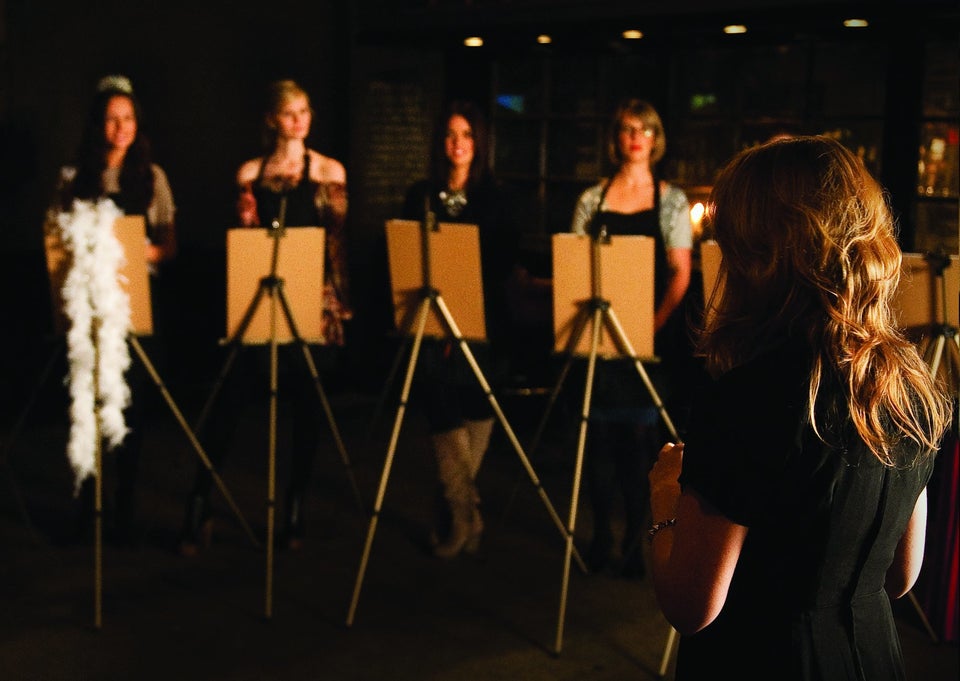 The Artful Bachelorette
Related