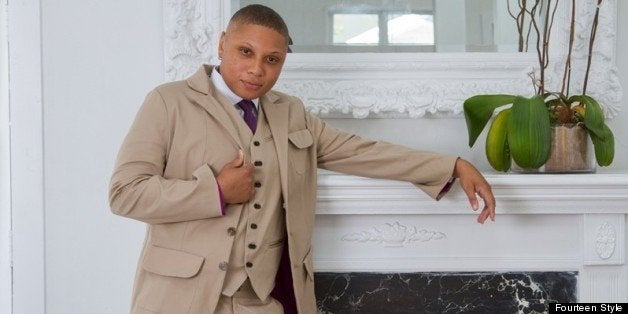 Here at HuffPost Weddings, we're all about celebrating unique and innovative ideas in the wedding world. In this series, Wedding Trailblazers, we'll be spotlighting wedding-industry professionals doing creative new things. Check out our latest trailblazer below.
Here's something you don't hear every day in the wedding world: not every bride wants to wear a dress.
For many in the lesbian, queer and transgender communities, the perfect wedding outfit is a clean, classically-tailored suit. But as HuffPost blogger and LGBT wedding planner Bernadette Coveney-Smith knows, it's virtually impossible to find a chic, wedding-appropriate suit made for the female body in stores. So six months ago, Coveney-Smith launched Fourteen Style, an online boutique that specializes in pants, jackets, vests and shirts designed for customers of varying gender identities.
HuffPost Weddings spoke with Coveney-Smith about how difficult it can be to find the perfect wedding suit in stores, and how Fourteen Style's suits differ from average formalwear.
What inspired you to create Fourteen Style?
I came up with the idea years ago when I started my wedding planning company specializing in LGBT weddings, 14 Stories, in 2004. It was kind of a constant demand from my female clients -- "What am I going to wear to the wedding?" And the options were pretty limited. They could buy a man's suit and have it altered, they could have something custom made, they could shop around and hope for the best in a department store, and really there's nothing made for them. I went through it myself when I was planning my wedding in 2009. My personal style is, I'm not super butch or masculine and I didn't want to wear a man's tux. Finding that in-between was a challenge. One of my Twitter friends tweeted me an introduction to this fashion designer in Miami, Maria Alexandra Garcia, and she basically had the same idea, the same passion but what she brought to the table was something I didn't, which was a complete background in fashion.
When women try to buy a suit, what do they usually find in stores?
A lot of the suits available in the women's section look like you would wear them to work and might not be the right fabric for a wedding. They might not have any drape or flow. For example, one of the requests we get constantly is, "I want to look like what Ellen [DeGeneres] wore to her wedding." You're not going to go to Macy's and find linen pants and a linen vest and that chic, casual white look. Custom suits usually start around $2,000 and up, so for many people it's cost-prohibitive. It's not like there's a David's Bridal for lesbian suits.
What was the design process like?
We did a lot of focus groups. Maria Alexandra interviewed a lot of my former clients and a lot of members of a drag king network in south Florida, and brought them in for fittings and asked them, "What are the problems you're having with clothes now and how can we solve those problems?" For example, some of our clients are not comfortable with their breasts, so they might bind their breasts. So they're looking for clothing that compresses their breasts and looks like they're flat-chested. Another problem is some people are completely comfortable with their breasts but if they go to buy a man's tux they're not going to find a tux that has room for breasts. Or the jacket sleeves are too long or the shoulders are too wide. So the designs are really all based off of focus groups and conversations with the target market.
The suits come in both a "standard" and "boy" cut. What's the difference?
The basic difference is that the boy cut has straighter lines, so it's for people who really try to hide their curves and want a more streamlined look. They're more boyish or masculine in appearance and in their identity. The boy cut also has room for packing. We're really thinking about the spectrum of the lesbian or queer woman or trans man, so there's really a little bit of something for everyone no matter where you fall on the spectrum.
What does is mean to your customers to be able to buy a suit from Fourteen Style?
That's one of the cool things about going to wedding expos. The sense of gratitude is really, "Wow, thank you for doing this, thank you for creating this company, because it's a problem." That's the most amazing thing for me -- to feel like in all my businesses, I'm not just trying to make a buck, I'm trying to change the world and be revolutionary in a way. It's a really interesting emerging industry. There is a company that competes with us but their stuff is much more butch than ours, and there's a store in San Francisco called Tomboy Tailors where people are getting their suits, but those are made to measure, not sold in sizes. Our goal is to really be very accessible by selling them in sizes and not being anything close to custom. Just because you don't want to wear a dress doesn't mean you're manly or masculine or butch.
Click through the slideshow below to see Fourteen Style's wedding suits.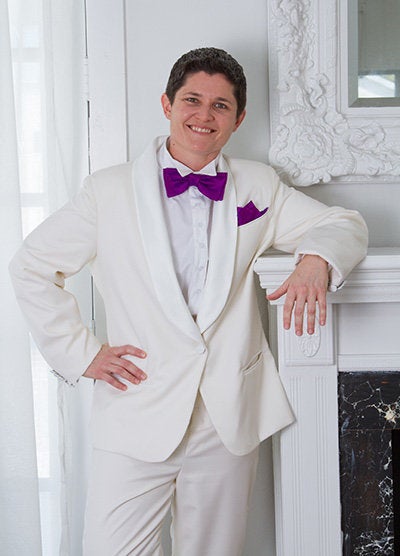 Fourteen Style
Related