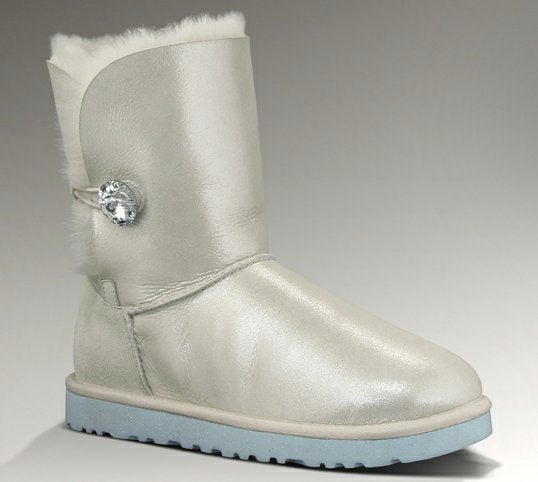 Attention brides who don't want to boogie the night away in blister-inducing Stuart Weitzmans or strappy Manolos that pinch: you have a new non-stiletto option for your big day. Ready for it? Wedding Uggs.
There are already bridal TOMs for your wedding. Several brides have rocked the Converse-sneakers-as-bridalwear thing. You can probably even wear Crocs to your wedding, too.
And now UGG, that famed purveyor of sheepskin boots, is capitalizing on the offbeat bridal footwear trend. They've released a line of bridal UGGs designed to look appropriately festive for you to say your "I do"'s in.
What are your options, comfort-seeking brides? There's the Bailey I Do! boot, built like a standard UGG but jazzed up with an iridescent sheen and a Swarovski crystal button. For the bride who wants a little more flair, the Sparkles I Do! boot is dotted with sequins and bound together with satin. And finally, those who still want to show off their pedicure can sport the Fluff Flip Flop I Do!, a sandal covered in shearling with a baby blue bow.
There's no denying that these kicks would be comfier than the average bridal stiletto, and brides have certainly let their wedding party chillax in the boots in the past. But despite the fact that we all love comfy shoes, would you wear them (or, married ladies: would you have worn them) to your nuptials?
Check out the bridal UGGs below!
CORRECTION: A previous version of this post misidentified UGG as an Australian footwear company. UGG is based in the United States.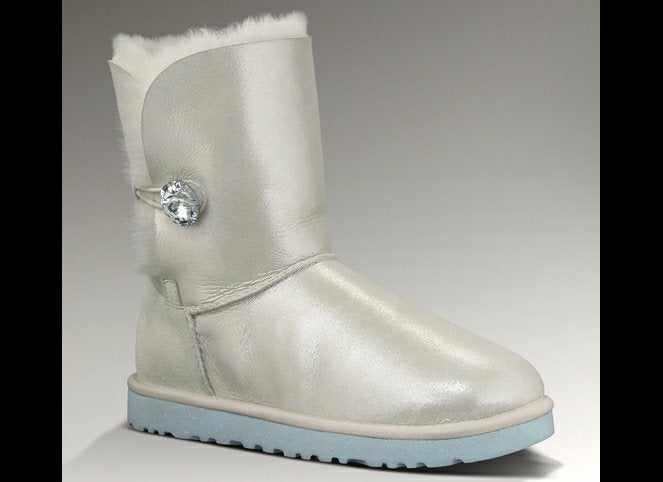 Gallery
Related