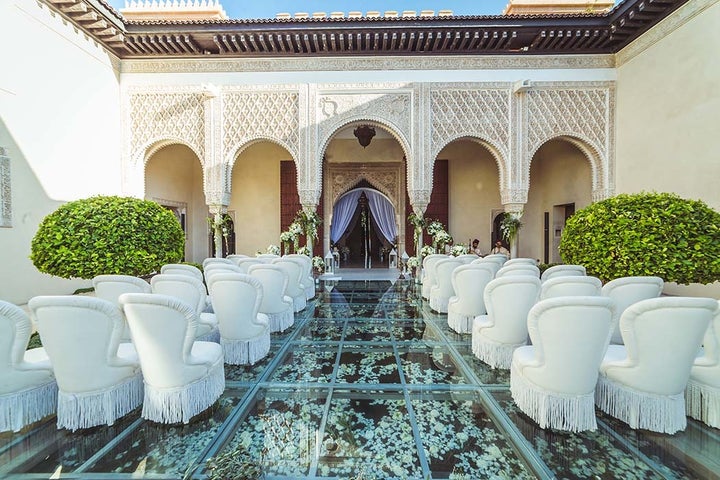 When you imagine your dream wedding, where do you see it? A beach? A garden? A warehouse? The possibilities are truly endless when it comes to wedding venues, which is one of the reasons it can be a difficult decision to settle upon.
So, how do you go about finding the very best venue to create your wedding vision?
There are, of course, some requirements a venue has to hit to meet your needs, like your budget, guest count or location. "It doesn't do you any good to look at a venue that is meant for 300 people if you only have 30 guests," explains Kim Sayatovic of Belladeux Event Design, an event design company based in New Orleans. "Once you have narrowed down your size choice, then you can decide which venues fit your aesthetic. Finally, you can then decide on which is a fit based on your budget."
Chances are you already have an idea of what you want out of your wedding as you go into the venue search process. Bring your mental (or physical!) checklist with you to site tours to see how it fits into your picture. "Ask yourself- does it have the right mood and evoke the feeling you want to feel?" poses Jamie Chang of Passport to Joy, an online wedding planning program that takes couples step by step through the entire process. "Does it help to create the experience you want? Is this venue you? All of these questions will guide you towards your dream wedding."
One of the biggest venue considerations is the all-time question: indoors or outdoors? Each poses its own pros and cons, so take all of them into stride as you make your decision. Outdoor weddings are essentially like working with a blank slate so it's great for really creative and innovative visions. However, you need to keep in mind noise restrictions, technical access, electricity available and the cost of bringing all of the gear out. Indoor weddings, on the other hand, are simpler but the design must flow with the space.
Regardless of what type of venue you choose, it's important to take in every aspect of it before signing on the dotted line. "During the day, you'll see some details that you won't see at night," shares Fabrice Orlando of Cocoon Events Management Group, a planning firm in Morocco that specializes in luxury events. "Be sure you take a site tour when the sun is up, as well as when the sun goes down – that way, you can get a good idea of both atmospheres."
Get creative with your ideas and think outside of the box! "Many museums and public attractions can be rented for events and can create a stunning backdrop to your wedding day without having to go overboard with your décor budget," tells Sayatovic. "Just remember that if you go with a non-traditional venue, you will usually have to bring everything in, like tables and chairs, before you can even begin to look at décor budgets."
There are certainly a lot of considerations to keep in mind when picking your ideal venue, but taking it one step at a time can make the process manageable. When in doubt, "think about your guests- can you imagine them having fun, dancing and laughing at your wedding?" encourages Chang.
Amanda Zack is a proud millennial and wedding PR specialist with OFD Consulting, based in Richmond, VA. She also serves as a Public Relations adjunct professor at her alma mater, Virginia Commonwealth University. Inspired by the power of words, she is an avid storyteller with a love for animals, weddings, and anything else that elicits a smile.
Related
Popular in the Community