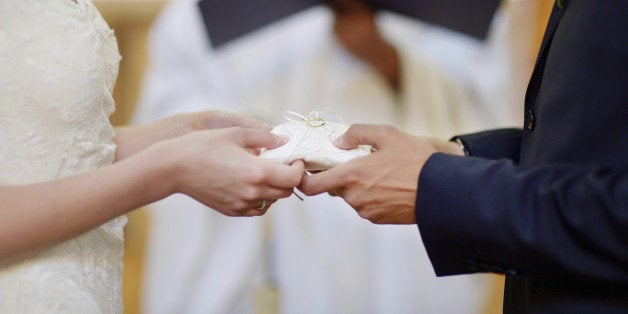 Wedding vows are one of the most traditional and important aspects of a wedding ceremony. Wedding traditions from different cultures and religions vary greatly. Most religions recognize a formal assertion of marriage, but there is a difference in how verbal the couple themselves are in making the vows. While Western cultures tend to utilize spoken vows between the couple, many other religions rely on ceremonial and symbolic gestures.
Here are some highlights of how different religions handle wedding vows:

Christian Wedding Vows -

Typical Christian weddings, including Catholic, Protestant, Episcopal, Lutheran and Methodist, use what most of us see as traditional wedding vows - the couple promises to honor and cherish each other as well as commit to each other through good times and bad. They vow to never part until death, but they also add "according to God's holy ordinance and thereto I pledge thee my faith [or] pledge myself to you." Catholic weddings place an added emphasis on the bride and groom promising to remain faithful in their mutual, everlasting love. Also, prior to the exchange of vows in a Catholic ceremony, the bride and groom are asked to "accept children lovingly from God, and bring them up according to the law of Christ and his Church."
Quaker and Russian Orthodox vows
These religions focus on silent mutual prayer. Instead of saying their wedding vows aloud, the couple prays together. During the prayer, the bride and groom agree to commit to one another, remain loyal, and to always love each other. Following a Quaker silent wedding prayer, which is a congregational affair, the couple stands up, holds hands, and recites vows similar to this: "In the presence of God and these our friends, I take thee to be my husband/wife, promising with Divine assistance to be unto thee a loving and faithful husband/wife so long as we both shall live."
In a traditional Jewish wedding ceremony, only the groom makes a proclamation in Hebrew to his bride. However, many modern Jewish couples choose to add their own spoken vows, sometimes both in Hebrew and English. Today's Jewish ceremony combines tradition with modern styles of exchanging vows but the vows are phrased in a question, rather than a statement, like "Do you take this man/woman to be your lawfully wedded wife/husband, to love, honor and cherish?"
A Hindu ceremony involves what is called saptha padhi or the Seven Steps. The Seven Steps involves a priest quoting seven promises that the couple then agrees to. As the promises are read aloud, the couple circles a fire, which symbolizes that the bride and groom are together for eternity. A personalized exchange of vows may be utilized, but in a Hindu ceremony, whether the couple exchanges vows or not, the Seven Steps must always be done last and is the final indication that the couple is married.
Muslims see marriage as a union of the souls, and Muslim wedding ceremonies are known as nikah. Typically, the Imam or the head of the Mosque reads directly from the Qur'an and speaks about what is required in a marriage. He reiterates the responsibilities the couple has to each other as well as Allah. Once this is finished, the couple formally agrees by saying, "I accept," or the bride and groom can each pledge their faithfulness and honesty to each other. Nikah is considered sacred, so the ceremony is always intimate and simple.
Each religious wedding ceremony has different ways of approaching wedding vows, but the meaning behind them are all similar - they are all steeped in meaning and love and express to the world how committed two people are to each other and their marriage.